Today is World Refugee Day, a time for me to reflect on how I, along with thousands of others once lived miserable lives in the refugee camps in Nepal.
According to the UN's refugee agency, UNHCR, currently there are 68.5 million forcibly displaced people worldwide, while 25.4 million among them are refugees.
Today, I am thinking of my fellow Bhutanese, left behind in two remaining camps in Nepal. In my work at a local resettlement agency in Charlotte, North Carolina, I'm reminded daily about millions of other refugees around the world, as well.
The clients I work with often share stories about how they survived unimaginable adversity. Though they have arrived here safely, I always feel like there is more to do to assist those left behind. It has not ceased to amaze me, and I have seen firsthand the happiness these refugees bring with them to start a fresh life in their new home–as well as the difficulties they must overcome to adjust to a new culture.
If there is one lesson we resettled refugees living in the United States or other Western countries can learn on this day, it is this: we must be kind enough to assist humanitarian organizations that helped us when needed, and continue to aid other millions of refugees in various parts of the world just to meet their minimum basics of food, shelter and safety.
The turbulence that my family encountered when we became refugees from Bhutan in the early 1990s will never fade from our memories. Now that I have a place to call home, I cannot continue to keep grudges against those who evicted me. I can rather heal my wounds by being part of a larger picture — and support other refugees or the cause by offering my assistance in all possible ways.
My family was completely uprooted by the Bhutanese government, for we lost everything–from our citizenship certificates to even our livestock.   while in the meantime I've met other refugees from different parts of the world who've faced other unimaginable circumstances.
I know one thing for certain: I would still be in a refugee camp if there were no humanitarian agencies that would provide the basic needs for living while also seeking help of the recipient countries to find a permanent home.
Those humanitarian organizations not only fed and cared for us for years but when the repatriation option rendered unfeasible in their eyes, they made sure through resettlement efforts that we got a new home. In the case of Bhutanese refugees, a vast majority, indeed 113,000 among us indeed found new homes in various western countries, including 96,000 alone here in the United States.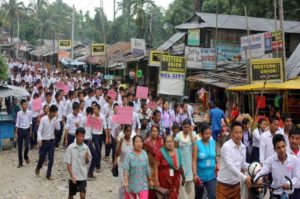 From what I have learned since my resettlement in my professional life, not every refugee is fortunate enough to get a second chance.
The current Rohingya exodus, for  example, began in August 2017, when violence broke out in Myanmar's Rakhine State, driving close to 800,000 people to take immediate refuge in neighboring Bangladesh. "They have not
Undeniably, many of the resettled refugees, irrespective of their country of origin, had walked in the shoes of Rohingya refugees at some point in their lives. This means that our little help could provide some basic support to other refugees like Rohingyas.
You might follow this direct link to make a contribution to the UNHCR, my favorite choice of the day. You could also find here a comprehensive list of other humanitarian organizations involved in assisting refugees directly.
No donation is too small–and monetary donations are not the only way to show support, especially for those of us who are fortunate to be living a better life today because of the advocacy and hard work on our behalf. Consider volunteering at  a local refugee resettlement agency or other humanitarian agencies to show you, as a former refugee, stand proudly with refugee populations across the globe.
Indeed, every day is a day to show gratitude and kindness to others less fortunate than ourselves. Today in particular, I hope you'll share your stories, and your good fortune, in a meaningful way.