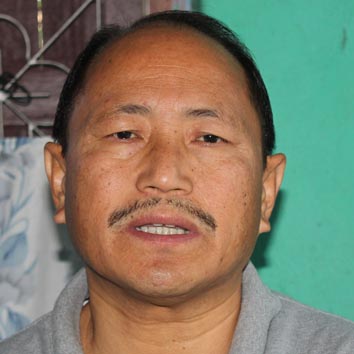 Former King of Bhutan Jigme Singye Wangchhuk always showed indifference towards the activities of the southern Bhutanese. The insidious effects of racism and xenophobia have crippled the lives of the Nepali speaking Bhutanese. Although the people of southern Bhutan have always stood by his side in times of crisis and tragedies, the reason behind his step-motherly attitude towards them have always been a mystery.
It is a ten million dollar question and the correct answer is known only by the fourth king and his coteries, the perpetrators. In fact, over 1,10,000 citizens were arbitrarily stripped off the nationality and citizenship that was followed by their eviction mostly under gun point. More than 80,000 who are the relatives of the refugees and still living in Bhutan neither call themselves a proud Bhutanese nor refugees, virtually stateless people. The statelessness is the serious concern of the International community but is most neglected issue in the case of 80,000 Nepali speaking southern Bhutanese. This has also put stamp on king Jigme Singye Wangchuk what he did was right. The International convention on Nationality and Statelessness is rhetoric and bogus in context to the southern Bhutanese of Nepali speaking heritage.
There are many views and speculations on the creation of the southern Bhutanese problem. Many believe that the Indian government led by then prime minister late Rajiv Gandhi was instrumental in creating the refugee issue. It is known fact that Bhutan government was going often out of hand when in peace and unity not adhering to Indo- Bhutan treaty 1949. Whether it was acted under the influence of India government or of its own, indeed the action was a pre-empted and preposterous long drawn policy. King Jigme Singye Wangchuk was obsessed with the idea never realizing that Frankenstein monster would one day eat up the wangchuk dynasty. This is very obvious from the way one after another Citizenship Acts 1977 and 1985 were enacted to suit the purpose when the Citizenship Act 1958 already existed. Finally, the Citizenship Act 1985 was promulgated as there was no voice of dissent from the minority southern Bhutanese representatives of 16 members out of 151 in the National Assembly, Bhutan's unicameral legislative body. Even if there was any, it was insignificant in thunderous voice of 136 members and the king Jigme Singye Wangchuk closely watching with authoritarian bludgeon to hurl if opposed. Some say that he did so to please the northern Bhutanese and compensate his affairs with four daughters of a  businessman, siphoning country's wealth and legitimize his marriage. Whatever may be the reasons, it was an undesired action that jeopardized the security and sovereignty of the country and in the long run the continuity of the hereditary Wangchuk dynasty. The serious trouble has been created and the International community including India is fishing in the troubled waters.
The Citizenship Act 1985 was implemented in 1988/89 and the census was carried out in the six districts in southern Bhutan. The census team did not include any southern Bhutanese. The southern Bhutanese had to produce the documents as  proof of their residence on or before 1958. No any document prior to or after 1958 was accepted and with no exception to loss or damage by natural calamity. To add, he/she had to produce certificate of origin (CO) if married or migrated from another district. Some districts refused to issue CO. Those unable to produce CO in stipulated time or document of 1958 were declared non-nationals or put in systematic categories determined arbitrarily and later ordered to leave the country on given dates. Disobeying, were threatened with dire consequences. The people were categorized in seven category-F1 to F7.
F1- Genuine Bhutanese with 1958 proof.
F2- Returnee, Bhutanese return after staying outside
F3- Drop out, not present during the census
F4- Children of wife from outside
F5- Children of husband from outside
F6-Adopted case
F7- Non-national
People were convicted of treason when the public appeal to the king to reconsider the policy that was taken. The census was carried out zealously and with added vigor. It was a pre-mediated exercise not to detect illegal immigrant per se but to de-enfranchise as many southern Bhutanese as possible in a bid to systematic ethnic cleansing. The sinister design was clearly demonstrated by the notice of the then Deputy Home Minister Dago Tshering. The notice given to people on the 17th August 1990 states "any Bhutanese leaving the country to assist and help anti-nationals shall no longer be considered as Bhutanese citizen. It must also be made very clear that such people's family members living under same household will also be held fully responsible and forfeit their citizenship." The demonstration in demand of human rights, democracy and rules of law in September/October 1990 in six southern districts became most propitious opportunity to impute all southern Bhutanese as anti-nationals. Physical, mental and psychological terrors were created by declaring the six southern districts as disturbed areas.  The Royal Body Guard (RBG), Royal Bhutan Army (RBA) and Royal Bhutan Police (RBP) were let lose to plunder, loot, rape, torture, kill, harass and arrest people at random. On the other hand, people were coerced to signed so called voluntary migration form (VMF) written in language that most did not understand, at gun point by the army  and they were asked to come to Dzongda's ( Chief District Officer) office next day. People were handed over paltry sum of money for properties worth of millions as gifts from the king, and they were told to leave the country. The scene was captured by the camera. At the same time, census was carried out non-stop thus categorizing people at their whims and compelling them to leave the country. This act of the king not only turned many people to refugees but also those who chose to stay behind have a feeling of statelessness. They get no government facilities and have to obtain No Objection Certificate (NOC) from the police even for admission of children in the school. NOC applies also to those wiling to pursue higher studies or sit in the civil service examination or government service, business license et al. NOC is denied to the relatives of the refugees. They are barred from mending the land left by the relative even as inherit property.
They were deprived of their right to vote in the first ever so called democratic election in 2008 and even this year's National Council election of April 23. The case will be same in the National assembly election in June/ July this year because of the census status. The Druk Phuensum Tshogpa (DPT) that won the landslide victory in the first election promised in its campaign that it would address the problem but did nothing. It was a false promise that betrayed the voiceless southern Bhutanese. There is no mention of the census problem; the most serious national problem in the manifesto of all five political parties.
Now, it is heard that a committee consisting of home minister, home secretary, civil registration and immigration director, Gyalpoi Zimpon (King's welfare officer) and some other officials from relevant ministry has been formed to look into the census case. People are asked to apply for citizenship through the Gyalpoi Zimpon's office. Thousands of southern Bhutanese are queuing up in front of the office from 6 am. The same people have approached the king, the final authority, numerous times but in vain as they had to return in despair due to king's indifference. He would give no heed to people's problems. Although it could not be verified, it is even learnt that he punished his son and fifth king for granting citizenship to few southern Bhutanese on his tour to southern Bhutan. Therefore, the formation of committee is just a smart drama to eye wash the International community who can be easily maneuvered. In this way, the king can evade the question why such a large number of southern Bhutanese are disqualified from nationality and citizenship.
After the process of the application, the committee will interview the applicant on fulfillment of submission of documents of 1958 as proof of living in Bhutan which itself is right of nationality as conferred by Citizenship Act 1958. If he/she passes the interview conducted in Dzongkha (national language), one has to take social etiquette (Driglam Namza) training and finally take the oath of allegiance to Tsa-wa- sum  (King, country and the people). One of the conditions laid on declaration of verification result of Khudunabari on December 2, 2003.
Of course, it is not first time that Bhutan has evicted its citizens and it is not only 110,000. Total number of eviction goes beyond thousands of southern Bhutanese and few thousand Tibetans. The population of  Bhutan recorded in 1971 when Bhutan joined UN was 1.2 million. This drastic change in population must be read between the lines. Perhaps, it is a grave concern and the UN should ask Bhutan what happened to those seven hundred thousand people.
Further, resettlement of the refugees in western countries has indirectly given a clean chit to systematic ethnic cleansing policy of the Jigme Singye Wangchuk. UNHCR could not work towards opening other two options of repatriation and local assimilation, thus letting resettlement to be the Hobson's Choice to refugees. So, Bhutan government is very confident of no onus of repatriation of single refugee. This was very clear by the statement of the Prime Minister Jigmi Y Thinley on his report to the 10th parliament and thanking the core countries for Bhutanese refugees and expressing hope of complete resettlement.
The first question here is why people have to prove again to be Bhutanese when they were born in Bhutan and have been living there for generations fully enjoying nationality and citizenship of Bhutan till 1988. What will happen to those people who are disqualified, and who were arbitrarily de-nationalized by the census officials? Why onus of proving to become citizenship after unbecoming citizenship in the country of birth not by their fault but by evil design? Has Bhutan no obligation and respect to UN declaration of Human Rights and International convention on Statelessness as member of the United Nations? The Royal government of Bhutan can at its whim carry on with act of omission and commission as convenient because all the three pillars of the government-Executive, Judiciary and legislature-are overwhelmed by the northern Bhutanese. Those few southern Bhutanese if ever are inhibited from speaking out of fear of persecution. The ordinary southern Bhutanese have to always live with mental, psychological fear and social demoralization of unbecoming citizen and burden to prove to become citizen.
In absence of freedom of expression and press coupled by absence of outside media to expose the misdeeds and public misdemeanors of the king and the coteries, everything is smoke screened. People are suppressed and their voiced subdued so much so that they even fear to whisper about the bad rules of the government. Although there are about seven media registered in the country, news is always censored  by the government. The gullible International communities are blinded by the charm of hollow philosophy of Gross National Happiness (GNH) and plights of the southern Bhutanese in the country of GNH have been  completely ignored.
[Mr. Subba is a chairman of Human Rights Organization of Bhutan (HUROB). The views expressed in this write up are solely of the writer who can be reached for comments at [email protected]]