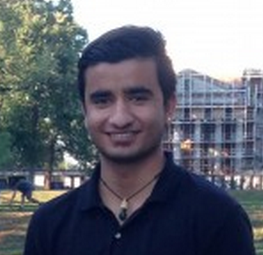 Yadav Sapkota, born in the  Bhutanese Refugee Camp in Timai, Jhapa, in 1993, was resettled in Roanoke, Virginia in 2011. Having completed his School Leaving Certificate (SLC) from the refugee camp, he attended his high school in Virginia, and then went to Virginia Western, a local community college. Now, he is a fulltime student at the University of Virginia, and plans to become a physician assistant. Below is his speech that he delivered during his graduation ceremony at Virginia Western: 
My parents were born in a small country called Bhutan. In 1991, due to religious and language differences, my parents and many other Nepali-speaking Bhutanese were forced to leave the country and live as refugees in Nepal.  With the help of some international agencies and the Nepalese government, people who left Bhutan were settled in seven camps. I was born in one of the refugee camps and lived there for seventeen years.
We were located in camps separated from the local Nepali villages. We were not citizens of Nepal, so we did not have the right to vote. Living in a densely populated camp with closely built, small bamboo huts with plastic roofs and mud floors, my life in the camp was quite different from how I live today. We were given small amounts of food for a certain period of time, and we were to use it wisely, so we did not run out. We did not have electricity or a personal water supply. 30-50 families had access to a water tap which ran only at certain times of the day and the amount of water depended on the size of family. I still remember walking about a mile to get more water from outside the camp because what we had was not always enough.  Summer was always my favorite time because we would have a river where I could swim all day with my friends, and wash clothes.
No electricity meant no computer or television or phone, but we did have a radio which was broken in half. Mom needed the radio more than us, so she held it together by wrapping a rope around it.
In 2008, some agencies decided to relocate all the refugees from the camp in seven different countries including America. We decided to follow my mom's side of the family and come to Roanoke. In 2011, we packed eighteen years of our refugee life in four bags and jumped into the plane for America. After travelling for 36 hours on six different planes, we finally arrived in Roanoke on March 16. I could not sleep all night because I could not wait to see America for the first time.  We used to joke saying America is 30 minutes from heaven. Unfortunately, my first month in America was disappointing because I had heard it was a place with tall, fancy buildings, clean roads, rich people, and that everything was free. I always imagined America being New York City, Las Vegas, downtown Chicago, but slowly I started learning about the real America. It finally felt like America when I bought a pair of shoes on my own and rode in a car for the first time.
I went to Patrick henry high school for two years and then enrolled in Virginia Western. I have learned so much, not just English, science, and math, but to be confident, talk with professors without hesitation, and make friends. When I first started college, every time I had a question, I had to prepare it in my head, check my grammar before speaking. When I made a mistake, I would feel embarrassed and feel like people were laughing at me. But now it is different, I have learned that the best part about learning is that we get to make mistakes. My involvement in different clubs, working as an academic tutor and teaching assistant, being a student ambassador, and being part of the CCAP program has helped me develop self-confidence and communication skills. I have met many amazing professors, advisors, and staff members. I would not be where I am today without the help from Dr. Virginia garden and Martha Richardson. You have both been my guardians for last two years, and I cannot thank you enough for your support. I also want to thank everyone who helped me get through this two years and especially Mr. Lofthus for being more than just a professor. Thank you for being an advisor, a professor, and a friend when I needed one. 
I want to thank everyone who works at Western and for making a difference in the lives of students. You may not always get the appreciation you deserve, but I want you to know that students are able to succeed with your help which brings pride and happiness to their families. Because of all of you, I am a better person today. I have learned to appreciate everything I have in life and not complain. I am transferring to the ­­­University of Virginia, but I will always remember the excellent education and experience Western provided me. Thank you Virginia Western for the best two years of my life.