Radha Devi Thapa was barely nine, when both of her parents left her and five other siblings orphaned in a span of three months in 1972.  It was in a village of Nainital, in Dalim block of Samdrupjongkhar district in southeastern Bhutan.
Including her, eight kids, ranging  two months to twelve years were taken in by her second uncle shouldering responsibility to feed and shelter them. It was through an official accord  they got this custody of a guardian.
Damber Kumar Nirola was twelve years when he finished the local Neoly Primary school, ready to move to next school in Trashigang for higher education which his uncle promised to support after the death of his father.
He is now prominent psychiatrist in Jigme Dorji National referral Hospital in Thimphu.
Radha Devi did not get the same opportunity as her eldest brother to be in school.  After she finished her third grade, she was taken out from school, and loaded with household chores that a village girl was expected to perform then.
"Maybe I was not as lucky as my brothers for getting education," she believes her fate.
Her younger brother Om P Nirola is associate director at Druk Holding and Investment, a royal finance company for investing in existing companies of Bhutan.
Radha Devi's father, Dip Bahadur Nirola, was a village head, commonly addressed as Mandal (Gup) who initiated the process of building school in Dalim.
"The position of Mandal is comparable to present day Mayor in any city of US," Radha Devi explains the role and power of her father.
She has no clue about the cause of death of her father, but she remembers her mother died due to obstructed placenta soon after the birth of her youngest sister.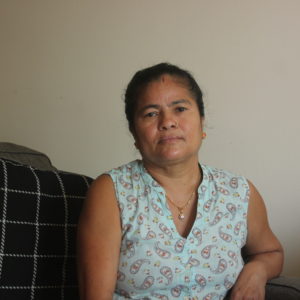 She was married to a Thapa man from other side of Neoly, agriculturally prosperous and sprawling new land  opened for settlement. Her second sister, Chhai Maya was seventeen, while she was just 13 at the marriage.
'We were married at the same auspicious occasion on the last day of puran (a religious sermon for seven days) held by our uncles.'
Life was a arduous journey for these Nirola siblings.  They lived under the aegis of their uncle who took over most of the land their father owned, and had paid workers and laborers for doing the agricultural and livestock tasks. But Radha and her siblings, did not get a good moment for respite; Om P Nirola burnt the midnight oil to finish his school work after completing most of the domestic chores.
There were often very harsh words;  Radha remembers every  distressful moment of agony and pain of losing parents.
"Husking the rice paddy in a traditional human powered wooden mill (Dhiki) consumed half the night, and we all children helped in getting the rice incomplete off the husk."
When their aunt also died leaving behind small kids, the uncle of their charge became a wanderer;  he left the village of Neoly to reach Chirang where he spent almost a year. That was the time when all Nirola kids ate almost  half of the raw corn-ears in the field, in absence of a guardian.  Radha still remembers this survival strategy when no adult takes responsibility to feed the kids.
Radha is now naturalized to US citizen.
She is proud herself for being able to pass the citizenship test preparing on her own, though her English is still rudimentary.
That she worked for various social services of camp management and women empowerment, Radha credits this engagement for her confidence to get naturalized.
While adjusting to new land and culture, she is quite worried that upcoming generations might lose their cultural identity, and their native language- Nepali;  wish that no young men or women put themselves and the community on shame by irresponsible and illegal act.
"Let nobody forget their roots and their own culture to maintain the identity of Bhutanese Nepali".