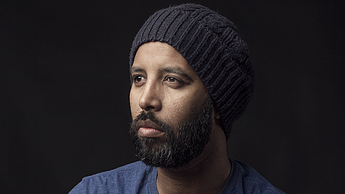 When immigrants flocked to the United States over a hundred years ago, their first point of entry was Ellis Island in New York.
That history is partly what prompted photographer Tariq Tarey to train his lens on the face of today's newest Americans.
"The European migration was well-documented," he said, referring to footage of beleaguered Polish, Irish, and Italian immigrants arriving in search of new opportunity after long, exhausting boat rides.  Tarey feared the stories of modern migrants, including resettled refugees like him, would be lost.
He arrived in this country on a plane, a refugee from Somalia, twenty years ago, seeking asylum from the conflict back home.
"I didn't want the history to be lost," he said.  So, after finding a camera at a flea market, he started taking pictures.
As the director of refugee services at Jewish Family Services in the area, he was meeting and working with another group of people experiencing political upheaval: recent arrivals from the Bhutanese-Nepali community.
"We share a story," he said.  Though he may not share the exact religion, food, and language as that of the Bhutanese-Nepali community, he felt his own experience coupled with his ongoing work with arriving refugees gave him a unique entry point to their experience.
Over time, as Tarey has helped people find jobs and create new lives in Ohio, he slowly began to learn the individual stories.  He visited temples, and went to schools where they were learning English, as he had years before.
 Only then, he began to take photographs.
"You have to do your homework, your legwork," he said of his approach.  His partner on the project, Doug Rutledge, provided the written text to go with his pictures.
 Then, they brought the show to the public, first to the Ohio History Museum.
He didn't go to an art gallery, he said, because "I wanted to make sure the Bhutanese-Nepali belong to Ohio's history.  They're Ohioans.  They are part of the culture now."
The show is up now at the Rutherford B. Hayes Museum in Fremont, Ohio, and will next open at the Underground Railroad Museum in Cincinnati.
And Tarey continues his work as a visual ethnographer.  He's begun another project on a different population who are helping to reshape Central Ohio, the Congolese people.
"In America, you belong to the soil," he said.  "What unites us is not tribal, it's not religion.  It's the Constitution of the United States."
Tariq Tarey's photographs:  http://www.tariqtarey.com/neighbors
Video interview with Tariq Tarey from PBS' Broad & High:
http://www.pbs.org/video/bhutanese-nepali-neighbors-photographs-tariq-tarey-nqrwp4/
Have a diaspora story you'd like to see us tell? Know of someone in the community who is doing formidable work? We'd love to hear about them. We are in particular seeking stories about women and elders and how they're integrating into their new communities.