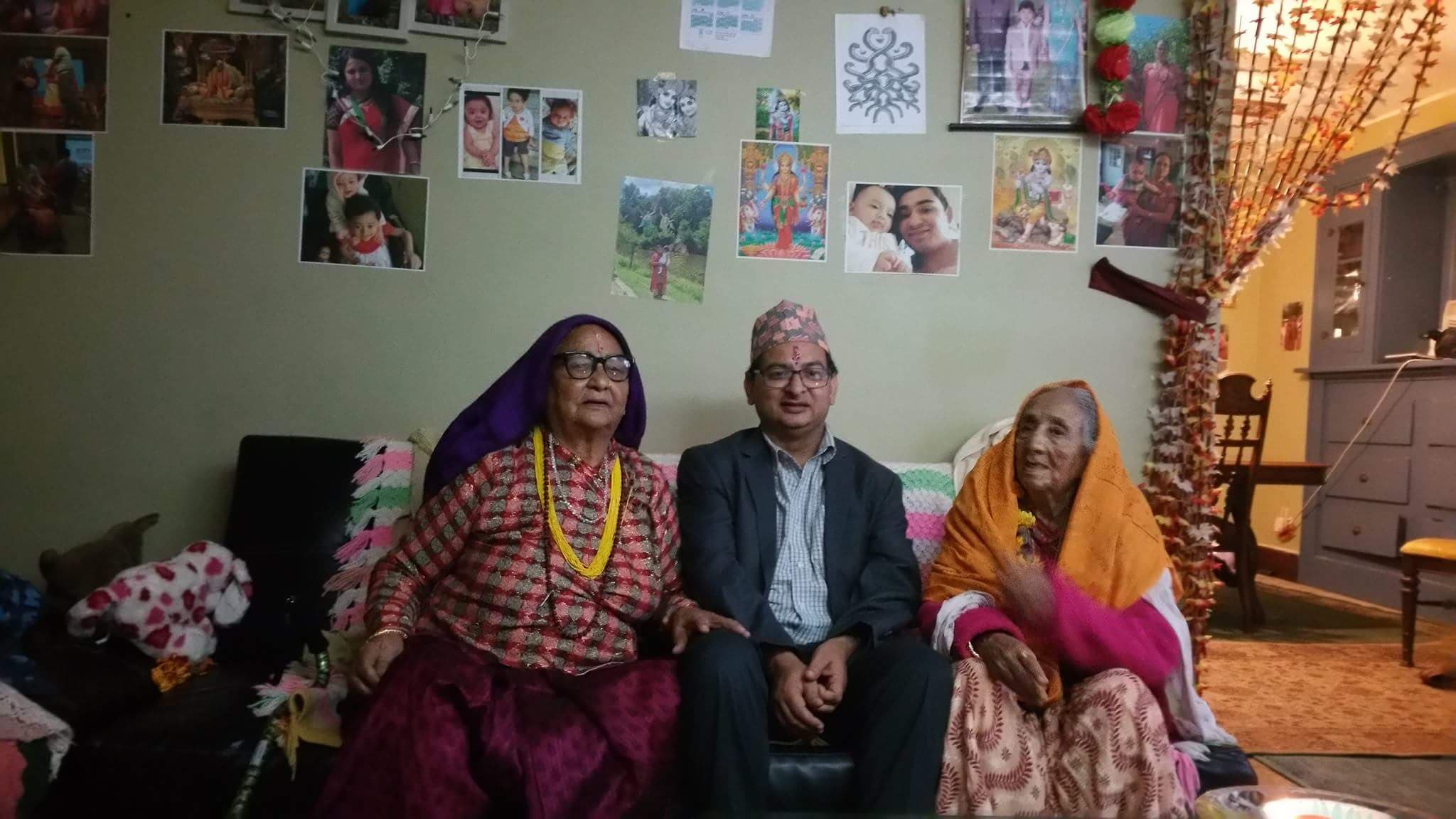 Journey of paranoia
'I just picked up this orphan baby of 18 months and left Bhutan risking my life. Nobody was there to escort me to cross Bhutan's border. I was the last one to exit from my house. But you look here, now that same baby has become the father of two children and he's taking care of me.' She was showing Laxmi Narayan, the grandson from her eighth son Mr. Chudamuni and made those soliloquies. Truly, Laxmi Narayan's mother Sabitra had passed away from post-delivery complication just three months before their expulsion.
'As I was leaving my house, I heard the chorus of bleating goats. Our two horses were staring at me and snuffing frequently. All those animals were showing some abnormal behavior and they might have sensed something unusual about their masters. I don't remember the pigeons but the roosters were in queue as if I were feeding them.  We had a female dog and two beautiful cats. I forgot the exact number of cows but our milking cow Dhyani was still tied on the cattle shed. Suddenly I felt of killing or ending my life there itself. But one cannot perform such inhumane act and has to live for others. Anyhow, I had to live for that innocent being. Then I unleashed those two horses from the stable to let free in the cornfield. I opened the door of the barn and goats ran away without caring me in the blossoming millet field. Around that barn was our beautiful orchard. There I picked one green orange from the tree, looked at it and threw it on other big jackfruit tree. I couldn't eat instead cursed my fate and sang few holy hymns in my mind to console my emotions. I was literally subconscious. Didn't you see my backyard bamboos beside the creek that we used to fetch the drinking water? We used to harvest about 100 muri (approximately 8 ton) of rice each year and the crop was almost ready to harvest. During the harvest season or closer to our festivals, our rice field resembled an earth covered by gold in the Suntoley ridge. What a fate!' Nar Maya Dahal expressed her inner feelings when I last met her at Akron, Ohio on May 26th, 2018. Literally she was very heavy and occasionally breaking her sentences while talking to me. Clearly I saw her tear drops and chidingly clearing those rolling droplets with her headscarf. She is now 96 years old, lost most of her vision and some degree of memory. I could understand that she was bit dis-oriented as she couldn't properly figure out of her whereabouts. But the image of Bhutan and the way of life she lived there seems deeply imprinted.
I observed her in silence from head to toe to check her apparel. Later I made the inquiry of two missing elements. The small bagging sickle (खुर्मी) was missing. She used to carry a sickle hooked at her waist bandana (पोटुका) and the handle of that sickle used to be ornamentally carved and protected by small metal ring at the end. The other missing element was the key (भोटे चाबी) precast designed by the local blacksmith at her bunch of key hanging around her neck. That key bunch was literally a first-aid kit consisting of small handmade brush from wild swine fur, ear wax remover made either from nickel or silver, clamp plier, safety pin, keys and other day to day accessories required in the wilderness of livelihood.
She had very neatly plaited her ponytail hair with thread ribbon (चुल्ठीधागो) and was tied with a thin traditional Nepali scarf, covered by large shawl. In Bhutan, she used to wear flat gold earrings but due to change in living places and personal safety in Nepal, she converted those rings into Marwari, that are still preserved. Her septum jewelry (राहदानी बुलाकी) has never changed and she emphasized the importance of that particular ornament as that jewel was given by her father-in-law at her marriage. What a gem! During her youthful years she had a large circular nose ring stud but with advancing age, she reduced into tiny stud to preserve her emptiness on the shagging skin.
On my visit, she had worn a full sleeved Chaubandi blouse. I could see different types of bangles including the gold one on her wrist. Usually she used to wear a traditional long fariya drape but on that day, she was on bulky, slippery and heavy sari. I generally give significance to the way she is dressed than the quality of material since it's not her choice now.
Early life and marriage
Nar Maya was born in 1922 AD from Kirtiman Basnet and Dikura Basnet in a small hamlet of Tashidin under Dagapela, Bhutan.Though not a popular trend but people tend to trace their family lineage from the location of a place. This is the reason that her paternal lineage is often called as 'Tashidinay' Basnet clan later migrated to other parts of Dagapela. Tashidin is often referred as the 'rice bowl' of Dagapela because of the warmer temperature, fertile soil and accessibility to spring water. But this Basnet family was never stable at that location because of the family sorrow. Kirtiman Basnet had to perform thirteen death rituals of his family members including two children and his wife within a span of nine years. They considered that place as nonviable, bad spirited and decided to leave for better place.
Basnet family made their first shifting to 'Bhaleygoan' and settled there for quite an extended time. Still some of her paternal 'kith and kin' are living in that place in spite of the mercy of 1990 upheaval. Their new aspiration to secure a better land did not yield much with whatever left over after the recovery from loss of family members. The family couldn't afford the nicer land than the steep untamed slopes.
Nar Maya was married to Kharga Bahadur Dahal when she was eleven years old. Kharga was the first son of famous 'stone mason' of Suntoley Nar Bahadur Dahal. Lt. Nar Bahadur Dahal's popularity grew in Dagapela as the chief stone mason at the construction of Sub-divisional Administration Office building at Goshi. And, that complex has become the landmark for people of Dagapela. He was very skillful in both the stone masonry related works and wood craftsmanship. Afterwards the people from far and wide began recognizing Nar Bahadur Dahal as 'Karmi' Dahal and his clan as 'Karmi' family. During that time Dahal family was economically better-off and had occupied the heart of Suntoley land. Later such productive land in prime location became the most eye soring factor for their expulsion.
Editor's note: Remaining section of this story will be published in the next week's Diaspora stories, Please keep following.