Ohio- On Sept 1, 2019, Green Vale Academy (GVA), a school based in Beldangi-I refugee camp in Eastern Nepal, students of 8th grade of batch 2000, hosted a get-together program at Namaste Curry House in Fairfield OH.
The event was led by Charan Subedi assisted by Buddha Gurung around 4 pm on Sunday. Almost after nineteen years, 47 former students, now resettled in different states of the US-met for the first time and shared their current and past experiences.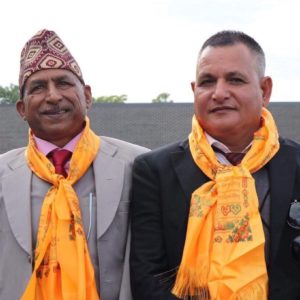 Two former headteachers, Mr. N P Koirala, and Mr. C L Gautam were honored along with former teacher Ms. Bina Gautam, for their selfless educational contribution back in Bhutanese Camps. Both headteachers thank the students for putting together the program and shared their excitement.  It is a matter of pride to see our one-time students grown so big- physically, socially, professionally. We, both, wish for their successful endeavors alongside remaining responsible citizens of this great and welcoming nation, said the headteachers.
D.P Neopaney announced the name of missing friends, Chandra Parsai and Kul Bahadur Basnet and prayed for their safety and whereabouts. Raj Baral led the floor to mourn for their late friends-Rupa Subba, Krishna Adhikari, Gopi Rai, and Sukraj Rai. Students unanimously proposed and agreed Columbus OH, the next venue, for the continuation of this event in 2021.
As a friend together, they raised one thousand dollars in the event and decided to provide educational scholarship to one of the needy students in the refugee camp in Nepal.
Fun full of jokes, music, dance, and poems recitation added flavor to the program.
Followed by a photo sessions and D J dance, the program was wrapped up around 8:30 pm.