"Oh look out there, look out there, a bride has come, a bride has come", and everyone from their houses rushed to the patios to look at the new bride in the marriage procession. That would be a typical scene in early traditional marriages in remote villages of Bhutan. Mine was no different. 
I was seven years old and my groom was 13 when we got married in Badarey Village in Chirang, Bhutan 79 years ago. I could barely remember my marriage but certain things always stand out in life forever.

I still remember that one of my cousins poked fun at me by twitching my back when I was being carried by my father as a bride. I will never forget that incident and the teaseful conversations. I didn't know for sure why we were married so early in life in those days.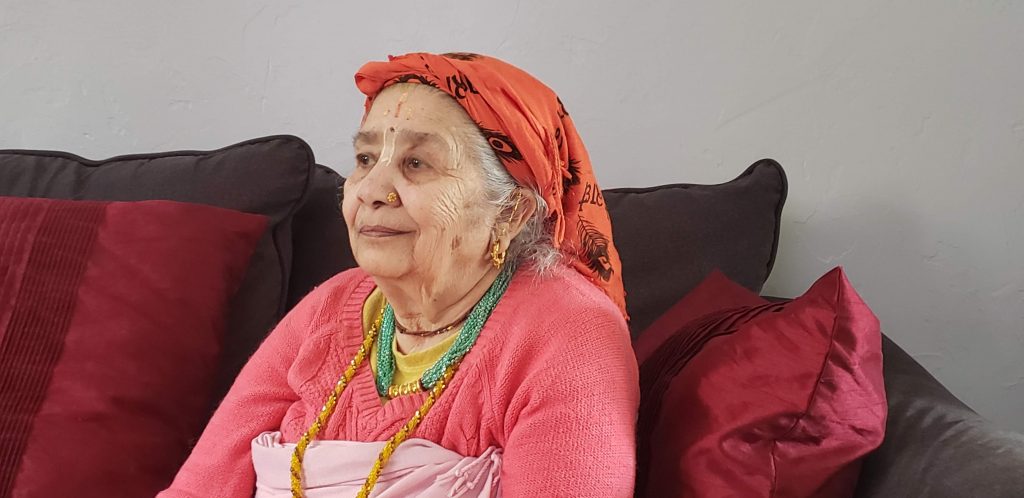 Even our parents couldn't explain the reason as they simply followed tradition. However, as I grew older I began to learn from educated people that early marriages in those days were conducted to protect young girls from the capricious outreach of the rulers in India where the tradition originally started.
It probably started many many years ago as a safety shield for the young girls from forceful conversion, and marriage provided that sense of security as those militants didn't want to take married girls. Though such incidents never happened during our time, our people carried over the same tradition. That tradition is outdated nowadays, and I use this as a moment to tease my grand-daughters who respond with funny faces.
We were not sent to our husband's house before the age of 13. Until then, we stayed with our parents, whom we called 'maitalu'(married daughters staying at parental home instead of with their husband's family). I was 14 when I formally joined my husband's house. There were around 12 people in the family already. It took a while for me to know everyone by relationship and cope with the duties and obligations of a Buhari (daughter-in-law).
I was groomed by my parents during my 'maitalu' days in regard to my duties and how I should act or who I would be in the new family. A daughter-in-law's life was rather hard, not just in terms of physical work we had to put in but also in terms of the role we played as a 'buhari', an identity that is a lot to handle and shoulder.
The remote village of Badarey where I was born was also where I was married, but my future husband came from another village called Bokrey, close to Damphu Bazaar. I remember my groom to be a handsome 13-year-old boy dressed in traditional daura-suruwal and Feta (Nepali traditional costume).
Many of my peers were also married and the sight of marriage parties and procession was something nobody in the village wanted to miss. We were innocent and never felt shy. And we had fun with the people who joined as 'janti'(invited guests for attending and escorting bride and bride-groom),  and who had their own fun stuff to do to make marriages interesting and memorable. The songs, traditional music called 'panche baja' and a big buffet (bhater) of rice, pulses, dairy, and goat meat (Jantay Bakhro) were all part of the wedding in those days. Janti would line up in the open field, either khet (wet field) or bari (dry field) and eat a feast.
My handsome and loving husband passed away in 2013. I miss him badly. My husband, Badri Nath Pokharel was a hard-working man and a great human being, and reflecting on my early marriage I feel proud of him for finding the right person. I never heard him saying 'no' to any one. He loved helping people during his free time and never expected anything in return. He was also a devout practicing Hindu and his religious and spiritual pursuits were very deep and exemplary.
When I look back and tell the story of my life and marriage to my grand-daughters they look at me in disbelief as if I am an alien. They think that the stories related to my marriage are fairy tales. My little grand-daughter one day asked me if I had a picture of my wedding. I smiled and said, "it's all in my head."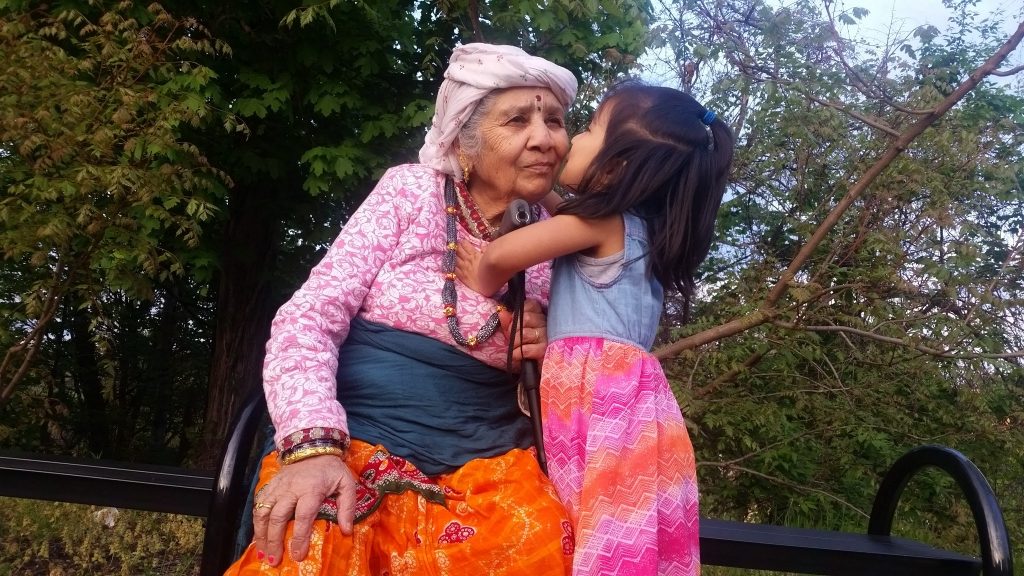 I had eleven children; six sons and five daughters. I've lost two daughters and a son. I am glad that most of my surviving children are here in America, except for the oldest son who is still in Bhutan. I wish he was here as well. I desperately wanted to meet him and his family one day before I die. 

I feel deeply proud to be a grandma of 30 grand-children and 35 great grand-children. My wedding saga that started when I was barely seven years old makes me feel that my grand-daughters are lucky these days in many ways. I am glad that I have been living this long to experience everything in between and share my wedding story. 

Although my husband is no more physically, I feel that my marriage journey, in reality, hasn't ended because I still dearly love my husband. I am sure his soul continues to bless me and others in our family.