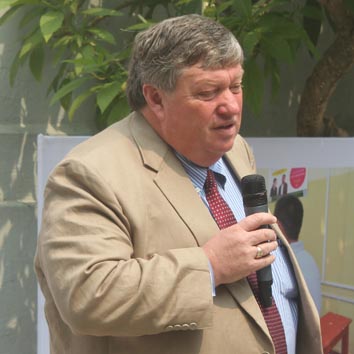 When I left Nepal in 1997, I never dreamed that the United States would be able to take so many refugees. I am very proud to be the American Ambassador; we have taken 66,000 refugees for resettlement already. We have another 10-15 thousands refugees on the way and they would be resettled over the next couple of years. I thought it would be more interesting here is to thank a few people. First of all, I want to thank the Government of Nepal for being incredibly concerned on the Bhutanese refugees for the last 20 years. Indeed, all the elements of the government have been involved. Not only officials from the valley but also the local government officials, CDOs (Chief District Officers) and all those involved in the refugee issue deserve thanks. I also thank the UNHCR (United Nations High Commissioner for Refugees) officials for the purpose of the resettlement process. This is probably one of the most successful resettlement efforts that has taken place during my life. Thank you my colleagues, UNHCR, IOM and everyone involved as this would not have been achieved without your efforts.
I took my son Christ down to the camps in 1995. He was brought up in Kathmandu, and I wanted to show a diplomat's son that he didn't. It was a very intense visit down to the camps. We visited a lot of people. We saw vocational training centers, victims of torture and abuse. People were disturbed; they didn't know about their future and were worried. My son was really impressed on what was going on at that time. Over the years, even we were in Kathmandu, we always tracked what was happening over there. When he came back to visit me in November, I suggested him to go down to the camps to see what I have done. And, we both went down. We were stroked by one thing – the way that the camps have changed! We saw normal refugee camps that time. We went there right after the fire; hundreds have lost their homes. Despite of that there was a hope. When we get down there now, it is a happy place. I found them happier as they have started changing their daily life economically. I asked them where has all the money come from. We were told those who have left the camps have extended their helping hands. It is also the indication that those we helped to resettle haven't forgotten their friends and families.
I just say that this is one of the efforts where we all have been involved in. And, we should be very happy and proud of it.  When we reached the camps for the first time, thousands of people received us with various programs and demonstrations. They requested us to help them. While 15 years later, I just came back and have been able to see what is going on. The bravery of the refugees and decision to begin new life by opting resettlement have come altogether. This is what I have acknowledged. The road for those who have begun their better lives is not an easy road – there are many challenges, but I am sure they are up to it.
At the end, I have very special thanks to two groups. The first group is people from out own government from the department of DHS (Department of Homeland Security) who have contributed in the refugee processing, and the next is IOM (International Organization for Migration) training department that has been given very hands-on and realistic trainings, and are very remarkable. And, I know that due to these trainings, there are significant differences in lives of the resettling refugees. I am really proud to be a part of this process.
Thank you.
(The author is American Ambassador to Nepal. The Bhutan News Service has unofficially transcribed these texts from an audio record of a speech delivered by the Ambassador at a joint press meet of UNHCR-IOM organized on April 26 at IOM Transit Center, Baluwatar, Kathmandu. Except ensuring a proper flow of grammar, no editing has been done to retain his exact say.)