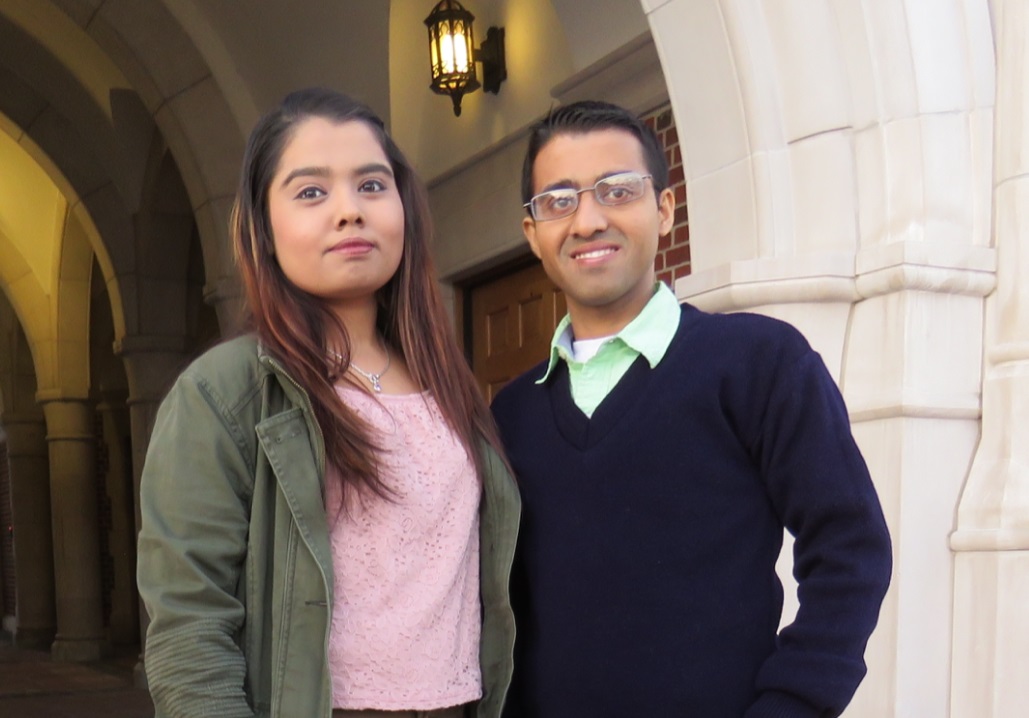 After seven years in the United States, biochemistry student Chandra Chamlagai has become accustomed to people assuming she's from India.
It's only if she knows them well that she bothers to explain how her life began in a refugee camp in Nepal after her parents fled ethnic cleansing in Bhutan.
Her older brother, Lila, was just 22 days old when the family made the treacherous journey. Goldhap refugee camp in eastern Nepal is the first home he remembers.
He uses his background like a geography lesson, asking people he meets who are curious where he's from, "Do you know Mt. Everest?"
Chandra and Lila have climbed figurative mountains since arriving in West Springfield, Massachusetts in 2011.
At Central High School, their teachers said the brother and sister were the hardest working students they'd ever taught.
Though no one in their family knew much English when they landed on US soil, both Chandra and Lila managed to earn prestigious Gates Millennium Scholarships to finance their college educations.
"We both don't know how that happened," said Chandra.
The fact that they were honors students, and involved in community volunteer work, had much to do with it.
Today, Chandra and Lila are both juniors at Elmira College, a private school in upstate New York.
As they prepare themselves for careers in the health sciences, neither has forgotten the difficult lives they left behind.
"Life was hell, like a parrot in a cage," said Lila, who says he is amazed at how little American students know about the depth of poverty and turmoil experienced by people in developing countries.
He's also distressed by the high suicide rate among former Bhutanese refugees.
This fact has helped fuel his goal to help make "positive changes to society and community" by working in public health and global medicine. He hopes one day to work in Nepal, and to visit Bhutan.
Chandra is preparing herself to become a physician's assistant so she can help people in a rural area where access to medical care is limited. As a young girl growing up in the refugee camp, she dreamt about doing something with science and math as she watched the struggles of those around her who became ill and couldn't access appropriate care.
"I would not get the opportunity I have now if I was back in Nepal," she said.
There are two elder sisters in the Chamlagai family, both married. One works as an interpreter in Vermont, and the other, in Florida, hopes to study to be a nurse. All have earned their American citizenship.
Seeing their children spread out across their adopted country is hard for their parents, Lila said, especially since they do not speak English. Now that he and his sister have been away at school, they have a conference call each week back home to make sure the household is running smoothly. Slowly but surely, the elders are adjusting. Their father works in a dining hall and their mother is a homemaker who recently completed her US citizenship test, too—with assistance provided by an interpreter.
"My heroes and my strength," Lila said of his family.
Current Chairperson of the Bhutan Media Society, Napoli, a veteran journalist, has spent time as a volunteer in Bhutan and is the author of two books, Radio Shangri-La and Ray & Joan. Learn more about her at: lisanapoli.com.
___
Editor's note: Tell us your success/resettlement story, or if you know someone you think should be featured here feel free to reach out to us. Such stories will inspire others and keep the diaspora informed. You can write your own story too. Email us at: [email protected] OR [email protected].