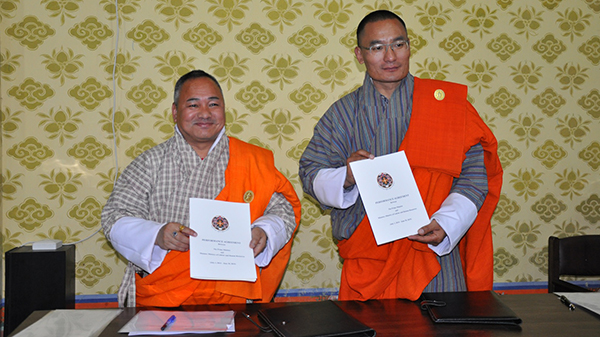 Sherab (name changed) joined a group of friends to fly for Qatar in 2014 to help government fulfill its pledge-6000 overseas jobs per year. Along with his friends he got into trouble with their employer when he did not get the same job as promised before boarding the plane. Now, the same group of workers including Sherab is not paid the salary for the work they are doing.  Are they not doing the right job?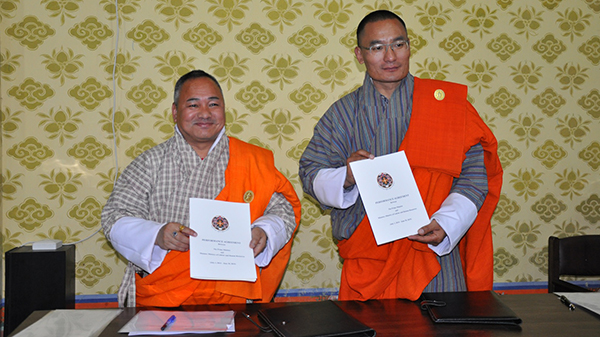 A year ago Sherab contacted BNS from Doha expressing the fear and despair. BNS brought in light their concerns in Expectation Vs Reality: Bhutanese workers in Qatar.
The report was widely read and shared in and outside Bhutan. Ministry of Labor and Human Resource (MOLHR) defended in pretext, "No formal complaints have been received in this regard."  Global Recruitment Overseas Agency, the manpower company in Thimphu that sent these young men to Qatar wrote to BNS warning not to write anything what the agency does.
 The Global Recruitment Overseas Agency since recently got suspended for good.
Sherab contacted BNS again from Qatar saying, 'It is time to help again. Many of our friends are denied salaries by the companies.  We know very well that Ministry of Labor and Human Resource in Thimphu is well aware of this, but hesitant to do what it should. We hear officials in the ministry as saying- those who assume with the problem should report us in person or through proper channel.  What a rule!?'
Once the issue got surfaced through the relatives and friends of those workers in Bhutan, social media joined the line to inform government.
Dargo Tashi, admin of the social media group – Breaking the News-Bhutanese Social Media -that has around 22K followers writes on May 4, 2016, 'This is the kind of thing that we should be worried about, not the color and patterns of our Racchu. I think it's high time that our people demand accountability from the government because they sent these people there despite knowing that such things are happening there and has already happened to our people in the Middle East before.'
Tsehwang Dorji, a parent of one worker in the Middle East adds a comment on Dargo Tashi's post saying, 'Quite a worrying factor for parents like us who has children in the Middle East. Think govt. MOLHR should do more than what they think they are doing. We urge ministry to do better and stop promising what they cannot fulfill.'
A dream to prosper?
The job seeking youths flew to Qatar and other Middle East and South East Asian countries as a part of government's bid to find foreign employment to at least 6000 youths a year.
Sherab sent back almost every dinar to his family that was just enough to pay off the loan he has taken for arranging the flight to Doha and as a processing fee charged by the agency in Thimphu, pay the employment company and meet other expenses.  He told BNS, "Seven months from now, if everything goes well, I am planning to save the rest."
Something is better than nothing
When Bhutanese society is reeling under the paradox of problems –alcoholism, substance abuse, mental health and suicidal behavior, unemployment, massive rural urban migration- choosing to enter foreign employment market is a Hobson's choice.
The number game in school is quite tricky to predict any worthwhile career path the students can take. The number of seats available in government schools is sheer limited, which can absorb only 40 percent of the passing students, which in turn determines the intake valve for admission to government colleges.  In 2016, 5,410 students who passed grade 10, could be taken into government schools for secondary education. Rest students left to find way to some of the Indian cities or expensive private schools in the country. According to Bhutan Council for School Examinations and Assessment, a total of 11,323 students sat for the exam from 39 higher and 73 middle secondary schools.
While, in 2015, private schools too had limited seats to take all students who did not make the threshold of 61 percent aggregate! Total students passing tenth grade last year were 5972.
With this stark reality of booming youth unemployment, opening of overseas job for aspiring job seekers is something better than nothing. But, the unscrupulous manpower companies in Thimphu and the employer companies in Doha seem to have colluded to add more hardships to the workers.  "They have not fulfilled their promises," says Sherab's roommate in Doha. Quality Hyper Market in Doha is one that has not paid its employees since March.
Back in the country, the clear demarcation of blue collar and white collar jobs has added stigma to all educated youths to take up even the skilled or semi-skilled job like masonry, construction worker or plumbing. People are cultured to look at such jobs as low ranking and associated to their prestige.
 A Kuensel report of October 21, 2015 says, "A masonry trainee at the TTI, Thukten Jamtsho said societal pressure and stigma are the biggest challenges for Bhutanese youth who take up vocational education."
In the same reporting of Kuensel, one official at a vocational training institute is quoted, "Even now most students pursuing vocational trainings here are from humble families since well-off parents discourage children from taking up blue-collar jobs."
The way Royal Civil Service Commission picks from the pool of graduates applying to government jobs has created enough frustrated lots.
Those RCSE disqualified but merited students see only an option- to be the ambassadors of the nation and try their luck in the Middle East and Malaysia. On the other hand, the government's ambitious pledge gives way to agents and manpower companies mushrooming in Thimphu.
Taste of change – a test
There is a change in the system of governance in Bhutan. The fourth king Jigme Singye Wangchuck has gifted democracy to His people and the throne to His son Jigme Khesar Namgyel Wangchuck. But, people haven't seen required change in the modus operandi of the leaders and bureaucrats in terms of misusing the power.
General public blame unchecked corruption as the triggering factor for unemployment.
The very first democratic government led by Jigme Y Thinley was anticipated to change the course of Bhutan's participatory development philosophy, opening new road to progress and prosper. The people were dismayed and the nation put on shame when elected high officials like the Speaker of the National Assembly and the Home Minister, were found to be the accomplices in Gyalpoizhing land scam.
The second elected government now led by Tshering Tobgay suffered a backlash when one of its cabinet ministers, Rinzin Dorji, was found to have risen to power through corruption. Before taking to the political race, they all were trusted bureaucrats in the eyes of common people.
Bhutan's corruption watchdog, Anti-Corruption Commission (ACC) too isn't far away from people's criticism. It is blamed for baiting only the small fishes and has no access to the ponds with bigger fishes. The confusion surrounding the formation of ACC and appointment of its chief sent tremors to Transparency International as per December 10, 2015 report. And, the Transparency International has cautioned Bhutan in this regard.
Dasho Neten Zangmo, former ACC chief, also called a fearless leader told to BBS, May 8, 2015 "Corruption is deeply and widely entrenched within the national system inside and outside Government. It is not a here and there cases of corruption. Corruption has become part of national trait of doing things."
The current ACC chief has tough road to walk through.
ACC has to really go after the questions: who is becoming the richest at the cost of public resources?  Who all are the competitors behind the scene? Why a nation with just around 650,000 population has to send 6000 fresh graduates overseas annually?
Albeit, no country in the world is corruption free, this tiny nation can easily materialize a dream to become the first corruption-free nation on earth. What stops? It is just a matter of proper use of the system and making strong laws to penalize the perpetrators. '20th by 2020' vision of Bhutan towards cleanliest list is easily achievable-provided each one becomes accountable to what they do. Recently introduced E-receipt system is the harbinger in the nation for that good beginning.
Remittances: will it improve?
From recent figures in Kuensel, status of remittances to Bhutan from foreign employment is seen encouraging: Non-resident Bhutanese remitted various currencies worth Nu 508 million from January to December 2014, according to the Royal Monetary Authority's monthly bulletin of February. This was an increase of Nu 164M from Nu 344.6M in the previous year during the same period.
Bhutan last year received Australian dollar (AUD) 4.24M, which is roughly Nu 203M at the current buying rate. Remittances received from the US amounted to USD 4.15M or Nu 261M. (Kuensel March 14, 2015)
 Remittance from Australia has doubled from AUD 4.24M in 2014 to 8.73M last year. In 2013, remittance of AUD 240,000 was recorded. United States of America (USA) is another country from which inward remittance is quite high. Last year, about USD 6.6M has been sent from USA compared to USD 4.5M in 2014 Kuensel on March 10, 2016 reports.
However, these figures do not account for the very meagre amount of remittance sent by these workers in Qatar or Korea or Thailand.
Bhutanese people begin to understand- a huge variance exists in disbursement of available resources vis-à-vis the population it serves. Foreign aid, remittances, taxes, revenues, and sale of hydropower besides other sources make the national income. The distribution system has not been proportional, people assume, with unseen leakages. People mostly hear about insufficient funding or lack of budget in the development projects from the official media but if a firm system is to dig out the truth, it can bring out unpleasant news to many.
Hope within woes
What did you learn besides hardships and being a victim of deception from your own people in Thimphu?
Sherab says, "Every misery has silver linings. I got education that people in Qatar want their country to develop, in Bhutan people in power want to develop. I see Bhutan far richer than where I work, naturally. Should corruption to bring to an end in Bhutan and proper system planned-it will not take time for Bhutan to hire manpower from overseas. I should not be sweating here. My country deserves my sweat than anywhere."
Does it mean?
Government failed to patch leakages and loopholes in the departments, ranks and positions with transition from active monarchy to the gifted democracy, or  Government sees nothing in the vicinity to utilize the potent energy of the youths.  And, to minimize the crowd in the cities- crowd of the disqualified merited youth- government lures them to overseas employment that ultimately ditch them into miseries.  The government's pledge for 6000 overseas employment per year is already in trouble! The crowd in the cities is still rising. The defending statements from the MOLHR against the plea of the suffering youths from overseas speak in volume.
May Sherab's dream for a  prosperous Bhutan come true provided system of good governance is ingrained  properly and corruption is systematically wiped out.