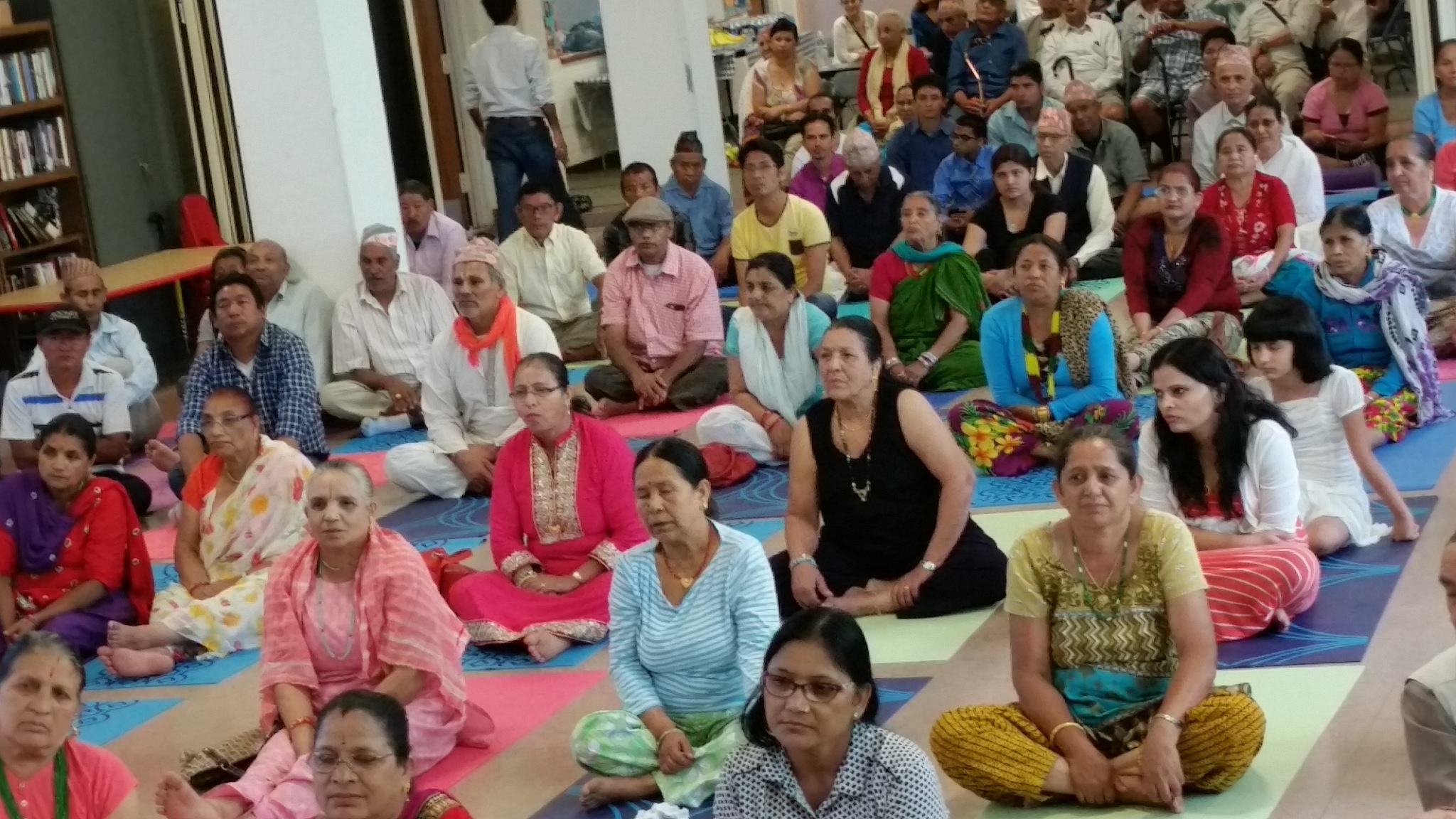 By Rup Pokharel, Pittsburgh PA
Bhutanese Community Association of Pittsburgh (BCAP) observed the Second International Yoga day in the city of Pittsburgh, Pennsylvania on June 25,2016.
"The yoga program that BCAP runs in association with Jewish Family & Children's Services (JF&CS) through support group has connected adults and seniors in the community that helped in many ways for their healthy living. The support group program practiced in the city has become a model in the US and was discussed during one of the conferences of service coordinators in New York recently", said Leslie Aizenman, Director of Refugee & Immigrant Services at Jewish Family & Children's Service of Pittsburgh.
Alieu Nyassi, Program Director, Cultural Competency and Community Health- UPMC, Center for Engagement and Inclusion appreciated the role played by the community volunteers in engaging adults and seniors through different social programs. He Said, "I have been closely working with most of the Bhutanese community leaders in the field of providing better care and better level of culturally appropriate treatment to this new community."
He also highlighted the working relationship between BCAP and University of Pittsburgh Medical Center (UPMC) that has been building a healthy community. "The rich culture that you have is your identity and the respect towards the culture has helped you remain united and stronger", said Alieu. On behalf of Center for engagement and inclusion (UPMC), he donated a PowerPoint-projector to BCAP.
Mark Lepore, the supervisor of the support group program expressed his happiness, to see the senior members of the community taking part so actively in the support group and yoga sessions. "What a good idea chosen by this community to entertain and engage the seniors. I have visited different groups at different times and have found Bhutanese people so friendly, helpful to each other and cooperative" Lepore stated.
Bishnu Tiwari, a disciple of the Brahma Kumari Raj Yog highlighted the importance of meditation and its values in all human beings. "Stress is the main cause of different forms of mental illness, depression, loneliness and much more. And, the main cause of stress is a lack of positive thinking. Positive thinking alone can drive away the darkness from our minds. Thus, we can remain free from psychosomatic diseases. Way to harvest positive feelings, positive attitude and positive dreams are possible through right way of practicing yoga and meditations," Tiwari said.
Ashok Gurung, Board Chair of BCAP and mental health first-Aid (MHFA) trainer presented his own experience on how he got rid of stress in his life through Yoga and Meditation. He not only got rid of stress but also developed his efficiency in his works with better health. He now has become a MHFA trainer and works with Mental Health First Aid-USA to train.
Yoga practitioners from Buffalo (NY), Akron, Cleveland, Columbus (OH), Pittsburgh (PA) and Massachusetts (MA) demonstrated different forms of yoga pose and shared their experiences about the benefits of practicing yoga. Among the pose demonstrators were Durga Das Rai, Tila Bista, Devi Ghising from Pittsburgh, Lamin Tamang, Hema Tamang and Ghanashyam Khanal from Buffalo, Lila Chamlagain from Massachusetts, Bhakta Khewa Akron, Lila Pradhan of Cleveland and Nilhari Upreti from Columbus (OH).
Bhanu Acharya, one senior practitioner and facilitator of support group and yoga sessions in Pittsburgh demonstrated mudra 'jaal naeti', a process of pouring water from one nostril and draining out through the other.
Around 140 participants attended the program. Til Gurung one of the main organizers in BCAP moderated the program and
The International Yoga day was declared by the United Nations General Assembly on December 11, 2014, and the formal observation was initiated June 21, 2015

Ashok Gurung from Pittsburgh has contributed to this report.