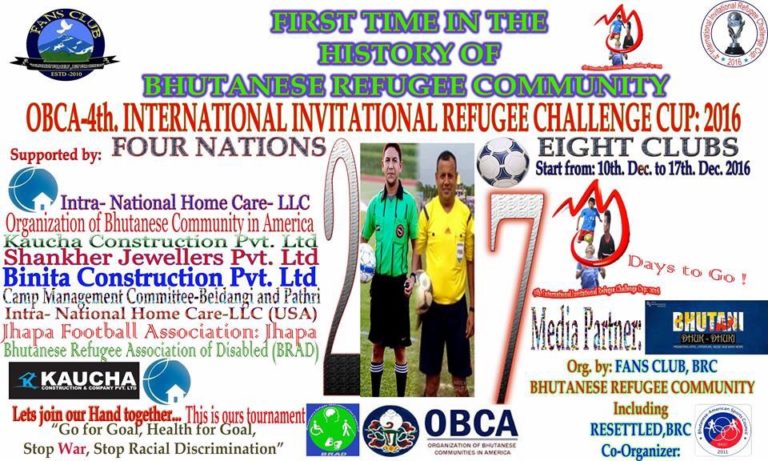 C M Niroula/Manchester NH
November 16,2016
Fans Club of Bhutanese refugee camp  announced refugee cup 2016  to kick off on December 10, coinciding with the World Human Rights Day.
The president of fans club Yubaraj Sampang informed BNS, "The soccer tournament will start December 10 and final will be played on December 17 the national day of Bhutan."
According to Sampang, refugee challenge cup was started in 2013 in Beldangi refugee camp located on eastern part of Nepal  Fans Club, BRC  is the main organizer of the event.
The award and trophy for the winner is sponsored by Organization of Bhutanese Community in America (OBCA) while the runners  by Intra-national Home Care, LLC (America) owned by Dilli Ram Adhikari, also a former Bhutanese refugee.
The event budget is estimated at 14 lakhs. Eight clubs have registered to participate in the tournament. Football clubs from four different countries: Nepal, India, Qatar and Bhutan. "The recognized clubs of Nepal- Kakarvitta Football Club (Jhapa -11) Mangalbaray Football club which is Morang -11 are also expected to join us,"  informed Sampang.
The football (soccer)  tournament will be co-host by Bhutanese American Sports Council. Likewise, man of the match and player of the tournament will be awarded by Cairns city soccer players, who were former refugee too.
"The refugees here are so excited to watch the event hope they will  forget their frustration for some days", informed Sampang.
Refugee from Bhutan are in refugee camp since 1990, most of them are resettled in 8 different countries where few thousand are still in camp, some on the process of resttlement and rest expecting to return to homeland.
Yubaraj Sampang partly contributed to this news from Beldangi camp, Nepal.