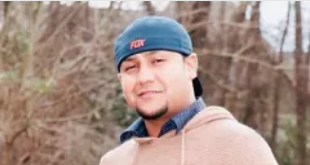 A rap song by Bikash Shiba from Charlotte, North Carolina has been lately trending viral in various social media.
The song that narratives the Bhutanese refugee imbroglio has been viewed over half a million times in Facebook, Twitter and YouTube in less than five days.
Produced by Rhythm Screen Creation from Atlanta, Georgia, the music video features the singer Shiba and his friend Subash Tamang.
Both vocal and music are by the 26-year-old artist. While Saroj Bardewa and Suraj Siwa have also given their vocal in the music video.
The emerging rap singer arrived in the United States in 2012 from Khudunabari camp.
"I am extremely thankful to my community for loving my first creation," artist Shiba said. "This inevitably shows the level of attachment we the fellow Bhutanese have to our motherland and the Bhutanese refugee cause."
Editor's note: viewer discretion advised regarding the background footages/photos used this video.
Video courtesy of  
Rhythm Screen Creation