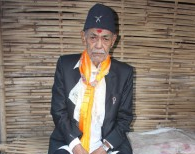 Ranjit Chhetri (Basnet), who was the last surviving member of the late Mahasur's family, passed away at the age of 79 in Pittsburgh, PA, Tuesday,November 24, 2015. Ranjit was born to his father of unparalleled valor, Mahasur Chhetri, and mother, Pabitra Chhetri, in 1936 in Labshibotey of Chirang district in southern Bhutan.
Ranjit was suffering from chronic breathing problem and was under continuous medications since several years. Lately, he was admitted at UPMC, Mercy Hospital in Pittsburgh. 'Doctors tried their level best to treat him. I am satisfied with the level of treatment and care he received till his last moment in the hospital', Rup Basnet, one of his sons, informed Bhutan News Service.
Ranjit, who initially arrived in former Goldhap Refugee Camp in 1992, later moved to Beldangi-II. A man of strong courage and will, Ranjit was agonized by death of his wife, Pabitra Chhetri, in 2008.
Having seen no hopes of repatriation, Ranjit applied for the third country resettlement in 2010 and arrived in Pittsburgh on August 1, 2012.
His Life History
Ranjit Chhetri was born to his father of unparalleled valor, Mahasur Chhetri, and mother Pabitra in 1936 in Labshibotey of Chirang district. His father, a trusted servant of the first Prime Minister, Jigmi Palden Dorji, was in Bhutan House at Kalimpong, India when a messenger relayed him news about birth of Ranjit in Labshibotey.
Friends and locals received Mahasur, who instantly decided to leave for Bhutan to see the baby boy, at his residence with a formal ceremony to rejoice the birth. The celebrations continued until the child was named as Ranjit following Hindu traditions on the eleventh day.
"My mother used to tell me that hundreds of locals, dozens of chaprasis and mandals were a part of the naming ceremony which was observed with panche baja, traditional dances and several rounds of gunfire. I was like a prince in the locality. Nobody can predict tomorrow. Who believes today if I tell the whole story of my father and his friends of that time?', Ranjit told.
Ranjit was lucky to have an opportunity to get enrolled in a private school in Kalimpong. However, he decided to discontinue his studies from grade six when he was enticed by various facilities that he used to get at the Bhutan House, the official residence of the Dorji family.
According to him, the then prime minister was very unhappy when Ranjit decided to remain completely aloof from his studies. "He wanted me to become a great man like my father and always motivated me towards studies. But, I always tried to ignore his words as I found that regular study was not an easy task to do. I admit now, that was my fault, said Ranjit, as he recalled his early days of Kalimpong.
At the age of eight, Ranjit married Pabitra Khadka, who was two years older. The marriage ceremony that lasted almost for a week was regarded as the greatest and most expensive function in Bhutan during that time. The claim for total expenses of the whole ceremony is Nu 9,000 in 1944.
"Many take my marriage as a fairytale," elaborates he, "There were 84 Darjees with seven commanders for panche bajas and over 300 hundred horses during the marriage procession to the girl's house." His claim of the extravagant marriage party is itself a dubious description, unlikely to command belief. "The party meal included 1,120 kilogram of rice, 14 goats and one seven-year-old he-buffalo," claimed he.
Not only the invitees but also the hoi-polloi who heard about such a function attended the ceremony fearing that Mahasur would get upset with those who turn down his invitation. Ranjit's wife, who was welcomed as new bride to Mahasur's home by a queue of hundreds of women in 1944, passed away in 2008 leaving him all alone in this world.
Ranjit and his stepmother escaped to India the very next day when the then Prime Minister Jigmi Palden Dorji and his coterie packed Mahasur in a leather sack, stitched, stringed a heavy stone and threw alive into the torrential Sunkosh River in the early morning of March 8, 1951 accusing him of initiating the formation of Bhutan State Congress and request the then government for equality, equity and fair treatments to all the Bhutanese citizens.Late Mahasur's perception is considered still relevant. History of call for the establishment of democracy in Bhutan goes back to- late 1940s and early 1950s.
The Bhutanese authority that agreed to bear funeral costs, compensate some losses and return properties seized by the authority, took Mahasur's family to Bhutan only after 18 months of exile in India. The decision was taken following a negotiation deal between the Prime Minister's father S.T. Dorji and the then Indian Prime Minister Jawaharlal Nehru in Kalimpong, being pressurized by the Indian Congress.
Upon his return to Bhutan, Ranjit had to accept a job at the department of forest where he worked for 20 years although his mother and step-mother were not in favor of his taking the job.
Ranjit and his family arrived in Nepal in 1992 and got initially settled in former Goldhap Refugee Camp in Jhapa, Nepal. Later, he moved to Beldangi-II.
Ranjit arrived in the United States on August 1, 2012 and was living with his son's family in Pittsburgh, PA.
His funeral is performed on Wednesday, the November 25, 2015 in Ball Funeral Chapel located at 2600 Dunster Street, Pittsburgh, Pa 15226. Starting Thursday, the 26th of November, his family members will mourn his death per Hindu tradition and the 13th day ritual falls on December 6th 2015, at 2034 Brownsville Road, Pittsburgh, Pa 15210. All relatives, family friends and sympathizers are expected to visit at their convenient time.
Vidhyapati Mishra from Charlotte, NC contributed to this report.