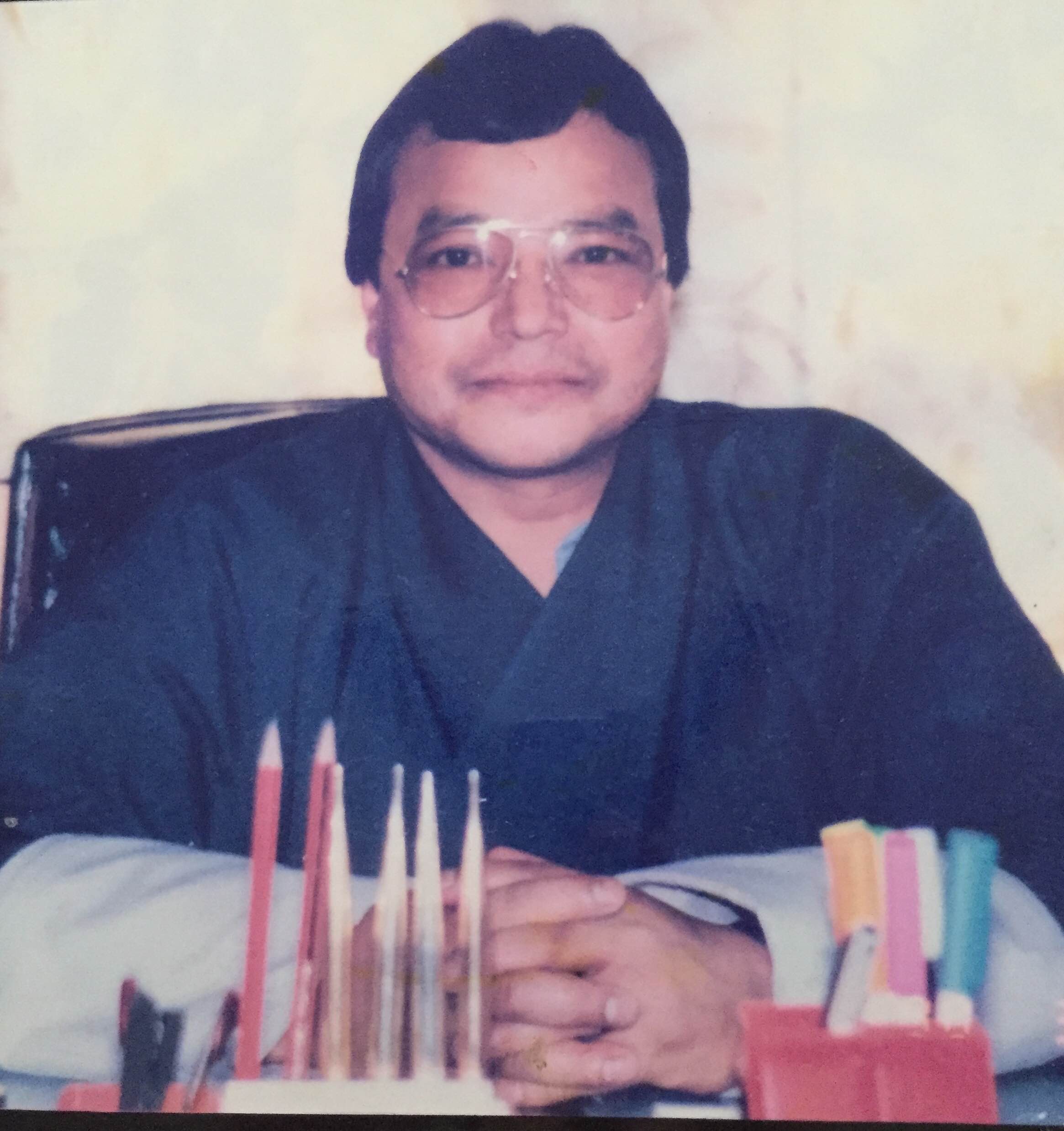 By Buddha M Dhakal, Louisville/KY

BNS dedicates the following story in his memory  coinciding with his 9th Death Anniversary.
Late RB Basnet silently protested the prevailing system of injustice in the Himalayan Kingdom while he was serving as Managing Director of State Trading Corporation of Bhutan, the state agency for conducting trade and business.  He and five  other high ranking officials of lhotshampa origin chose a rough path of exile life in 1991 seeking asylum in Nepal.
Basnet family in Bokrey, Damphu was in prosperity both in terms of wealth and education.  The parents of RB Basnet, Bal Bahadur Basnet and Chhali Maya Basnet owned  large acres of  arable land with sizeable acreage of cardamom and mandarin orchard.
R B Basnet's father was popularly called 'Setu Mahajan' for his successful business and lending soft loans to small enterprising farmers.
His siblings too are educated and assumed leadership role in local governance system. L N Basnet was one former National Assembly member. His eldest brother, Bhim Basnet was also educated in SUMI, Kalimpong.
Basnet spent his childhood in Damphu, receiving primary education from  then  Damphu Junior High school. He learnt his favorite game of football (soccer) in the small, untamed ground there.
But most of his talent and passion for the game honed in Kalimpong where he was studying in S.U.M.I, the school established by Scottish missionaries in the hill district of Darjeeling.  He rose to be the 'football star' famously called 'Rannay' by all in the streets of Darjeeling.
R B Basnet completed his university education from New Zealand  with master's in economics and political science. He returned to Bhutan to serve the His Majesty's government of Bhutan in customs department.
Here and there his foreign education was useful to fill the higher positions. Basnet served as Director of Customs and Revenue, Director of Post and Telegraphs; in planning commission serving as deputy secretary entrusted in-charge of the budget bureau, and finally as the managing director of STCB. He was influential and instrumental in formulating policies and planning for Fifth & Sixth five- year plans in Bhutan.
Basnet was charismatic and courageous since his childhood. In a tribute booklet published on his first death anniversary, Lok Nath Basnet, his second older brother wrote- "RB saved life of Rupey Dhital when he was being swept away by Dovan Kholo (a small river that flows  in betwixt his house and Damphu school)  while crossing it on the way to school."
While in government service, R B Basnet was a chosen Royal attendant for accompanying the King for his private life. Mrs. Basnet vividly remembers the call from king's privy asking Basnet to accompany King for socializing and some card games.  He was often included in the royal entourage to southern districts. In one royal visit to Dagana, the King had asked Basnet how the harmony between south and north could perpetuate.
Dil Prasad Basnet, a cousin of  R B Basnet, writes –"Clearly, it was because of his hard-work, innate talent, and professional demeanor, he had risen through the higher ranks at a very faster pace. He consistently demonstrated his excellent leadership and organization capabilities."
R B Basnet got tied up with the Gurung family of Samchi in 1972 after marrying Manikala Gurung, the daughter of Kazi Jash Raj Gurung, once district commissioner of Samchi. Basnet was a young officer and sportsman in Thimphu when this nuptial relation established between the two prominent families of Chirang (now Tsirang) and Samchi (now Samtse). Mrs Manikala Basnet remembers those days of early married life as heydays enjoying the privilege of higher bureaucracy.
Basnet was lauded for his 'Fair Game' by the fourth king Jigme Singye Wangchuk after the king lost to Basnet in the national open tennis, writes Prajapati Sapkota in the booklet. Late R B Basnet insisted on his fair game of life all seventeen years in exile too.
Mr. Basnet and five other high ranking officials of Royal Government of Bhutan defected the government in 1991 after being kept in tacit vigilance round-the-clock, phone tapped and as more atrocities unleashed in the southern villages. For R B Basnet, he was scheduled to go for a regional tour in India and Bangladesh, that upon return, could be arrested.
"My husband must have sensed the impending arrest from India house in Thimphu", says Mrs. Manikala Basnet.
In Thimphu, the air was then foul with suspicion, mistrust, betrayal and myths of harrowing torture by security forces. Creeping dark clouds of oppression, silencing the popular voices must have forced the government servants to leave the country despite their position and comfort of living.
Mrs. Basnet also narrates how Tek Nath Rizal had shown her the welts on his back due to torture in police station.  He was then compelled to sign papers stating he would not meet more than four people at a time and would not leave Thimphu. Likely, any or all of the officials who helped develop the petition to the king, could be picked up and tortured the same way, or even worse. Fear of being besieged was looming each day and night.
In Phuentsholing, where late Basnet was stationed as the managing director of state trading corporation of Bhutan, a policeman lived right above their flat, giving them security and enough room to feel insecure too.
"My husband called me and insisted that I send his mother, then living with us, back home in Chirang. I simply could not understand why? Later when Dil Prasad came to me, he narrated how deep fear of persecution was simmering in Thimphu."
"Going home in Chirang during the festivals-Dashain and Tihar used to be the most enjoyable journey we walked together. Though from a Gurung family, I was treated with welcoming heart in the family of Basnets. I enjoyed the company of my in-laws in the village with no pinch of disappointment. Often times, we used to visit few places in India on private tour after our children get off from school in Kalimpong for winter vacation," Mrs. Basnet recollects those idyllic days spent with her husband.
Though looked upon as a man of staid disposition, R B Basnet was very jocular at home, cracking jokes about his youth life abroad.
As a founding president of BNDP, he urged everyone to play a fair game in the movement for democracy in Bhutan.
Lying in sick bed during his final days in Kathmandu, late R B Basnet told his wife Manikala, "It is satisfying that our people are going to be settled for good. I will die contended with what I have done."
Roma Basnet, the youngest of three daughters, looks after her aging mother. She wants the Bhutanese diaspora to remember her father as an honest, strict, dutiful and sympathetic person who sacrificed life in the thought of public welfare.
"He was a real disciplinarian, that we learned so much values from baba," she pondered.
R B Basnet died in Bir Hospital in Kathmandu on August 18, 2007.
Based on personal conversation with Mrs. Manikala Basnet at her residence in Atlanta, Georgia.