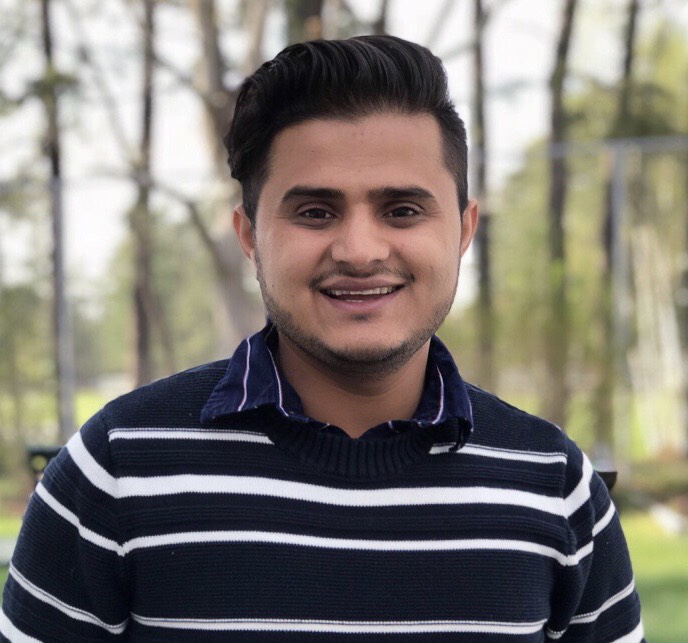 A refugee child who had never seen the switch of electricity or the remote of a television would have never thought he would be an engineer in his lifetime. How does a kiddo who cannot distinguish between TV and computer imagine being an engineer?
Mr. Rudra Timsina born in Bhutan and grown up in refugee camp and imagine all those?
Rudra with little smile on his face shared his stories that he had a lot of experiences where he walked bare foot to school, slept empty stomach at times in his life and had never seen diapers.
"I and my buddy used to play in dirty stagnant water, read in moon light and had passed winters in little thin sweater which was not good enough to cover the cold."
Thanks to the education system initiated in the refugee camps by those visionary volunteers in the early 1990s helped young children like Rudra to shine today. Schools established with the motto 'Education for repatriation' has produced hundreds of Timsinas and they are excelling in their career in the third countries.
"I started informally going to school at an early age with my uncle, who was a teacher in the camp."
"By the time I was officially enrolled, I had a good grasp in reading and writing alphabets in both in English and Nepali. Mathematics and science became my favorite subjects since my first grade and remain favorite until now. I studied up to tenth grade from New Horizon Academy in Sanischare Refugee Camp, holding first position in every grade. After 10thgrade, I joined Lord Buddha College in Biratnagar, Nepal and completed 12th grade taking science."
"When I resettled in concord NH, I was the cashier at Sam's club; I realized the power of education and joined College at NHTI concord."
Rudra is sure that he could enter college system in US because of his early beginning in school, and that bore fruit for him.
"After completion of associate degree, I transferred to University of New Hampshire to continue my studies in electrical and computer engineering. I completed two more years there and received a bachelors degree. During my senior year at the university, I worked on a Quadcopter project. Our goal was to build a drone that is capable to transport about 1 Kg of weight and flies with given coordinates. Such drone can be used to transport light weight goods from one place to another (for instance medication)"
Rudra was in Germany  June-August in 2014 to participate in a research study on Human computer interaction (URC) funded by National Science Foundation.
'The focus of our research was to determine the mental work load based on the contraction and dilation of our pupil. The application of this research was to find out how the external task (like talking on a cell phone) can affect driving ability.'
Rudra boasts of a publication with "Institute of Electrical and Electronics Engineers" (IEEE). The title of the paper is "A compact design of Switched line phased shifter for a phased array antenna".
He presented this paper at a conference called "Progresses in Electromagnetic Research Symposium (PIERS) in Singapore in November 2017.
Rudra knows about his home country Bhutan only through books and stories, but he shares the same values, cultures and beliefs as fellow Bhutanese. So, he liked serving to the community in the capacity of office assistant at Bhutanese community of NH. Now he is in the board for the same organization which branded its name to building community of New Hampshire
"I was just having hope when I landed to this great land, everything was snatched but never stolen my hope. I'm working as an engineer at a local company, I have never known what internet is and had never used computer before in my life and now I'm working as being engineer.  Life took a  U – turn."
His message to the forthcoming generations of high school graduates is very clear.  "Even though the third country resettlement was not a primary choice for many of us, we should take this as an opportunity and get most out of it. We should not take it for granted. College enrollment rate among our high school graduates is still low. I see most of our high school graduates seek  entry level jobs after graduation. Education is very important in transforming ourselves and our community and I advise our high schoolers to pursue the route of higher education for their dream job."
"You could be the one to make that big change and make this world a better place,"  he optimizes the future dream.
He borrows memories from his grandparents, parents and pictures to visualize Kokrey, Chirang Bhutan- the hamlet his parents were exiled from. "Like many others; my parents flee the country for a reason. Ethnicity, language, culture and traditional values are the inseparable elements in the life of an individual, community and what we call society. At the difficult times we remained one, we are one and consider one in terms of our rich culture and values. That is my identity and the community I am brought-up from."