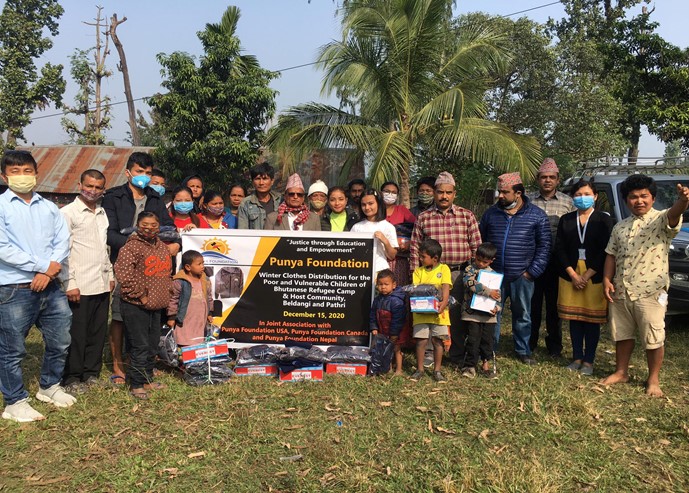 The Punya Foundation has recently distributed winter clothes to Bhutanese refugee children and the local host community in Nepal.
According to a report sent to BNS, the status issue was raised to Punya Foundation Nepal and shared with the USA and Canada.
"With the generosity of the friends abroad and with effective coordination of the Nepal team, the fund was made available for the winter clothing to the children. The Distribution was made in mid-December," stated the report.
According to the report, the Distribution was made in Beldangi and Pathri-Sanischare refugee camps in the presence of the camp secretaries, community members, members of the children's forum, and the member of Punya Foundation Nepal. The program was facilitated by L.N. Pokhrel.
Camp secretary of Beldangi expressed his gratitude to the foundation and looked forward to building further relationships of collaboration for the support of camp children and other activities. He further stated that the beneficiaries should be grateful to the donors for their support. He also thanked the Punya Foundation of the U.S. and Canada.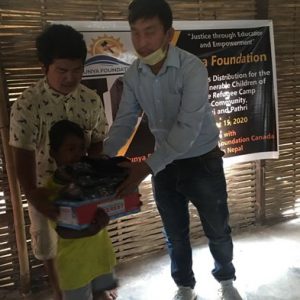 Similarly, the camp secretary of Pathri-Sanischare also expressed his gratitude for the generosity of his friends abroad. He said that these children are at the mercy of the donors as they do not have guardians to support their living and education.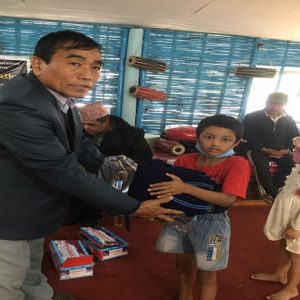 The resettlement program of the Bhutanese Refugee of Jhapa and Morang district of Nepal has more or less come to an end. There are around 7,500 thousand people (register and non-register) still languishing in Beldangi and Pathri-Sanischare camp. Among them, around 900 are school-going children of which 60 in the camp are found extremely vulnerable (either orphaned or raised by a single parent) who are physically and mentally challenged. The final screening was done along with the help of the children's forum and camp management committee. The distribution was assisted by the member of the children's forum of both camps.
"I, on behalf of the Nepal team would like to thank the team member of the USA and Canada and the donors with whose generosity these activities were successful," said L.N. Pokhrel of the Punya Foundation Nepal.
He further added that not only the vulnerable children in the camps but even the children in the host communities were benefited from this event. The refugee children are now sharing the educational facilities with the host communities and events like this one will foster inclusiveness and a sense of shared responsibilities.
Pokhrel also expressed his gratitude to the donors and stressed the need for further help to those children as they are categorized as "extremely" vulnerable in terms of basic needs such as food, clothes, and shelter.
See below for the distribution details.
Sex/Location

Beldangi
Pathri-Sanischare
Camp
Host Community
Camp
Host Community
Male
22
02
09
03
Female
12
04
11
03
Total
34
06
20
06