Although rap music is new to the Nepali-Bhutanese culture, its influence on the youth population post-resettlement is growing and undeniable. Let's face it: This trend is certainly challenging our culture to acknowledge and embrace this genre.
Historical contexts
Historically African and Latino Americans from a marginalized community created their own platform and used it to show their creativities, which is today known as hip hop culture, and it is embraced by people all around the world.
In the early 1970s, hip hop culture emerged, amidst an economic collapse, in a segregated neighborhood of the South Bronx in New York City. 
During that time, hip hop became an escape from reality for disadvantaged communities. According to Icon Collective, the Los Angeles and Online college of music, "the emerging hip hop movement transformed despair and racial barriers into numerous creative outlets and became an outlet for dealing with violence." 
Rap is one of the four elements of hip hop culture including the beats (the DJ), break-dancing, and graffiti art. It is a form of expression where words are spoken instead of sung. It is described as a platform that allows people to talk freely, frankly, and criticize sharply. 
In Nepal, where we stayed as refugees for close to two decades, hip hop culture emerged in the early 1990s. The rap genre was able to appeal to larger audiences, particularly youth, starting in 2010 through Raw Barz–rap battle— founded by the late rapper Yama Buddha. 
A friend of mine, Samia Dudley, who majored in music and grew in the hip hop culture said, "I don't want to say that hip hop was created purely as a product of political struggle/oppression just because I don't want to give that power to the people or system that created it. I'll say it was born from the creativity of the people and that is the contribution to the existence of hip hop culture."
But rap and hip hop culture sits uneasily in the Nepali-Bhutanese culture and this attitude has deep roots. Culturally, it's not common for Nepali-speaking parents to express their love and affection towards their children. And the young population feel that they aren't given a voice in the decision-making process in their families. They often feel that they are judged harshly or negatively for every decision they make concerning music and the arts because their elders do not consider them to be a serious vocation for life. In our culture, swear words and the use of drugs are considered signs of the deterioration of character, and people practicing these are labeled as bad apples in the society. 
Compared to the past, today's culture is changing for the youths who are more vocal and expressive and who are breaking societal norms by exploring and creating their own identities. They are embracing rap music and some are already using it as a tool to express and advocate for themselves and others. 
Rap music in our community
Ramesh, who goes by the name Ramos Gvill, is an emerging Bhutanese-American rapper based in Minnesota. He has published ten songs so far. His rap journey began with rapping in informal gatherings.
In 2016, he first rapped with the beat in a group of about 30 soccer players in Washington, D.C.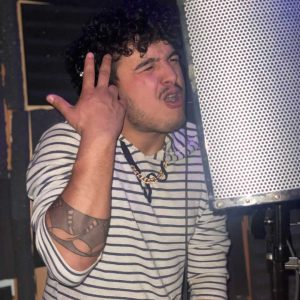 "The crowd went silent and that was the time I felt I could actually make an impact on people," said Ramos. He said that, from that time, his friends started to ask him to rap whenever they met, making him feel accepted, "aapnayo vaye jastai vayo." 
"Rap music means an escape place for people from anything that a person is going through such as tension, family issues—it provides us a comfort zone," said Ramos.

Ramos added that rap music has given him a purpose, passion, and direction. He thinks the circumstances artists grew up in or with can impact their rap and that these raps are based on real-life experiences.
Ramos wants to share what he has gone through and also discover and deliver the western perspective of his generation through rap music. He wants to give people vibes in which they can lose themselves. He wants to help them to visualize his rap and feel it.  
Pennsylvania-based Diwas, as known as Chiki-Sarkar, is another rising artist within the Nepali-speaking Bhutanese diaspora who is passionate about creating a platform where all rap artists can come together and show their talents; he is working on an informal conversation with other publicly unrecognized rappers. 
Chiki-Sarkar hasn't published his works, but has been writing lyrics since 2016 which he did not share with friends until 2018. When he first rapped on the beat, he received good feedback from his friends which motivated him to keep writing, and since then he has been writing lyrics and sharing them with friends. 
"For some reason, it didn't happen but it will be. It is coming," said Sarkar upon answering a question as to when his work will be made public.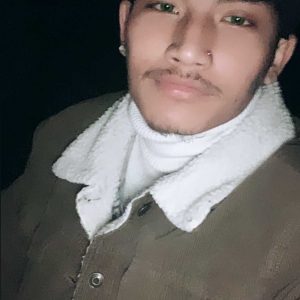 To Chiki-Sarkar, rap is all about creativity and being able to write how people are feeling. He said rap music gives people a platform to communicate the shared stories and feelings. He says that the message behind lyrics/songs is more important than music and its beats.  
Regarding profanities in rap music, Chiki-Sarkar said, "I don't have to use vulgar words when I'm expressing." However, he said that it should be okay to use profanities if it fits in well and it uplifts the message artists are trying to convey. 
Ramos and Chiki-Sarkar both say that skeptical views about rap music are not about generation, but about familiarity. Ramos says being skeptical isn't about the generation gap. Instead, he says, it's because "our parents weren't exposed to this kind of music. So, it is a stereotype more than a fact." He believes that in his community some people from the older generation share a positive view on the rap culture and says that even his mother listens to his music all the time.
Similarly, Chiki-Sarkar said every culture has people who have a negative view on rap culture and he sees that as being normal. A reason behind that is the profanities that rappers use. One other reason, he believes, is that the older generation of his community is new to the rap genre and it hasn't taken a mainstream track in the western world either.

Sarkar went on to say, "shaili nabujheko, juhari pani ek parkarko rap ho, they just aren't familiar with beats otherwise it is similar to juhari (two singers compete with each other with verses that they have to come up on spot)."
In 2018, Bikash Shiba, another rapper from the Bhutanese diaspora released a song that talked about how the Bhutanese regime had carried out atrocities against its own citizens in the early 1990s and it soon trended on Youtube and social media. It was a testament that the interest towards the rap genre is gradually picking up.   
After my story pitch was accepted by BNS, I carried out a poll on social media to try to find out what the young through to those in their late twenties thought about rap music and its impact on our community. 
Of the 97 who responded in that poll, 65 percent believed that rap music is an effective way to bring social change. Regarding rap and the older generation, 88 of those polled felt that elderly Nepali-Bhutanese had skeptical views on rap culture. 
The poll also revealed that the majority of those who responded felt that rap music uses vulgar words excessively. One of those polled said that besides the profanities, the references to sex and drugs used in rap music made it inappropriate to listen to with family members. 
Ramos and Chiki-Sarkar both urge the audience to focus on the bigger picture, saying it is about how artists use it. The artists' use of profanities doesn't mean rap is bad for society, they argue, and say that rap music has provided a platform for previously voiceless people to raise issues that might otherwise go unnoticed in society. 
Both Chiki-Sarkar and Ramos say that if someone misuses rap music for their own benefit that doesn't mean it should be disregarded completely. They said rap isn't the only way for social change, but it is an effective way because youth from different races and countries listen to it and so it has no boundaries and has the potential to unite us all. Social change is a shared responsibility, they say, and that support has to be both ways. 
They want their community to recognize them and their songs. Ramos emphasized the importance of active networking when it comes to bringing social change. He said that sharing the artists' work would help spread the artists' message. Chiki-Sarkar believes that rap music gives people a platform to bring their issues to the public. He says the origin of the hip-hop culture comes from dealing with issues, such as gang violence and wanting to bring change to the community.
Ramos and Chiki-Sarkar both say that the audience plays a vital role in artists' lives and both believe that the audience should be a priority. He said that he doesn't rap with vulgar words in front of his parents and elders out of cultural respect. 
Chiki-Sarkar said, "big words are my signature!! I'm looking into what the audience wants." He said that in the future, "I will write not only through my experience but talk for the audience too." 
Ramos said, "consistency is key and necessary – anything you focus on more, it starts to come to you naturally without effort." He wants the whole rap culture to recognize his songs and see him as an artist who can justify the rap culture. 
Chiki-Sarkar and Ramos both shared some verses from their songs which speak of their thought, inspiration, and amusement:
Chiki-Sarkar: "Safalta magera paune kunai cheez Hoina, paye pani…..dher samaya samma tyo tikdaina!! Tesaile aagi baada, gara afnai kaam, Ta pauchau timile afai innam,".

Ramos Gvil: "Sangarsa Mero khoon ma, sagarmatha ko sirani chadera chunchu ma joon ma, dimag mein khoon chadaicha, sanai vayani bhai harla kai na kai gardaicha,".
The duo aims to use rap to express themselves, motivate their audiences, advocate for change, and entertain people. They're self-motivated and talented artists, but are still publicly unrecognized. They deserve to be recognized by their community and culture. 
Question of accepting each other 
It's the time for us to embrace rap music and the artists who create it. They are no different from other artists. How we, as a society treat our youths, what we teach them, and what they are today create the legacies that will determine the future of our culture. We can't talk about social change and the preservation of the culture if we're not ready to accept and respect each other.
As a community, recognizing rap music and rap artists is the first proactive action we can take before the artists and their art can bring about the social change they seek and for our society to evolve and grow to include the emotions and concerns of the younger generation.

Let's not forget that while youths are approaching social change and demanding older generations to accept their views and opinions, it is also imperative for them to acknowledge the contributions and sacrifices made by the latter group. And youths should also proudly carry on some of the meaningful cultural practices, including being able to speak their mother language, Nepali.
Although not in the rap genre, as Kiran Gajmer, a former Bhutanese refugee and a versatile singer, made the Bhutanese diaspora proud by debuting in the Voice of Nepal, it equally gives us hope that Ramos, Chiki-Sarkar and other rappers can someday find a similar or even better platform to showcase their talents.
__
The author has a bachelor's degree in International Politics from the Wesleyan University in Connecticut. BNS welcomes diversity of contents/opinions.