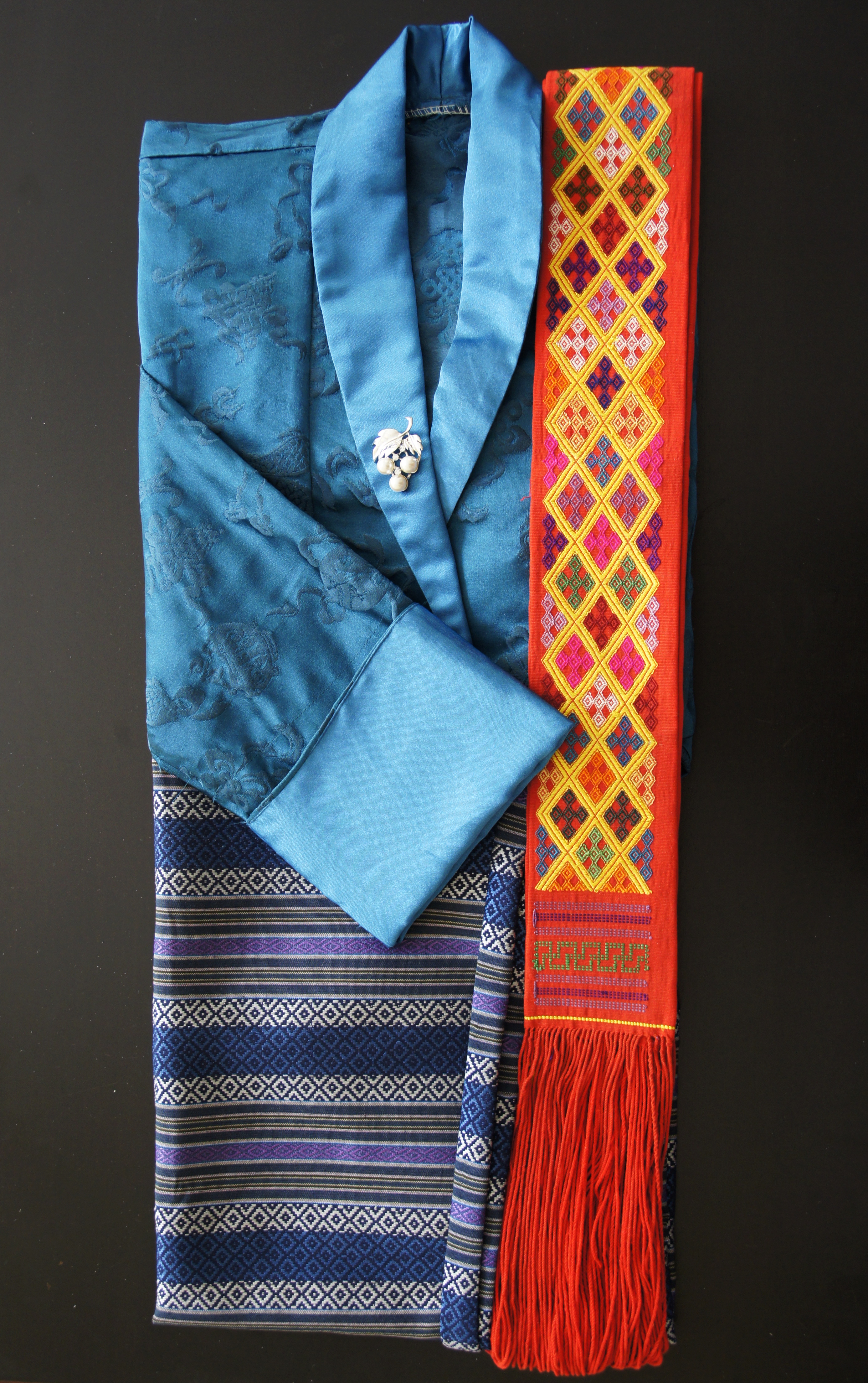 What, if someone says you are not allowed to wear one particular kind of clothing. What in a country, if some officers decide to choose the pattern on a piece of fabric you must have? Because that you are woman, you do not have the absolute right of presenting in front of officials with descent dress of your liking.  No irking. This is no ancient tale of a king who exiled his youngest daughter to a jungle-for not complying to his orders of marrying to a particular suitor. One may ask, "Should I believe my ears?  Aren't my eyes undergoing optical illusion?"
But this has gone real in GNH country. Women are awestruck by the circular disseminated by the Ministry of Home and cultural affairs doffing their rights. All the ordinary women in the nation are warranted not to wear Rachu with patterns (Rachu is a piece of long belt like scarf women wear along with Kira hanging back and front resting on the shoulder). The classic patterned rachus are meant only for the Royal family members. This is what nowadays dzongkhag cultural officers in Bhutan are reported to be interpreting the circular in different offices and cities and soliciting women.
Before this change became public through Kuensel on April 27, it was being candidly enforced by the officials in the public and some of the government offices. The Kuensel report has not mentioned any nature of penalties for not complying with circular.
One of the female officers had to change her rachu immediately as soon as the circular was out. 'I bought an Ada Rachu (non-patterned) from the town as the cultural officer asked me to change my rachu', Kuensel has quoted the female officer as saying.
The decision said to be made by Dongkhag cultural officers during their sixth annual conference and brought to the public through Home Minister's office has already gathered enough mosses of criticisms through social media.
Trend in the past
There are already ample instances in which handful of officials brew the ideas, discuss closed doors, make laws locally and impose on the civilians and then present the falsified report before the King. They are never ashamed in misinforming the king that such ideas are wished by the people. There was a time all the farmers were mandated to wear Gho and Kira while working in the field even during the odd seasons, climbing the trees (dangerous from safety point of view) or working at the construction sites. It was then presented before the King as people's wish.  There were instances where people were forced to pay heavy fines for not complying with the locally coined laws. No receipts were issued as a proof of paying the fine. Later, His Majesty the king understood the sufferings of the people and simplified the use of gho and kira mandatory in or while visiting government offices and during public festivals of national importance and as school uniforms.
What people say
Thinley Penjor, a former civil servant in Bhutan who currently lives in the US writes on his face book status, 'In the 1970s, law was passed and repeated circulars were issued by the home minister for disallowing Bhutanese women to keep long hair and the royal families were not included to follow the rules. When civil servants holding higher portfolio and minister's daughters took to showing their right to keeping long hair, all the rest of the women in Bhutan gradually followed the suite.'
Sangay Wangchuck, cultural officer in Tsirang dzongkhag is quoted by Kuensel on April 27,2016 as saying- 'that they have started to implement the circular as soon as they received it. Tsirang dzongkhag female officials are allowed to wear only ada rachu (non-patterned or plain) which he said is strictly being monitored.'
Dorji Tshering, on his facebook wall writes, 'We already have a clear, working way of distinguishing our Royals from commoners by the way Rachus are worn. So, then why do we do need another? Such a rule will not only destroy the livelihood of our hardworking weavers but will snuff out the much required creativity in our textile industry.'
Namgay Zam on her Facebook status updates, 'Sometimes, I wish we would devote our time to doing more productive things like creating job opportunities and preventing Bhutanese from killing themselves by alcohol, drugs, and suicide. But, no! The patterns of our Rachu need immediate attention. Driglam Namzha is not cultural tyranny. What in the world are you thinking, especially in this day and age? (Now, I know it will also be some time before we do anything about alcohol abuse since it is such a big part of Bhutanese tradition and culture as well. It would be so wrong and against our culture to change our drinking habits!)
And what do we do with all our old rachus? Open a museum of rachus!!'
One of the former National Assembly members requesting anonymity told BNS that there are certain things in the country that do not fall under the radar of democracy. There are exceptions (but not mentioned in the constitution) that we care our Royal families more than anything else. As far as the circular on rachu is concerned-now the ball is on government's court. Anything done bypassing the due procedure is sure to resonate and fall against the norms of the type of democracy we have. "I can only assume that who is going to bear the accountability of 'liquidated' money already invested on thousands of patterned rachu in the nation?", he said.
What the constitution says on culture
Article:4(2): "The State shall recognize culture as an evolving dynamic force and shall endeavor to strengthen and facilitate the continued evolution of traditional values and institutions that are sustainable as a progressive society."
Article: 4(4): "Parliament may enact such legislation as may be necessary to advance the cause of the cultural enrichment of Bhutanese society."
In this case neither the move is in any sense an endeavor to strengthen and facilitate a progressive society, or even the spirit and desire of people as guaranteed by the constitution is respected nor the matter connected with half of the population is mentioned in the circular as discussed in the esteemed parliament.
Everyone's eyes towards the Queen
Patterned Rachu is directly linked to Her Majesty the Queen and female members in the royal family. For whatever reasons the so called dzongkhag cultural officers might have thought restricting common women from free choice of 'rachu', has now rested upon the queen. The queen has such a reverent profile in the nation and outside world for being an ideal woman figure. The queen has been showing her prolific care towards women by introducing epidural labor analgesia in the hospitals throughout the nation to allay the pain of women in labor.
Women from all walks of life now vest their trust on Her Majesty the Queen to nullify this irrelevant circular. Home Ministry should equally weigh if the move is at par with the constitution and doesn't outweigh the bond between the King, Queen and the people.
Dzongkhag cultural officers' flaws
How can such a personality (queen) choose to discriminate half of the population to show pomp and power by privileged wearing of patterned Rachu by herself and royal women only? Dzongkhag cultural officers should have well considered the royal intent and parliamentary procedures prior to arrive such an impacting decision. This is obviously a quest for cheap popularity by these officials to draw royal attention.
Besides making such abrupt utopian decision these officers should have actually thought about addressing other genuine issues by means of cultural harmonization. Unemployment is killing citizens. Uncontrolled use of alcohol is sickening the entire nation. Corruption has become the cup of tea. Poor sewage management system has flooded the premises of schools and hospitals.
Dzongkhag cultural officials should educate people to speak-up against the age-old culture of corruption that has become the culture not to speak. Educate people not to bow down their heads to the knees while speaking their plea and grievances. Making someone speak with head stooped to the knees can never be claimed as cultural enrichment in the democracies.
Making women victims of handful of bureaucrats' immature decision can never be a rational culture nor an essence related to the parameters of GNH. GNH should educate that culture where each individual speaks from heart and with head held high.
The essence of GNH lies in the measure of women's empowerment in all sectors of national development and educational enrichment.
Even after so many decades these fine lines of Rabindranath Tagore find relevance.
"….Where the mind is without fear and the head is held high…
Where words come out from the depth of truth…
Where tireless striving stretches its arms towards perfection…
Into ever-widening thought and action
Into that heaven of freedom, my Father, let my country awake."