The Organization for Hindu Religion and Culture (OHRC) honored twenty-five Bhutanese-Americans seniors amidst a ceremony held on January 21 coinciding Sawaswati Puja in Harrisburg, PA.
According to OHRC, the organization has kept a trend of honoring new citizens particularly those who never had any kind of formal schooling.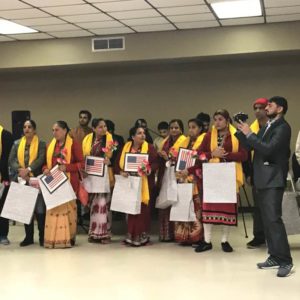 Around 300 individuals attended the ceremony and Sarawati Puja. Pandit Sitaram Adhikari conducted the puja, while OHRC board member Thakur Ghimirey introduced Nepali alphabets to dozens of small children.
OHRC President Tularam Neopaney thanked and honored all former board members for their dedication and hard work to the community members.
"We were able to purchase a big land where we'll build our own Hindu temple," Neopaney said, "I am very proud that our dollar-a-day is going very well. We already have over 100 members and this is going up."
According to Neopaney, OHRC is also planning to commence the next Nepali class from March this year. "We aim to conduct Nepali classes up to the fifth grade beginning this year."
Addressing the gathering, Ashok Rai, president of Bhutanese Community of Harrisburg, hoped that his organization was looking forward to promoting the Bhutanese culture and social values. He also thanked OHRC for organizing such an event.
Tika Rizal from Harrisburg, PA contributed this report for BNS.