Rieki Crins, an anthropologist, from the Netherlands who prefers to call the Himalayan Kingdom of Bhutan her home was known little by many outside Bhutan until recently. She introduced herself in the form of a book 'BLACKLISTED IN BHUTAN– Love Lost and Love Transformed in the Land of Gross National Happiness'. She reached Bhutan at her young age in 1990 and lived in a remote village of Tsachaphu in Paro district. She did her Ph.D on Bhutan in 2006. She established a not-for-profit Hotel School in Paro for unemployed youth and produced a pool of manpower for the hospitality market in Bhutan. Her book is being widely sold on Amazon. Readers are posting their views on social media. Bhutan News Service (BNS) came in touch with Rieki when she was on her tour to Hong Kong. Interview excerpts:

BNS: Why did you choose 'Blacklisted' as the title of this book?
Rieki Crins: Because in 2016 when I was on my way to visit Bhutan, during my transit in Bangkok I heard from my Bhutanese counterpart that my visa for Bhutan was refused. The Immigration officer told my counterpart that I was blacklisted in Bhutan, a persona non grata.
BNS: Who are the target readers for this book?
Rieki Crins: Anyone who is interested in memoirs, Bhutan, South Asia, social enterprise, setting up a non-profit project in a frontier market.
BNS: What made you call Bhutan your home?
Rieki Crins: In 1990 I was living for 6 months in a remote village; 12 hours walk from the road. The first month it was very tough being there, I had a culture shock and felt very alien. But after the first few weeks, slowly I started to feel "at home" in the village. People gave me a Bhutanese name and one family adopted me as their daughter. I got used to the food, even started to like the food with many chilies and like the butter tea. The sounds and smells of the village was soothing and the calm faces of the people so pleasant. If I went to Punakha for a few days or to Thimphu, when I came back to Tsachaphu, the village felt like my home, I knew all the people so well, the sounds smells…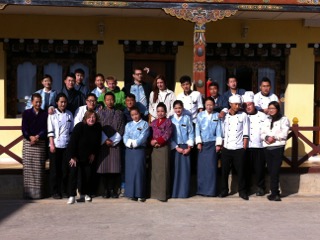 BNS: What inspired you to author this book after your divorce with Bhutan?
Rieki Crins: The biggest inspiration was the fact that I was so shocked by my blacklisting. A huge injustice was done to me by Bhutan. I dedicated so many years towards the study of Bhutan starting in 1990, and my Ph.D. research in 2006. Next to this I had guided one to two trips per year to Bhutan. Initiated and paid for a documentary about women in Bhutan. Organized and paid for a conference for women about the Internet in 2000.
In 2009 I set up the Learning Exchange foundation. My foundation organized and financed for a 5 days personal leadership training for 50 unemployed youth in Bumthang, to help youth to find their purpose in life and guide them to a good job or study. The foundation also set up and financed a very good quality hotel and hotel school for marginalized youth to help them to find a good job in the hospitality sector since Bhutan had little knowledge in this field. There were so many family-run hotels that needed help to improve their services. Tourism was a growth market and one of the very few sectors that could offer good jobs to the youth. The school is a vocational school in 5-star hotel training. We opened our doors in 2015 and since then about 200 youth have been trained and found good jobs. I worked for years to set up this school and did the fundraising. It was very difficult and I did not receive a payment for it. All the money that I raised went into the school.
I took in Bhutanese girls into my house and arranged internship places for them in The Netherlands. Even some Bhutanese students in New York could live with my mother in law. What I want to say is that I helped so many Bhutanese and then to hear that I was blacklisted, without any reason. Why this was or who had done this, was a huge shock and I needed to tell the world about this.
It is very cruel to do this; to exclude a person and not have the decency to tell the person why this was, what I had done wrong. I needed to tell the world my story, as a therapy for myself but also to show the world what kind of country Bhutan is. A country that does not have any respect for human rights and its own people. They did not even inform my Bhutanese counterpart about this. He was kept in limbo too.
BNS: How do you see multi-ethnicity and the nation's respect for diverse culture in Bhutan?
Rieki Crins: In 1990 I learned that there was massive discrimination towards Southern Bhutanese. The people in the South are often from Nepalese descent and the Bhutanese government denied them their culture and way of life. Also, there was discrimination towards the people in the East of the country and the Tibetan refugees. It was clear that only the Ngalong culture had to be the dominant culture and way of life in Bhutan. I understood that the Ngalongs felt overwhelmed by the 2 big ethnic groups in the country because of what happened in Sikkim and Tibet. But having more than 100,000 people fleeing your country and not dealing with this is a big disgrace. In the end, the UN and western nations had to solve the problem, Bhutan just ignored the problem. They just acted as if it was not there.
Years later, I thought that Bhutan had dealt with the problem and that Southern Bhutanese were now a full citizen, but I learned from many of the students that we took into our hotel school, that many had no ID cards and they were not Bhutanese according to the Bhutanese laws. These kids could not go to any of the government-funded schools or even get a mobile phone without an ID card. Every year they went to the king to plea for their case and rights, it was ignored. I could not believe this. Then I learned that anybody who criticizes King, Country, and Government could go to jail, life long, before this was the death penalty. This is very harsh and in reality, it means that Bhutan is a dictatorship.
BNS: What is the basis of your claim- people who work at the Centre of Bhutan Studies, responsible for implementing the GNH principle-are the unhappiest people in Bhutan?
Rieki Crins: I met the people from the center of Bhutan studies several times, they even stayed for a week in the hotel school, working from there and having meetings. They did not look happy at all. Acted very arrogant towards the students and lacked social skills. They ignored greets from the people in the morning when we all having breakfast in the restaurant. They felt obvious better than other people. In my eyes, if you work on a project to implement GNH you are a role model. Happiness is just like love; it's a feeling, a quality that you cannot grasp. If you are an advocate for happiness, the least what you can do is trying to make people happy by respecting them and be an example of a happy person. Being arrogant and behave that you are better than others is not the way. The result was that the students in the hotel school called them the unhappy hypocrites or the gross national hypocrites. Next, to this, a truly happy country needs first of all respect the human rights for its entire citizen; there must be freedom of speech for all. This is not the case. So GNH is only there for the happy few: Dasho Jigme Thinley was the person who was the first advocate for telling the world about Gross National Happiness. He wrote a small book about it. Later the center of GNH was set up and Karma Ura was the president. The Center for Bhutan studies was in charge to develop and implement GNH within the Bhutanese society, all the policies had to be aligned with the 9 domains of happiness and 4 pillars of GNH. The four pillars of GNH are sustainable and equitable socio-economic development; environmental conservation; preservation and promotion of culture; and good governance. The nine domains of GNH are psychological well-being, health, time use, education, cultural diversity and resilience, good governance, community vitality, ecological diversity and resilience, and living standards. There is also a spiritual center for Gross National Happiness, they are financially supported by people from outside the country, by wealthy people.
BNS: You have invested your time and money to develop a pool of skilled manpower. Do you remember your contributions being recognized?
Rieki Crins: The students were very grateful for what we have done for them. Many moving stories that we helped them so much. But our work was never been recognized the way it should from the end of the government.
I must give due credit to the ministry of labor, though. Before we started school, we had meetings with the ministry of labor and they were very supportive of our initiative. They even supported partly some students with scholarships. This extra source of financial support helps us a lot to make the school work. It's expensive to run a school with 70 boarding students.
BNS:  Ironically in the book you mentioned, "I realize it was blessing in disguise to be Blacklisted in Bhutan." Could you elaborate more on that?
Rieki Crins: My dream was to set up the hotel school and I would have liked to run it for a period of time. To teach cooking classes etc. This was not possible because we could not obtain visas for us. It was hard enough to get 2 visas for the expats who trained the Bhutanese staff. Next to this I had to do the fundraising to find the money to sustain the school. I really dislike fundraising. So, I ended up in a situation that was not nice at all: I had to work for no payment because all the money that I raised paid the staff in Bhutan and the school. Our aim was to hand over the school to the Bhutanese in 3 years. When I heard I was blacklisted after a while it felt like liberation; now I could hand over the school to the Bhutanese, although a bit early, but I was not responsible for it anymore.
BNS: You have only briefly disclosed the cause of being blacklisted in the book. Could you please elaborate more on this?

Rieki Crins: I do not know what the cause is of being blacklisted until today nobody has told me, nor who has done it. Only rumors and gossip are spread. This is what makes me so angry. Whoever has blacklisted me is a coward that is hiding, why not looking me in the eye and tell me what I have done wrong. This is typical how Bhutan deals with its problems, just as with the Southern Bhutanese problem. Kicking thousands and thousands of your own people out of the country and hide them from any dialogue or not taking any responsibility for it is very cowardly. The world should have condemned Bhutan much more about this abuse of human rights. Sanctions should have been issued just as with Burma. Bhutan is arrogant and thinks it can get away with it, and until today it could. Telling the world about GNH and brainwashing its people, spy on its people and the outside world thinks Bhutan is a Shangri La. It's time the truth comes out.
BNS: Are you planning to appeal to the government of Bhutan and know the cause of your blacklisting? If you have already done; what is the response?
Rieki Crins: I have tried to contact the ambassadors in Bangkok and Brussels. They told me they could not help me and that my counterpart in Bhutan has to solve the problem. My counterpart in Bhutan went for weeks every day to the ministry of immigration but was sent away and the immigration officer said I was a danger to Bhutanese security (hahaha) true! I went to the honorary consul in the Netherlands, he told me there is no blacklist in Bhutan and that I should not publish my book. I told him he must be joking. I have written a letter to the king, of course, no reply. I would have liked to sue the country but I do not have the money to do so. So, the only thing I can do is telling the world about it.
BNS: What is one thing that you like the most in Bhutan and you would like the outside world to know?
Rieki Crins: What I liked the most in Bhutan are the village people, they are themselves. They have the inner calmness of people living close to nature. They are not pretenders, they are the real "happy" people in Bhutan. I have set up the school to help these young kids from the villages and the world can learn a lot from these people. How they live and respect nature. Bhutan is a beautiful country and the traditional lifestyle is still very much intact.
Editor's Note: The views and opinions expressed in this article are solely those of the author, and do not necessarily reflect the official position of the BNS.