Literary Council of Bhutan (LCOB) announced the Nepali language curriculum developed by the Curriculum research and development committee, a five member committee headed by Khim Khatiwoda. 
According to a press statement, the accomplishment of the research and development task was declared on  December 20th in a meeting held by the LCOB board and the curriculum development committee.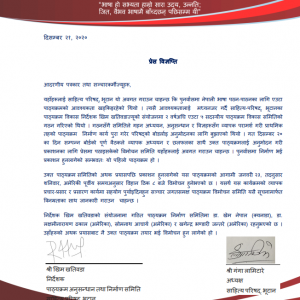 The committee was entrusted with the research on Nepali language classes in different states and cities. The curriculum research committee did several rounds of discussions and assessment of Nepali language classes run by small groups and by the community organizations in major cities of Bhutanese Nepali settlement. 
A committee was formed by a conference held in Pittsburgh in 2016. Later in 2018, it was strengthened and expanded to carry out more comprehensive tasks of research, design and write a curriculum appropriate to the context of school education in the U.S.  
According to one of the researchers and architects of this curriculum, Dr. Laxmi Narayan Dhakal, it is the comprehensive guidelines based on principles of teaching learning for any volunteer instructor.
 "It is the first tier of curriculum designed for two hours of instruction each week, amounting to 45 instructional days in a year",  he informed BNS, adding- "The first level emphasizes on letter sound and simple vocabulary for the beginners." 
According to this curriculum, instructors are encouraged to incorporate based learning in the class. 
Khim Khatiwoda, the coordinator of the committee and LCOB board member explains that the curriculum is mostly oriented to aid the volunteer teachers who are not of teaching background. It is designed in such a way that these volunteer instructors get knowledge of what they should teach, how they should approach teaching and what depth of the lesson they cover. 
"The curriculum is divided into three semesters," he added.
The curriculum research and development committee has five members- Khim Khatiwoda as coordinator, Dr. Laxmi Narayan Dhakal, Dr. Khem Nepal, Somnath Acharya and Khagendra Bhandari 'jantarey'.
Although the booklet is ready in pdf format, the details about the distribution and circulation in the Bhutanese-Nepali diaspora is yet to be determined by the board. This is expected to be made public amidst a virtual release program scheduled for  Jan 23, 2021.