Harvard University hosted a Gross National Happiness 2019 conference at Harvard Divinity School on 13th April 2019- Saturday. The theme of the conference was "Reimagining happiness for a better world".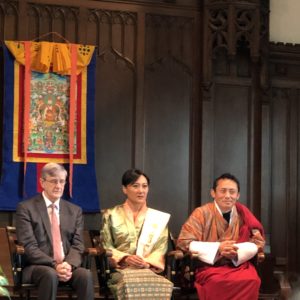 Doma Tshering, Permanent Representative of the kingdom of Bhutan to the United Nations made the keynote address.
There were three different sessions of a panel including, Bhutanese statecraft and the spirit of the Gross National Happiness, The Happiest Movement: mobilizing individuals, communities and Hacking Happiness from Artificial to Hartificial intelligence, and Scaling Happiness & Health: Translating Science to Application.
Hari Khanal, Bhutanese American community leader submitted a two-page appeal prepared by Non-Resident Bhutanese ad-hoc committee to the Bhutanese Government representatives and the Dean of Harvard Divinity School. "We ask that you work to introduce the Non-Resident Bhutanese bill in Bhutanese parliament. In supporting this bill, the protracted Bhutanese refugee problem would be solved amicably. This is a smart initiative to get involved in the future of Bhutan and its people. All Bhutanese, those who live inside and resettled community, should have an equal opportunity to live in dignity and participate in the socio-economic development of the country that our forefathers have collectively toiled in its creation as a nation-state", stated in the appeal.
According to Suraj K. Budathoki, recent International Relations graduate, "Bhutan is wandering for happiness as they failed to find it in Bhutan. Without adequately addressing the barriers of Happiness in Bhutan, it is futile to wander at Harvard Divinity. I bet Bhutan would be the happiest and wealthiest nation on the Earth when it solves its existing problems."
The event featured Bhutanese cultural dance, Ema Datsi, Thankas and Paintings.
The event started at 8 am and ended at 4 pm with the concluding remarks from Kinga Tshering, a graduate student at Harvard Divinity School.
At least 250 individuals attended the event. Six Bhutanese community leaders from Massachusetts and New Hampshire also attended the event.
Once much talked Gross National Happiness philosophy sees a decline in its essence both inside and outside Bhutan. World Happiness Report (WHR) has sharply lowered Bhutan's state of happiness.