Sudip Adhikari, a program specialist at the Catholic Charities Fort Worth, TX has been presented with the Immigrant Journey Awards for the year 2020.

The award was presented by Badmus & Associates, an immigration law firm based in Dallas, TX. Adhikari was also congratulated by Eric Johnson, Mayor of Dallas.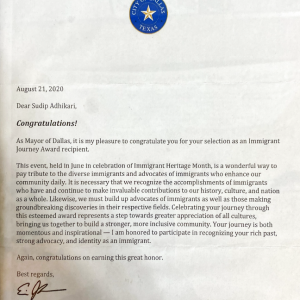 Speaking to BNS, Adhikari said he is very excited to be a recipient of this prestigious award. "It's a proud moment for the entire community to be honored and recognized for the accomplishment," said Adhikari. He further added that this award is momentous and inspirational for new immigrants and entrepreneurs in the U.S.
"Besides social activist and emerging entrepreneur, this award also recognizes my civic engagement activities to integrate the new refugee population into the American mainstream," added Adhikari, who is also the President of the Punya Foundation U.S.