The online signature campaign by Bhutanese in the diaspora asking the Japanese government to withdraw its decision to confer the 'Order of the Rising Sun, Gold and Silver Star' award on the former Home Minister of Bhutan, Mr. Dago Tshering that received a lot of traction, officially ended on July 23. 
The Global Bhutanese Campaign Coordination Committee for Japan Campaign 2021 (GBCCC-JC 2021) that led the call said that its online campaign which is now officially closed on change.org received close to 3,000 signatures.
According to GBCCC-JC 2021, the online campaign received over 45,000 views and it was shared a little over 2,000 times.
"The Campaign will continue to inform and engage the world on the issue through various media including though its Facebook page," informed GBCCC-JC 2021.
"Thank you for signing the petition and for being part of this Campaign. Each and everyone of your signature is important to us and carries the message we want to convey," read an update on the change.org petition from GBCCC-JC 2021.
According to the GBCCC-JC 2021, the actual online petition and signatures from the change.org will be sent to the Japanese government and its embassies across the world in the coming days.

In the first phase of the campaign, GBCCC-JC 2021 sent a letter of concern on June 24 to the Prime Minister of Japan drawing the serious attention of the Japanese government in regard to the conferral of the 'Order of the Rising Sun, Gold and Silver Star' on the former Home Minister of Bhutan, Mr. Dago Tshering.
The GBCCC-JC 2021 was launched by the Bhutanese community organizations including those in Australia, Canada, Denmark, Nepal, New Zealand, Norway, United Kingdom and United States of America.

Responding to a query by BNS, Jogen Gazmere, spokesperson of GBCCC-JC 2021 said that the Bhutanese Diaspora was able to 'speak the truth and act on time' through Japan Campaign 2021 and convey their deep concern to the Japanese Government in regard to award bestowed to Dago Tshering – responsible for blatant violation of human rights in Bhutan in 1990s.

"The immediate objective of the campaign has been fully achieved. This campaign has reconnected and reunited the members of Bhutanese Diaspora globally," said Gazmere, adding – "The younger generation specially got the opportunity to peep into the history of their parents and grandparents and appreciate their journey of resilience and hope. Now the interest has been raised to understand and grasp the whole of community history, which can motivate the younger generation to create a better present for themselves and prepare to reconnect with Bhutan for reconciliation in the longer run."  
Petition signers share experiences
Many former Bhutanese refugees and their sympathizers took to change.org petition to make their case by sharing their experience and thoughts on why Mr. Tshering should not receive the award. 
"I am signing this petition because my husband was tortured to death due to Dago's act of violence in the 90's," commented Pabitra Gautam. 
Tek Nath Rizal, a senior human rights activist and former Amnesty International 'prisoner of conscience while signing the petition accused Mr. Tshering of being a corrupt politician.  
"With the prestigious award to the former home minister who imprisoned me in solitary confinement for a decade because I, a member of the Royal Advisory Council (Upper house) of Bhutan, had revealed his theft and corruption. The members of the Royal Council and Audit Team from India had carried out the investigation of corruption cases in 1987-88. The team found him involved in corruption. He used his circle of corrupt people and rose to become a home minister. When he was home minister, he ordered soldiers and officers to evict citizens, invade their properties, and distribute among themselves," said Rizal. 
"When I was in class 8, in 1990, a group of security forces arrested me, depriving me from giving my exam the next day. I spent 24 months in jail without trial. I went through several methods of inhuman and brutal torture, including dark cell isolation, too," recalled Tumbehang Limbu.
"This was a horrific violation of human rights. He should be tried for his crimes, not rewarded for them," wrote Julia Freeman-Woolpert. 
"I was merely 9 year old when I was asked by a government employee to provide free compulsory labor to construct a section of the road (somewhere between Gola Bazar and Biroo Tar) in Bhutan. I was given a hammer half the weight of my body to break builder. I was being punished for my brother who joined the demonstration against the government in 1990," recalled Ichha Poudel on change.org comment section, adding-  "At 39, I can see the government employees were simply enforcing the directive of their home minister Dago Tshering through his notorious letter(attached in the letter being sent to Japan). I humbly request the other recipients of the same award to pressure the Japanese government to withdraw their decision to honor one of the most sinister persons in the modern history of Bhutan."
NB Giri, a former Royal Bhutan Army officer, while signing the petition said, "My status and responsibilities as an army officer serving the nation have been questioned by confining me in a dark prison without any reason and trial in Bhutan. I have undergone a horrific life in prison." Giri further added that the current Army Chief of RBA, Bhato Tshering came to meet him in the prison, and stated that then Home Minister Dago Tshering did not allow him to be released soon. "I hope justice will prevail, and the perpetrators will be brought to justice," he added further. 
Media traction
The first-of-its-type campaign also received a lot of media traction both at national and international level. Few US-based media, including two mainstream media in Japan covered the news. Many mainstream major news media in Nepal also covered the campaign news. 

"In an online signature campaign seeking broader support for the demand, members of what some human rights activists call the most forgotten refugees in the world have mentioned gross abuses, including arrest, torture, and eviction they faced, and have expressed a belief that Japan will revoke the award," wrote Kyodo News, Japan's leading news agency.

High profile individuals react
Kul Chandra Gautam, a former deputy executive director of UNICEF and Assistant Secretary-General of the United Nations also openly expressed his support for the cause.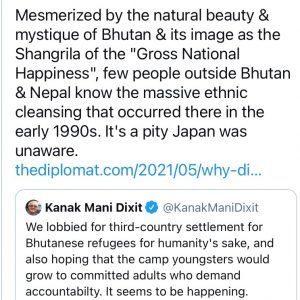 "Mesmerized by the natural beauty and mystique of Bhutan and its image as the Shangri-la of the "gross National Happiness," few people outside Bhutan and Nepal know the massive ethnic cleansing that occurred there in the early 1990s. It's a pity Japan was unaware," tweeted Gautam after sharing a piece from The Diplomat Magazine. 
Meanwhile, Kanak Mani Dixit a veteran Nepali publisher, editor, writer and founder of the Himal Southasian magazine while encouraging others to sign the petition took to Twitter to make a case.

"We lobbied for third-country settlement for Bhutanese refugees for humanity's sake, and also hoped that the camp youngsters would grow to committed adults who demand accountability. It seems to be happening," said Dixit.
Dr. Mahabir Pun, a Nepali scientist, social entrepreneur and an activist while urging his nearly 350,000 followers on Facebook to stand by the side of justice said, "I think we should raise our voice against the main person who plays a role in such an inhuman act."

As of the filing of this report, GBCCC-JC 2021 is yet to receive any official response or acknowledgement of their concern from the Japanese government.

"We hope not only to hear a positive response from the Japanese government, but we equally look forward to the award being withdrawn," said Bishwa Chhetri, a coordinating member at the GBCCC-JC 2021.
Chhetri further informed BNS that the GBCCC-JC 2021 will continue to draw attention of international human rights organizations and other stakeholders on this topic in the coming days.