The monastic schools in Bhutan and other Buddhist realms are purely maintained for educating the Buddhist way of living to monks and nuns.  The dratshangs in Bhutan are housing and educating monks of various age group, all living in common space. But these Buddhist learning centers are plagued with unreported cases of ill-health, both physical and mental.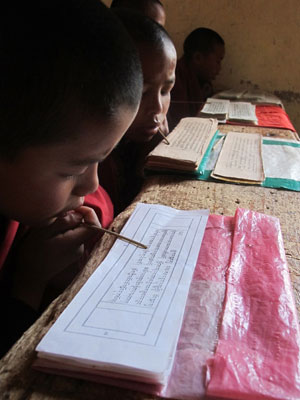 According to the Kuensel, the monks as young as 12 years were found to have contracted sexually transmitted disease some years ago. The only response to contain the spread of STI was the change of head of the monastic school.
The monks are suffering from various levels of skin diseases, hypertension, piles and even obesity in some cases.
"Although such cases of STI were reported in the past, it is the not the case now after creating awareness in monastic schools in 2010-2011", claims Tashi Geley, the health and religion coordinator of monastic body.
 Six years ago, when Pema Sherpa volunteered to conduct health checkup in Dechenphodrang monastery, she found white patches on the scalps of young monks.   She saw these patches became sore and puss ooze out of them. "But now they have gotten well", she said.
The principal of Dechenphodrang monastery said that ninety percent of the young monks came from poor families and that they were not aware of the diseases they might have carried with them.
Now, Pema Sherpa visits the Dechenphodrang monastery thrice a week to look after the health concerns of about 280 monks housed in the monastery. According to Pema, the monks used to sleep in a common room like matchsticks lined closed tight.
There are five monks living with  HIV positive of which the youngest is 19 years old.
Probably, the reason for these communicable diseases among the monks is attributable to their poor living condition and higher level of stress, a study suggests.
Some years ago, UNICEF reported degraded health conditions of these religious learning centers. Lack of regular supply of water for drinking and washing, bad quality food served, less hours of rest and absence of any entertainment to young monks is contributing factors for the rising health concern among the monks.
An assessment of health condition of school children in 388 monastic schools in the country found that the sleeping conditions are still bad with six to fifteen children cramped to one room.  Toilet facilities remain poor aggravated by water scarcity and only occasional supply of toilet papers in some.
According to Karma Ura's report on findings of GNH survey 2010, these prevailing factors have amounted to poor response of monastic schools on health in the GNH survey 2010. "Young monks are severely stressed, may be because they are forced to memorize and not able to cope up after short hours of sleep", Ura empathizes.
The level of stress can be felt obviously, if one look at the arduous hours of monk's life in a monastery. Inside the monastery, the day begins as early as 4am in summer and 5:30am in winter, where juvenile monks get a concession of starting the day at 6:30am.
Corporal punishments are said to be banned in schools, but monks are still disciplined with the traditional whip and cane by the teachers. Even young children who tend to be little defiant of the monastic rules are thrashed and whipped. But the school principals are not happy about the safeguarding and implementation of child rights, and for them that is making the child to be spoiled writes Kuensel dated March 25, 2013.
Two psychiatrists in the country, Dr Chencho Dorji and Dr D K Nirola say that they attend a number of nuns, lay monks and monks living in monastic schools, mostly of the age group 15-25 who suffer from mental illness.
Among the older nuns and monks, the common problem is hypertension, anemia and diabetes. Nuns are more anemic.
Health insurance is offered by the royal insurance corporation limited to 7424 monks and nuns until now, but that does not cover the preventable diseases like STI or HIV/AIDS.  Other diseases covered by the insurance policy are heart disease, diabetes, kidney failure, gallstones, gastritis etc.