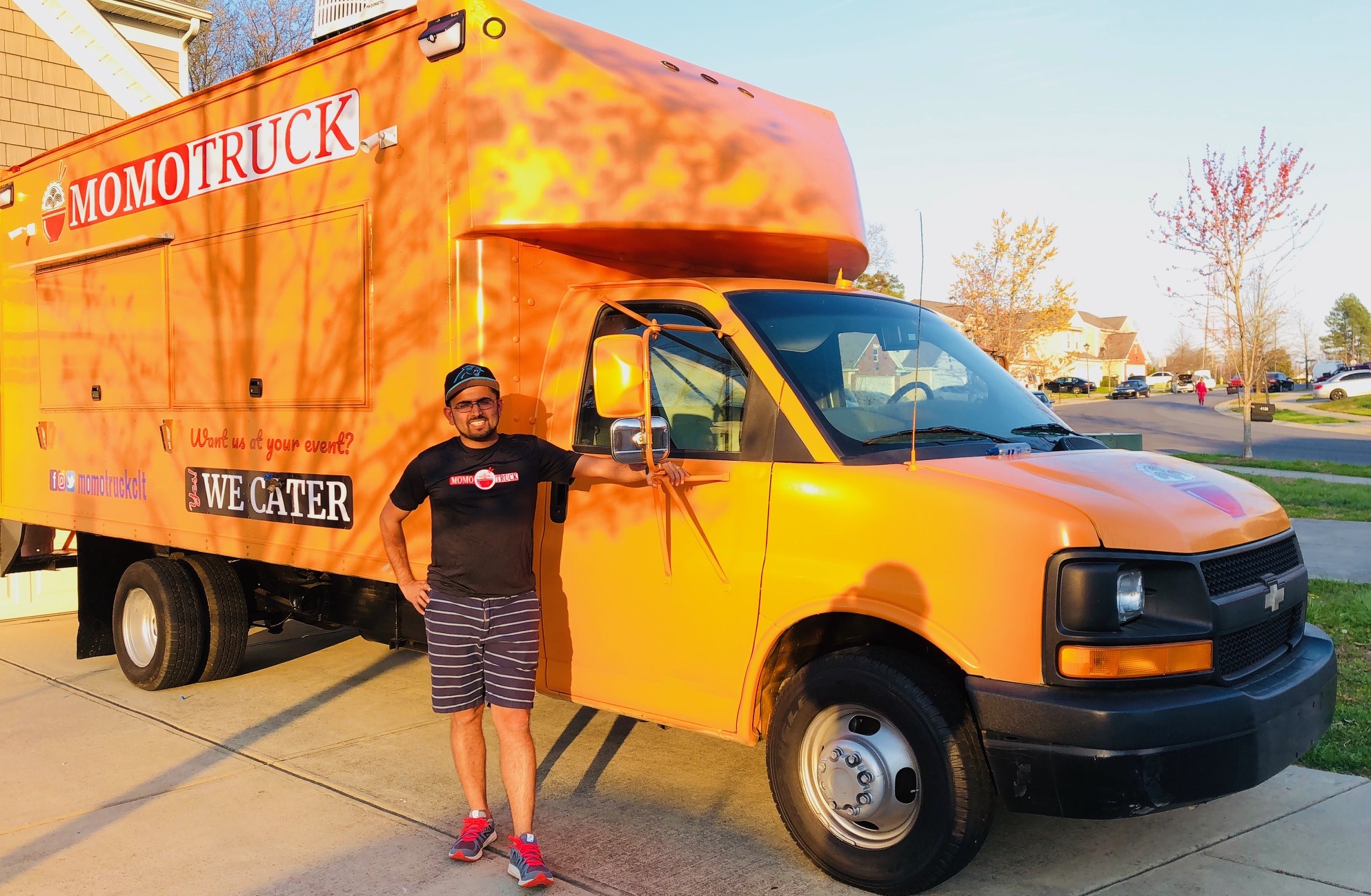 Not very long ago, the average meal in Charlotte, North Carolina was likely to center around fare traditional to the southern region of the United States, like chicken fried steak, shrimp grits, collard greens and a big Mason jar filled with very sweet ice tea.
Since Jay (Praja) Subedi arrived there in 2008, he's been committed to helping spice things up. Now, his dream about food as a cultural emissary is about to come true as his family's new business, Momo Truck, prepares to roll around his adopted hometown.
"I want to be part of the cuisine trend," he said.
Introducing customers to what he claims are the "best dumplings ever" is just part of the goal of his new business, which will also serve rice bowls and noodles.
He hopes that buyers who enjoy his food will wonder about the origins of the cuisine—and the people preparing it.
He imagines they'll wonder about the Himalayas., he said: "Then they'll say, 'Where is Bhutan?'" A map on the truck displaying the south Asian countries will allow him to explain his family's roots, and that of the food.
In the last weeks, as he waits for final inspection from the health department and other nuts and bolts required to run a roving restaurant, Subedi's been pre-occupied with another essential ingredient to a twenty-first century business: Advertising.
Testing food items and building the menu has been critical, of course, but a good social media strategy that creates buzz will ultimately be essential to the truck's success. Hand in hand with the need for popularity with potential eaters is the importance of building awareness with breweries and office parks that invite these mobile restaurants to park and serve up their offerings to their constituents. To prepare himself, he took a class on running a food truck from the local community college.
Subedi family once owned a grocery store called the Central Market in Charlotte. His goal here is to offer low-cost food that will inspire hungry eaters to try something new.
"This is quick food," he explained. "People don't expect to pay a lot of money." Charlotte's cuisine has been morphing as newcomers from around the world are resettled there. "People want to eat something that reflects something else. If you're only hungry, having our dumplings is not the best," said Subedi, who goes by the Americanized name, Jay. "If you're hungry to try something new, then that's us."
By day Subedi supports his family with his job as civil engineer, overseeing hydraulics and drainage projects for a private firm that does public works projects—a job he enjoys. He earned his degree at UNC-Charlotte after arriving here. He and his wife, Ambika, whom he married in 2012, just welcomed their second child, a boy.
They've traveled a long way from their first meeting as kids back in the refugee camps in Nepal. Ambika's family was one of the first three resettled in Vermont, and Subedi courted her after his family was resettled in Charlotte.
Since arriving here, Subedi has reveled in the abundance of different foods available here—he loves a great, juicy steak in particular. The culinary culture here is so different from back home, where it was much harder to find varied cuisine. While he feels that he's so lucky to have landed here, he believes this next generation is even luckier. "They will grow up in a community that carries everything from every culture. They will get to choose and adapt what they like," he said.
And he's not worried if his kids grow up to marry people from another culture—in fact he welcomes it. "That would be a game changer," said Subedi. "You don't want to be an outlier in this changing world. If you are not inclusive, then you're not adapting to this environment. "
Have a diaspora story you'd like to see us tell? Know of someone in the community who is doing formidable work? We'd love to hear about them. We are in particular seeking stories about women and elders and how they're integrating into their new communities.