In a two days match played between twelve soccer teams of former refugees from Iraq, Myanmar, Bhutan, Congo and Somalia, Maila Don team of Lexington won the final match against Louisville Rising star club.
The third youth memorial soccer tournament was played in Thurman Hutchins park on River Road 11th and 12th August.
Twelve different teams from Lexington, Cincinnati and Bowling Green registered and payed entry fee of two hundred dollars to Bhutanese Society of Kentucky, the organizer that managed the ground and other logistics for the game. Three teams from Louisville registered to play.
The game was opened with a US national anthem and a tribute to the three youths – Chita Chuwan, Sukman Rai and Nagen Thapa- who died when their car was hit by train in 2015. Every year BSK hosts the memorial tournament as a tribute to these soccer star of their schools in Jefferson county, Louisville.
The final game played on 12th that started almost forty-five minutes later than the stipulated time kicked off with a ball rolled by Nar Bahadur Thapa, father of deceased Nagen Thapa.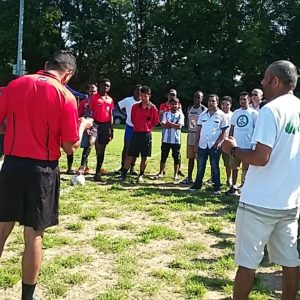 Jitu Basnet, Amrit Regmi, Stevens and Bikram Subba served as officials of the final game.
Cash prize of eight hundred and five hundred dollars was awarded to winner and first runner-up teams along with trophies, and man of the match prize donated by Nar Bahadur Thapa.
Chief of Metro Parks, Seve Ghosh distributed the prizes and trophies.
BSK has been organizing the game every year involving players of international populations in Louisville. The program director of BSK, Bhim Koirala says, " this tournament is gaining momentum as more soccer teams are participating from neighboring cities."