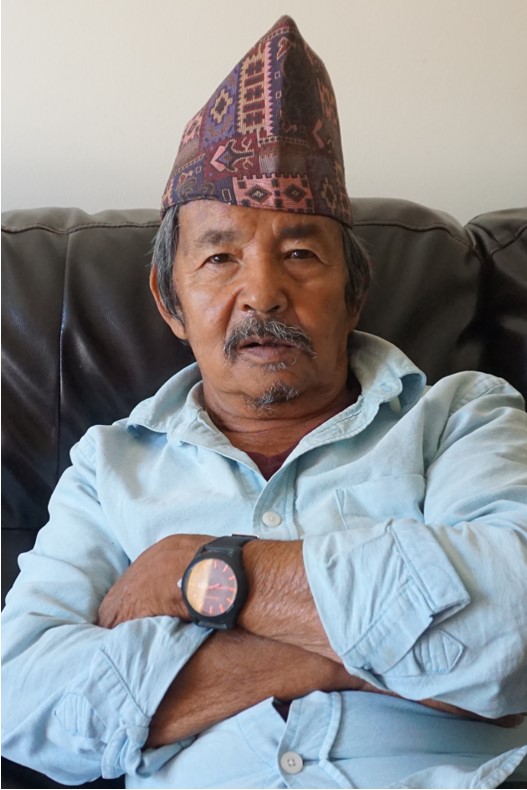 "My first wife was from a place called Fulbari in Assam, India. We were of the same caste:Jogi. I was 18-19 years at that time. It was an arranged marriage. I had four kids, two girls and two boys from her. At the time I used to work as an assistant at a pesticide distributor. One day I had to go to the capital Thimphu. I took my then wife and three kids along with me. One of the girls, Gita, was staying with her grandma. I can't exactly remember much about it but on the way, I lost my cognitive ability. I have no memory of that ordeal. After that somebody found me and brought me home but without my wife and family. Somebody had already taken my wife and kids. People say a bad guy did some black magic on me on that journey that made me lose my mental ability. Till date I have no contact with them. After I came home, I used to work in the field tending crops and paddies. I also stayed and worked as a cook at Lamakhore's house. He was our Dzongkha Yargey Tshogpa (DYT — District Development Committee) member at that time. This (my current wife) is also from Fulbari, Assam. She is Magar by caste. At that time, she was a widow. So, some village ladies sweet-talked her about me. After that we developed mutual interests and got married later. Life is good with her. Sometimes we might differ in opinions, but we settle it."
_
Jainarayan Jogi, 68, is originally from Daifam, Bhutan and is based in Grand forks, North Dakota at the time this story was compiled.
Story and photo compilation by Pabi Rai for BNS.