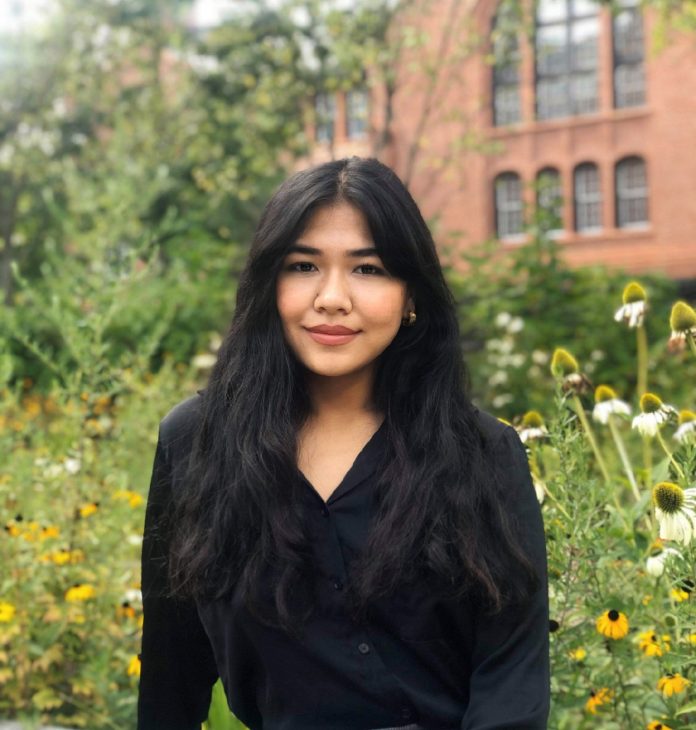 The appointment of Kamala Harris as the first female, first Black, and first South Asian Vice President of the United States of America was a proud moment for me, not just as a woman but as a woman of color. 
The U.S. considers itself to be the most developed country in the world and people come here because it is a land of opportunity. A place where if you have the grit, you can succeed. My family and I resettled here for these reasons. 
"Anything is possible here. I can be anyone I want to be if I work hard enough," was echoed in my middle school scholarship essay, personal college statement, and countless class assignments. 
It was the answer I gave a man seated next to me on a plane back from Dallas recently when he asked why I had decided to come to the U.S. But my response wasn't as full of conviction as in the past. I neither had the time nor the energy to explain why I no longer believed this to be true.
The U.S. is a great country, but only for a few. It allowed a refugee like me to attend college free of charge and to become a citizen for the first time in my life. But it is also the country that has regarded healthcare as a business, exploited the poor, and mistreated black people and brown people. 
This is also the same country that in 2020, saw women earn on average $0.81 for every $1.00 earned by men. And the gap widens even more with women of color (WOC). Not surprising considering that women were not allowed to vote until 1920. 
The U.S. is also one of the most diverse countries in the world but is surpassed by numerous countries in terms of women suffrage and women heads of state in both the developed and developing world. Examples include the UK's Margaret Thatcher elected in 1979, Germany's Angela Markel elected in 2005, and New Zealand's Jacinda Ardern in 2017. India had its first female prime minister in 1966, and Nepal elected its first female president five years ago. 
Even with women's suffrage, the role of women was mainly domestic as mothers and caretakers of the home. A revolutionary time came inadvertently with the beginning of WWII as most men were deployed to fight for the allies, leaving women to fill the jobs that were once dominated by men. Feminist movements became marked by Rosie the Riveter, a state-sponsored campaign that empowered women to take on roles outside of the home. Once the war ended, the jobs were given back to the men but the effects of those times highlighted that women were just as capable. 
Before Harris, there were 11 women who ran as a vice presidential candidate, including some WOC. But they ran without much promise until Geraldine Ferraro became the first female to be nominated on a major party ticket in 1984. The fight for gender equality notably progressed in 2016, when Hilary Clinton became the first woman presidential candidate to win the popular vote though she was defeated by Donald Trump who garnered more electoral votes.
We endured an extremely challenging four years under the leadership of former president Donald Trump which has caused us to regress significantly. The election of President Biden and Vice President Harris is not going to solve America's problems. Let's be honest, most probably cast their ballots not because Biden and Harris are ideal candidates but in spite of Trump and his administration.  
Celebrating the appointment of the first female, first Black, and first South Asian vice president does not eradicate systemic racism or bring about gender equality in our society but it does mean that it is a step in the right direction.
Most of us have been told that as women, we are equal to men and we can strive to be in whatever role we choose. It is one thing to hear those words but it is another to see it manifest in front of our eyes. In a society where sexism is still prevalent, where women in politics and other forms of leadership are often unfairly criticized, it vindicates us. It validates our continuing struggle for gender equality and the efforts of those who came before us. And most importantly, it sets precedence of women in leadership for young boys, girls, and nonbinary persons. 
"I may be the first woman in this office, I will not be the last." These few but powerful words will forever be etched in American history.
The election of Vice President Kamala Harris has been a great source of pride for the South Asian community. It is a watershed moment for a society which has historically favored males over females, case in point, the alarming female infanticides in India and Nepal. It would be naive to think that generations of cultural norms and long-held beliefs will be transformed overnight but this is certainly an inspirational moment for those who grew up not seeing leaders who looked like them, those who want to pursue careers outside of STEM (Science, Technology, Engineering, and Mathematics), or those who grew up thinking they were less capable than men. 
The inauguration was a powerful moment for me and my family. As we sat in our living room watching it on TV, I exclaimed to my Aaji (grandmother), "WE VOTED FOR HER. WE VOTED FOR THEM!" The weight of that moment sunk in. 
My family, including my elderly grandparents, and I had voted for the first presidential election of our lives. What a wonderful thing it is to be able to vote, and to vote in one of the most important elections in U.S. history and have a female elected into an office that for the last 244 years was only held by white men.
__
The author is one of the section editors for BNS.