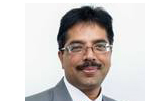 Om Dhungel, who was awarded with the prestigious NSW Premier's Lifetime Community Service Award for his outstanding work with the Australian Bhutanese community, has been living in Sydney, Australia for the past eighteen years. Dhungel received his BS degree in Electrical and Electronics Engineering from Bangladesh University of Engineering and Technology in 1985 and was serving as Head of Planning and Development at the Department of Telecommunications, Government of Bhutan prior to fleeing the country in 1992.
Dhungel later earned MBA degree from University of Technology, Sydney. He also graduated from Australian Institute of Company Directors. With the degrees he earned after relocating to Australia, he brings a diverse range of Board, management, community development and volunteering experience to SydWest. Dhungel is a consultant and a practitioner of strength-based approach to refugee settlement and community development. A Fellow of the Australian Institute of Company Directors, Dhungel is also a Director on the Board of Settlement Services International. He is a current Westpac Social Change Fellow and a recipient of 2012 National Volunteer Award. Dhungel is the founding President and currently a senior Advisor of the Association of Bhutanese in Australia (ABA) Sydney.
Bhutanese in Sydney hosted what they called as Australian Bhutanese Conference (ABC)-2016 on 26-27 March in Blacktown. Dhungel participated actively to make this event a success.
On his long tour of visiting the countries of resettlement, Dhungel was in Norway from 8-13 April as a Westpac Social Change Fellow where he talked to Ramesh Gautam of BNS regarding recent conference, post-resettlement activities in Sydney and strength based community approach.
 The complete interview can be watched here: Om Dhungel with Ramesh Gautam