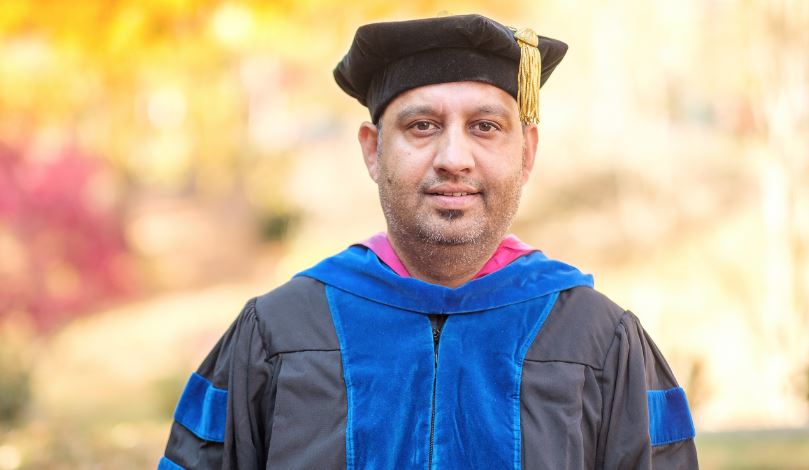 By the time D.B. Khatri was resettled to Greensboro, North Carolina in January, 2009, he'd earned both his undergraduate and graduate degrees in microbiology from Tribhuvan University in Nepal.
Though he was still considered stateless, he was teaching at National School of Sciences (NIST College), too. Life was a different sort of difficult than it was in the refugee camp where he'd lived since he was a teenager, having left his native Sarbhang, Bhutan with his family.
In Kathmandu, there was "no one to help you. You were by yourself," he said.
Having excelled in his studies while in high school in Beldangi 2, he'd been awarded a UNHCR scholarship. The last in his family of eight to arrive in the United States, he was committed that he would not squander the abundance of educational opportunities in his new homeland.
"I didn't want to leave my education aside and do a job without any skills," he said. "This is the land of opportunity. I needed to grab this opportunity for something."
After working to help other resettled refugees at Church World Service in Greensboro, then working a job at the prestigious University of North Carolina, Chapel Hill, Khatri decided to pursue his PhD in Integrated Bioscience with a focus on neuroscience. (He tabled his love of English literature for science; a particular favorite is Shakespeare's Julius Caesar, and The Bridges of Madison County by Robert James Waller.)
Doing the hard work to earn this degree—while married, with a toddler, and while caring for his elderly mother—did present challenges, he said, and there were times, despite a personality he describes as "positive," that he thought about discontinuing his studies.
But he stuck with it, and last year, he achieved the milestone of graduation when he was presented with a doctorate from North Carolina Central University in Durham. This was a test, he said, "not just of your knowledge, but your perseverance."
The focus of his studies was the effect of alcohol and marijuana on the brain, particularly on the brains of adolescents. He shudders to think of how substances are abused by people during their university studies, or back in the camps, where there was little else to do.
"My hypothesis was if you drink and smoke during adolescence, that will have a significant effect" on one's developing neurons, he said. His laboratory research found confirmed that. "Taking these drugs alone or together will kill these neurons," he found.
This can have wide-ranging implications on our mental health. The fewer neurons we have, said Dr. Khatri, the more likely we are to be depressed—which can lead to suicidal tendencies.
Today, he is working on his post-doctoral studies and also at an internship where he's getting hands-on training in the clinical trials of drugs. His dream job is to take that knowledge to a pharmaceutical company where he could work on developing a drug that would combat addiction.
He'd also love some day, if possible, to go back to the land of his birth, particularly if he might be able to impart what he learned there.
"We can't do anything besides hoping," he said.
__"Have a diaspora story you'd like to see us tell?  Know of someone in the community who is doing formidable work?  We'd love to hear about them. We are in particular seeking stories about women and elders and how they're integrating into their new communities."