If it was not for the love of native language and literature among the resettled Bhutanese Nepali community, Literature Council of Bhutan would not have attracted the crowd of more than two hundred attendees from across the globe and US. Literature council of Bhutan (LCOB) convened its much awaited two day convention at Forest Park Baptist church June 9-10, releasing half dozen books and two music CDs.
Attendees from as far as Adelaide, South Australia, Nepal and Norway flew to Cincinnati for attending this mini model of literary festival.
The first day of the convention was opened with tribute to known and unknown martyrs of Bhutanese democratic movement, led by the faith leaders of Hindu, Buddhist, Kirat and Christian communities followed by a kirat dance.
Khem Rizal of Bhutanese Community of Cincinnati that took the responsibility for hosting the convention welcomed the guests and participants.
Manoj Rai, coordinator of music department of LCOB, sang a song dedicated to martyr Mon Bahadur Chhetri. He broke into tears in the middle of singing, stunning the audience.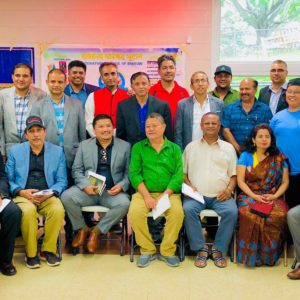 Shradhanjali by Manoj Rai and Ajnabi by Yeti Raj Ajnabi are two music CDs released.
Ram Gurung, the Bhutanese singer from  Georgia, presented the background of music  composition by Manoj and himself, that reflected diversity within the Bhutanese Nepali in America.
Pratap Subba, the pioneer singer of Bhutan, spoke of how important it is for keeping the language alive for all musical composition.
Three books authored by Ganga Lamitarey, Pratiman Siwa and Himshikhar  released on the first day were published by Matribhasa Samrakshan Samuha, a loose group formed for preservation of mother tongue.
Another book, Prasnaharuko Pahad authored by Abhas Rikham was also released the same occasion.
Various individuals took the floor reciting their own creations-gajal and short poems.
Shiva Lal Dahal, noted literary figure of LCOB, presented the working paper on evolutionary trend of Bhutanese Nepali literature beginning in the seventies.
LCOB felicitated and honored several literary figures and budding writers with certificate of appreciation. Maya Bhattarai, a disabled women writer, is one such writer who has contributed to Nepali literature by her lyrics, poems and gajals.
A budding rap singer, Bikash Shiwa  rocked the floor by his first ever rap song, Bhutan 1990s, that summarized events of democratic movement and thereafter.
In the informal session held 8-9 pm at community office, discussion was held for possibility of partnership and merging of Global Bhutanese Literary Organization (GBLO) and Literary Council of Bhutan (LCOB).  According to Karna Gurung, GBLO has been working on expanding Nepali language teaching activities with opening of chapters in different states and  in global scale.
The second day began much later than the stipulated time. The floor opened by performance of  two dance performance presented by Bhutanese community of Cincinnati.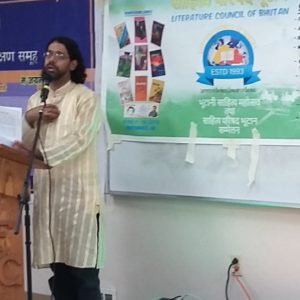 Three more book release marked the day. Books authored by Khagendra Bhandari, Tumbehang Limbu, Khem Rizal and a collection of short stories edited by Yeti Raj Ajnabi and Shivalal Dahal were released. Except for Khem's Dhumil Joon, three others were published by LCOB.
Yeti Raj Ajnabi presented an overview of the short stories collected in the book – samakaalin bhutani katha, while Shiva Dahal gave a short critque of Tumbehang's book, Kinara ko prasna. 
In the final hour of the day, Dr. Laxmi Narayan Dhakal and writer Khim Khatiwoda presented their papers.  Khim Khatiwoda gave an overview of his primer books to teach Nepali language – the methods, content and its usefulness for children in the US or other western countries.  Dr. Laxmi presented his research report on the contribution of Sanskrit universities and student organizations in Benaras for the development of Nepali literature in Bhutan.
It is learned that LCOB appointed Shivalal Dahal as the candidate for board acting president.
LCOB president Bhakta Ghimirey gave vote of thanks to all convening participants and volunteers of Bhutanese Community of Cincinnati.
He also declared some prestigious awards for writing, publishing and promoting Nepali language and literature in the Bhutanese Diaspora. These cash prize awards are sponsored by families and business owners.
Bhola Dhungana emceed the two day convention with his flow of linguistic talent.