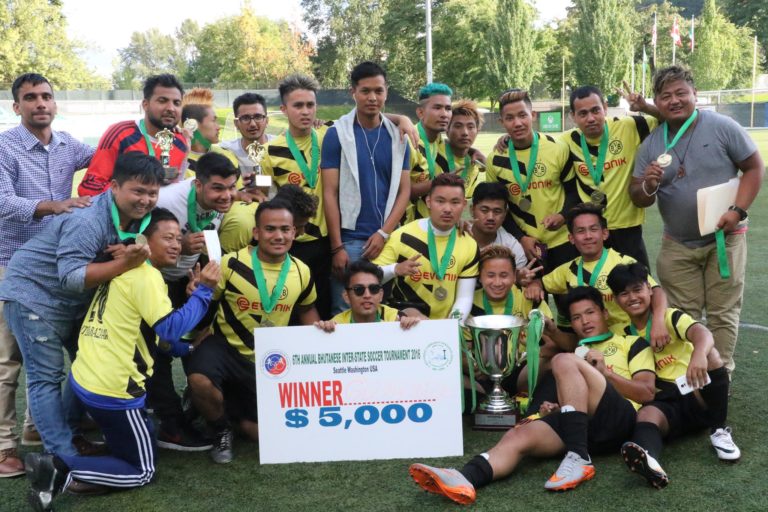 By: Yug Dabadi / Seattle, WA
Team Georgia wins the 6th Bhutanese Interstate Soccer tournament defeating Forth Worth-Texas by a single goal in the final game played in the Starfire Stadium, July 3,2016.
The lone goal by Lokesh Chhetri for Georgia in the 32nd minute of the first half won the 2016 title.
The game started after the brief ceremony that included the read out of the greetings from the Washington State governor, Jay Inslee and Senator Pramila Jayapal followed by national anthem of the United States and Bhutan.
Awards.
Kul Bahadur Gurung, CA – received life time soccer achievement award that included a trophy, certificate of excellence and a cash prize of $ 601  awarded by the Sports Council.
Bhola Khanal,GA – Best goal keeper of the tournament – trophy
Bishnu Koirala, TX- Best defender of the tournament-trophy
Dilli Bhatarai, OH– highest scorer- trophy
Sunil Sangraula, WA – Rising player award-  trophy
Purna Magar, ND- best midfielder – trophy
3rd place award- Columbus – OH – $ 1500.00 cash award.
2nd Forth worth, TX – cash award of $3000.00
Winner – Georgia- $ 5000.00 plus a winner trophy.
Soccer lovers from different states and cities had watched the game in the Seattle Sounders club stadium. Bhutanese Community Resource Center(BCRC) and Bhutanese American Sports Council( BASC) officials volunteered for the games.
BASC officials declared that the next tournament will be held in Minnesota in the summer of 2017.
All the players and managers rated Washington as the best host thus far, in terms of the prizes, awards, and accommodation for food and logistics and hospitality.