Various political and human rights activists from Nepal Friday expressed mixed reactions on formation of Non-Resident Bhutanese (NRB) Network, and its future role to consolidate democratic struggle in Kathmandu.
Former Deputy Prime Minister and Foreign Minister Dr Prakash Chandra Lohani said NRB agenda was laudable, and but needed approval from Bhutan.
"It is a good agenda. However, it has to be endorsed by the Bhutanese Parliament. I have no idea if Bhutan has acts related to this," stated Lohani.
"Recognition to Non-Resident Bhutanese is a big deal. Its approval means accepting exiled Bhutanese as genuine citizens, which is exactly opposite to Bhutan's present stance."
According to Lohani, Nepal should press Bhutan in repatriating those refugees who don't want to resettle in the west.
"We must acknowledge the fact that only a few thousands of refugees are likely to remain behind at the end. And, Nepal should apply all efforts to repatriate the remaining refugees," added he.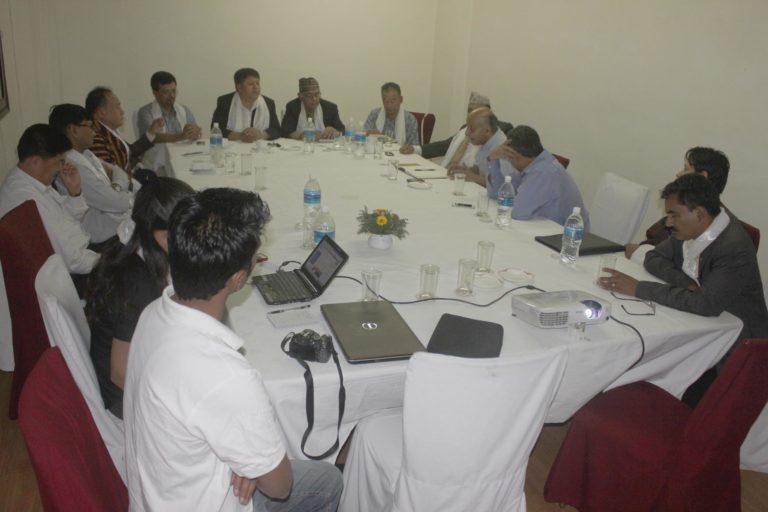 While, noted historian and Bhutan expert Ramesh K Dhungel suggested to go for a broader organization representing whole Bhutanese diasphora where NRB could remain under its umbrella.
"The Bhutanese diasphora is a 'forceful diasphora' created forcefully by the international community," Dhungel expressed, terming resettlement as an 'inhuman betrayal' to sideline the issue of repatriation.
"The resettlement is, indeed, a sad human history."
According to historian Dhungel, who is regarded as an expert on early Nepal-Bhutan relations, the 'forceful diasphora' of Bhutanese nationals would be a new chapter for diasphoric studies.
Meanwhile, CPN-UML Politburo Member and former minister Gangadhar Tuladhar appreciated initiatives to begin the discussion of NRB, but said a continuity to such an issue was a must.
"The CPN-UML is ready to support your initiative. However, we expect continuity."
Former Ambassador Hiranya Lal Shrestha and rights activist Dr Arjun Karki expressed their fear that NRB concept might sideline main agenda of democratic struggle in Bhutan. The duo urged to first prioritize issue of repatriation, and then promote NRB concept.
While, senior journalist Hem Bahadur Bista asked resettle Bhutanese to earn in the west and invest in Nepal. "The existing political scenario is such that Bhutanese refugees in the west need to earn and make investments in Nepal to lure our leaders, and cash in their supports."
He further added, "I tried a lot to convince our foreign ministry to set up a separate desk for handling the Bhutanese refugee issue, but I failed. I am sure the Non-Resident Bhutanese concept would bring the scattered disaphora together."
On behalf of the organizer, Dr DNS Dhakal and Druk National Congress(DNC) President Kesang Lhendup clarified the concept and necessity of NRB in the present context.
According to Dr Dhakal, recognition of Non-Resident Bhutanese status to the resettled people and repatriation of willing refugees from the camps in Bhutan was a way forward for an amicable resolution.
"Recognition of NRB status for the resettled Bhutanese by democratically elected Parliament of Bhutan will remain the campaign agenda of exiled communities," he clarified.
The Voice of Non-Resident Bhutanese, a webpage on NRB, was also launched during the program.
Meanwhile, DNC General Secretary, Karma Dupthob, has been nominated as Secretary to the  NRB Secretariat in Kathmandu.
"The Secretary will do needful lobbies with resettled communities in various countries, and finalize an ad-hoc committee hereafter," Dr Dhakal added, announcing the first NRB conference in January 2015 in Kathmandu.
"We expect to garner over 100 resettled Bhutanese for the conference in 2015 as the ongoing resettlement program will be taking a turning point by this time."