Bhutanese senior citizens in exile have alarmed the concerned authorities that they would be compelled to agitate if their demands for dignified repatriation are not met at the earliest.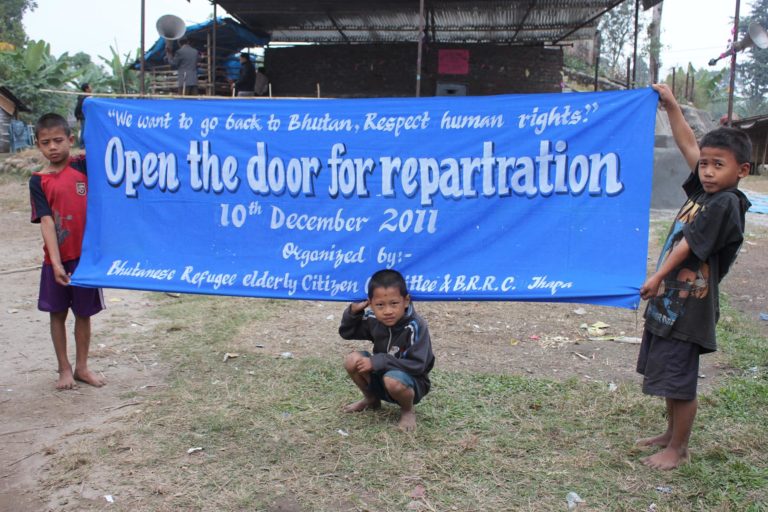 They expressed such an opinion during a program organized in Beldangi-II camp on Tuesday.
"We are mainly concerned about future of those who don't want to resettle but prefer to return home from the refugee camps," Dr Bhampa Rai said.
Dr Rai also mentioned that refugees would be compelled to launch protests if both Nepal and the UNHCR continue to ignore their demands for repatriation, as he accused both the parties of simply promoting the resettlement.
Likewise, Secretary of the Bhutan State Congress (BSC) Durga Sitaula warned of agitation if Nepal fails to take up refugees' demand of dignified repatriation seriously.
Another speaker NB Giri said that Bhutan government has been continuously taking action against its citizens when they talk of human rights issues. He also demanded unconditional release of all political prisoners, and urged the international community to press Bhutan for that.
Meanwhile, Indian activist Sailendra Kumar Arora also assured his support for repatriation, assuring refugees that he would start mobilizing the mass in India in favor of repatriation.
Local political leaders from Damak cited lack of leadership in the refugee camps, and accused leaders of ignoring citizens' sentiments by accepting to resettle in the west.
Video courtesy : Purbelitimes