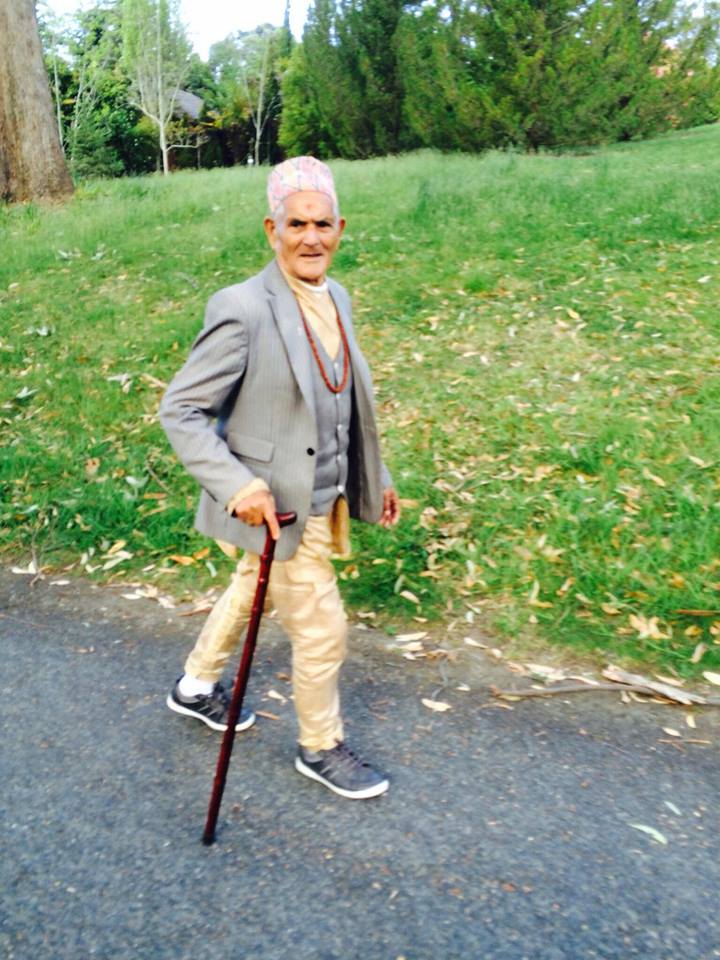 1.0 A life of traditions
Devi Charan Poudel was the sixth child born to father Nar Bahadur and mother Rup Meena on auspicious day of Shreepanchami of 1983 BS (1926 AD). He was born in Lalidhapper hamlet, one of the remotest of Dagapela but comparatively with productive geophysical conditions.
During that era of wealth deficiency and rural mode of production, lending of money wasn't a business, rather a need. Villagers were inclined to burrow money or materials- and that created the informal lending system.
Nar Bahadur the father of Devi was also a family priest of the Poudel clan during Kulapuja. Along with other minor offerings within the clan, Diwali (worship of ancestral demi-gods) ritual was the most significant celebration. There was a belief that the supreme power would be able to terminate all the evils, obstacles and illness by making ancestral god happy mostly by making offering.
No signs of formal schooling, there wasn't even any informal setting of knowledge sharing in Dagapela during Devi Charan's childhood. Some Brahmins family used to send their sons to 'Gurukula' system of learning to get familiarize with Sanskrit language. And the sons belonging to other lower castes were deprived from learning Sanskrit for the students had to stay in private residence of the priest who served as the teacher. Caste was strictly practiced and to keep non-Brahmin in the house used to be looked quite lowly in the community. But Devi's parents taught him some fundamental arithmetic and some basic scripts. The math they learned and practiced was like that of Mayan vigesimal number system based on base 20. Significant of all, he learned the ethics and moral values from the parents. The parents taught him to work hard and they always made him to realize that 'a person won't die of work but do so by the lack of food'. Because of his hard work and honesty, his parents preferred living with him over other seven brothers.
A human tendency of class or cohort competition come to play even in the remote village. Such competition occurred on any daily chores such as who could wake up early in the morning and finish the milking of cows and churning the curd before the dawn, who could climb the largest tree and fetch the heavy load of fodder for cattle, whose bull would dominate other bulls, or who could till more land in a day. Devi Charan never came second on such untested competition. With hard work mantras in the back of the head, everything turned to his side. Though his sources of income was livestock and farm products, he prospered and saved his extra income. Later, in 1970s they began planting cardamom plants (popularly called money plant) and began harvesting quite a quantity of cardamom on their five acres orchard.
Devi Charan's conjugal life did not go as smooth. His first wife Goma Devi died at the age of 19 after giving birth to a daughter. In the traditional belief the death of wife was often measured against husband's fate. Obviously, the death of the soul partner had multiple impacts on Devi's daily life. He married Tila Rupa Poudel who gave birth to eleven children. To ease Tila Rupa from the drudgery of domestic chores, he also married Urbasi Poudel, from whom they had two sons- Sovit and Birkha. Sovitman, the older one joined Royal Bhutan Police in 1986. Youngest one, Birkha, worked as labourer in Gomtu. They do not have permanent settlement yet, since their family left Bhutan.
Devicharan was a firm believer of traditional Hinduism. He was a village rescuer: gave alms to poor people, gave away market goods that he stored to people in need, helped at the time of death or other rituals. He had visited all the holy places, the Chardham. He hosted eleven Puranas in Lalidhappar village. He also completed his own death rituals while being alive. This is a rare practice in Hinduism.
Lalidhapper was a very peaceful place until1990. The place was an unprotected granary of wealth as there was no any vulnerability and other risk factors of earned wealth. More risks of wild encounters than human crimes. Only strangers to be seen those days were the pot-sellers (भाँडावाला) and traveling ballad singers (गाइने). To be honest, the illiteracy rate of the people over 20 years of age was more than 95% before 1990. So there was nothing that would support the government claim that people of Lalidhapper acquired the enlightened idea of democracy to overthrow the monarchy.
2.0 Physical assault
A battalion wing of Royal Bhutan Army (RBA) was initially stationed at Goshi Jr. High School complex after the September uprising. The school was turned to army barrack and a detention center. Apparently, the RBA was commissioned to implement the royal plan to uproot the southerners rather than restoring the law and order in the region. And the military might was fully endorsed.
On early December of 1990, RBA got a secret information that anti-nationals (government version) had stationed their base camp and training their cadre in the dense forest between Chukha and Dorona.
On their wild search for the so called anti-nationals in the forest, army search operation wing entered Lalidhappar village at about 2 pm. They saw a boy named Kewal Ram herding his cattle in the fields, who instead began running away from the army because of the fear that they could arrest him.
Devi Charan was weaving a woolen mat at his front courtyard focused on the pattern. A man in seventies his vision was quite low. So it was obvious that he was too concentrated on weaving the mat.
The first soldier shouted, 'Did you see a boy running?' He even didn't look at the man who asked the question.
Devi raised his head and answered, 'No'. By nature he was man of sharp voice.
Second soldier kicked him on the back of Devi Charan without further questioning.
The third man punched on his face and he began bleeding profusely from nose and mouth. Those men were ranting in a language that he was unfamiliar. The first man who asked the question took out his rifle and hit with the bayonet on Devi Charan's head. Still he didn't fall down. Other two men grabbed him by his arm, while the third began punching heavily on his chest. After 4 or 5 blows, he collapsed to the ground and began bleeding heavily, totally unconscious. They thought he died; they dragged him on the courtyard and threw him on the vines nearby. All that happened very quickly.
The uniformed men beat not only Devi Charan, but all the people who they encounter on the way. About 30 people including children and women were taken to Chandra Bahadur Bhattarai's house where a former army personal and native of the village, was having his show of anger, frequently gritting on his teeth and attempting to hit. And there, the Major Chachu Dukpa ordered the villagers to hand over the running boy to the army sheltering at Powgang Primary School. That fateful day was over.
Devi's family sought local herbal treatments for healing the wounds of torture. He might have cracks and multiple fractures on his ribs. There was no health post for the treatment and everything was closed. It took nearly three months to heal.
Who was to be blamed? What was his mistake?

Editor's note: This story is published posthumously with due respect to Devicharan Poudel who died in Lyell McEwin hospital,Australia at the age of 93. Today ( March 8th ) is his 13th death ritual. This story will be published in two parts.