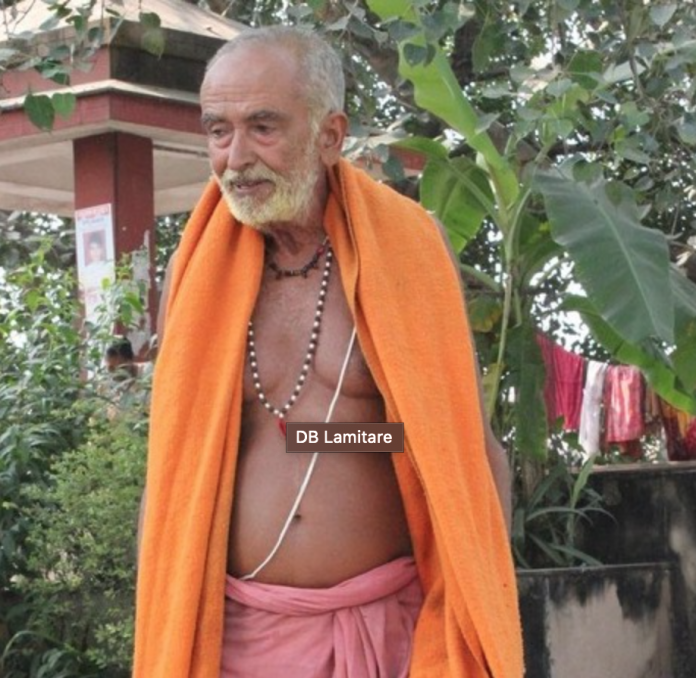 Devi Bhakt, also famously known as DB Lamitare who was one of the founding members of the Bhutan State Congress, has died. He was 87.
Lamitare, who claimed himself as the 'Hidden Hero of Bhutan' for raising voices against the Bhutanese regime since the 1950s, had been in exile in India since his youth. Unable to witness the regime's cruelty in the brutal killing of Mahasur Chhetri, Lamitare decided to leave Bhutan in 1953 to start political advocacy for changes in Bhutan from India. 
"I am notifying you all with a heavy heart that the health of Swami Ji (Lamitare) deteriorated overnight and had to be taken to a local hospital where he breathed last," one of his caretakers, who requested not to be named, informed BNS from India. 
According to this gentleman, Lamitare passed away on February 4 around 12:00 P.M. in Haridwar, India. The funeral was completed around 6:00 P.M. on the same day. 
One of Lamitare's nephews, Ganga Lamitare from Columbus, OH, also confirmed those facts. 
"A historic chapter has ended," said Ganga Lamitare over the phone. "We've not only lost one of our dearest uncles,but the Bhutanese community is void of a powerful leadership in his absence." 
According to him, the entire Lamitare family members in the U.S. were discussing a proper way to archive and preserve over half a dozen books authored by late Lamitare.  
Likewise, in a social media post, Kashi Adhikari, one of Lamitare's extended family members has also expressed deep sorrow. He also mentioned that late Lamitare had recently refused their joint offer for sponsorship for him to come to the United States. 
"Instead, he said he would continually live in Haridwar and fight for freedom in Bhutan until his last breath," his post mentioned. 
Lamitare, who demonstrated mature leadership to the Bhutan State Congress particularly in the 1970s and 1980s, had access to corridors of power in India during that period.
"In the emerging political development, we have lots of lessons to learn from his experience, particularly in organizing political activities in Bhutan considering the sensitive Indian environment," said Dr DNS Dhakal, the acting president of the Bhutan National Democratic Party.
Who Was DB Lamitare?
Born in 1935 in Lapsibhote, Chirang as the third child of mother Hima Devi Lamitare and father Tika Ram Lamitare, the junior Lamitare quickly picked up the family mantle early in life from his dad and older brother who were prominent Hindu priests in the region.
Learning alongside them, Lamitare got rigorous exposure to the teachings of Gita, Saptasati, Rudri, and the Vedas early in life before moving to the village of Silami to further his education, where he had the privilege of learning Sanskrit grammar, ethics, and Vedic teachings from the prominent religious scholar Kashi Nath Pyakurel. As an eloquent and gifted orator, Lamitare enjoyed debating on esoteric and philosophical topics and has won multiple "Debate Master" awards in universities across India. 
Lamitare was a graduate of Sampurnanand Sanskrit Vishwavidyalaya (formerly known as Varanaseya Sanskrit Vishwavidyalaya, and Government Sanskrit College) where he studied literature and philosophy.
Lamitare was also an avid writer, although many of his writings have never been published. Among the ones that have left a mark on Bhutanese literature include: Dankido Bhutan, Murder of Democracy in Himalayan Kindgom, Bharat ki Kriti Himachal Darshan, Bharat ki Addhyatmik Bibhutiya aur Kumbha Parba, Santo ki mahatta au kumbha parba, Santo ki sansthaya au kumbha parba, Sikkim ki mukti kyu or kyase?, and ulcha hawa Himalaya.
BMS to publish revised edition of 'Dankido Bhutan'
The Bhutan Media Society, parent organization of this new site, said it's posthumously publishing the fourth and revised edition of the 'Dankido Bhutan' in near future.

A delegate of BMS who met Lamitare in 2012 in India had a formal agreement with the author to reprint his book in a revised edition.
"We couldn't meet our timeline to deliver the fourth edition before the author passed away," regretted Binod Dhungel from Kathmandu. Dhungel is editing the revised edition of this book.
According to Dhungel, the book is ready for publication pending the cover page. "We'll wrap this up as soon as possible considering the sensitivity of this project," he added.
Lamitare had authored Dankido Bhutan, one of the powerful books that openly criticized the Bhutanese regime, was first published from India and widely distributed in Bhutan. It's one of the first publications by the Bhutanese writer of Nepali-origin. The book was first published in 1970.
_
Hem Rizal from the United States also contributed to this report.