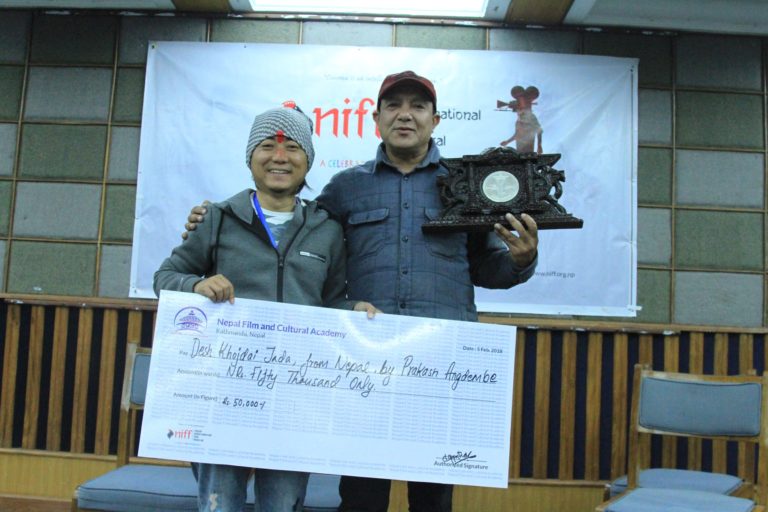 'Desh Khojdai Jaanda' meaning In Search of Nation, a feature film based on the Bhutanese refugees, has been awarded the best feature during the Nepal International Film Festival held from Feb 2-5 in Pokhara, Nepal.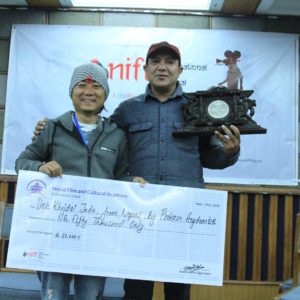 "It is a matter of pride for us to be a winner among several films in competition from across the globe," director Prakash Angdembe said.
"I am just a coordinator," Angdembe added," I would like to extend my heartfelt gratitude to all artists and well-wishers related directly or indirectly to this film."
The festival awarded Angdembe and his team with a check of Nepalese currency 50,000 (US $ 500).
The story plot
In the much anticipated bilateral treaty of 1624 AD furnished between the then Nepal (Gorkha) and Bhutan, Nepalese immigrants were formally accepted as citizens in Bhutan. These innocent Nepali-speaking Bhutanese were betrayed by the Bhutanese regime in late 1980s and early 1990s as they were forced to take refuge in Nepal to lead sub-human life. The ongoing resettlement program has scattered these refugees to various western countries, but their search for a nation would continue forever.
Synopsis
| | |
| --- | --- |
| Production | Ifacains International Foundation, Ifaca Bhutan, Gantabya Theatre and Line Cross Movies |
| Genre(s) | History, Drama, Family & Suspense |
| Run Time | 1 hour 45 minutes |
| Premier Show | July 2013 |
| Director | Prakash Angdembe |
| Associate Director | Samten Bhutia |
| Executive Producer | Birendra Chhetri |
| Screenplay | Upendra Subba |
| Cinematographer | Sanjay Lama |
| Art Director | Pralhad Gurung |
| Lead Characters | Hemanta Budathoki, Babu Bogati, Sarita Oli, Aruna Karki, Mina Koirala, Ram Chamling, LP Joshi, Dhankute Kancha, among others |
| Country of Origin | Nepal |
| Places Featured | Bhutanese Refugee Camps, and Nepal |
| Language | Nepali |
| Theme | Nostalgia, History, Identity Crisis & Hardship |
| Film Budget | Rs 4 million (approx.) |