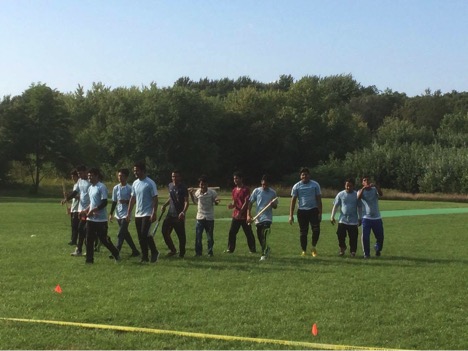 A participating team from Columbus, OH became the winner of a three-day cricket tournament recently held by the Bhutanese Community of Michigan in Grand Rapids, Michigan.
Along with the trophy the winner also received a cash prize of $1,800. While, the runner-up team from Nashville, TN got $1,300.
Batting first, Nashville, TN was packed up in 70 runs with brilliant bowling efforts from Columbus.
Columbus met the target in 15.3 overs securing its victory by three wickets.
The tournament, although knockout, was played in a T-20 format with 16 overs on each side.
According to the organizers, altogether nine teams comprising Bhutanese players from various five states took part in the tournament.
Speaking at the closing event, tournament coordinators duo, Hari Pokhrel and Tanka Gurung, stressed for the importance of games and sports in the community in order to keep the youths engaged and motivated.
Meanwhile, Kharga Khadka, the president of the Bhutanese Community of Michigan expressed that the tournament was organized with a goal of promoting sports, especially cricket in the community, and encouraging younger generations to strengthen social bond through such events.
Prakash Bastola from Columbus became the best batsman of the tournament for his 112 runs overall. He was also awarded the best all-rounder for the tournament. Likewise, Siddhartha Roka from Tennessee won the best bowling award.
Awards were also given for emerging player and best catch-taker in the tournament, according to the event organizer.
The organizers charged $399 from each team for registration. "The rest of the financial costs was graceful donations from community based businesses," one of the organizers told BNS.
(Contributed by Dhaka Timsina for BNS from Michigan)