Bhutanese refugee camps in Beldangi and Pathri are dwindling to close, and so are the camp schools. Tri-Ratna secondary school is now officially closed after 57 grade ten students wrote their Secondary Education Exams.
In the first week of March, I met a group of students at Tri-Ratna Secondary School at Beldangi, who expressed concern over the transitioning of camp schools to local schools in the neighboring villages of Damak municipality.  This means the camp students may have to walk around three kilometers every day to reach school in the locality.
While transition is inevitable, the primary focus for Caritas Nepal's Bhutanese Refugee Education Program (BREP) is to secure enough resources for the transition and thereafter. Devendra Pokhrel, Program Manager at sub-office Damak is equally concerned about the fund crunch to sustain the refugee education program in local schools until they can be on their own.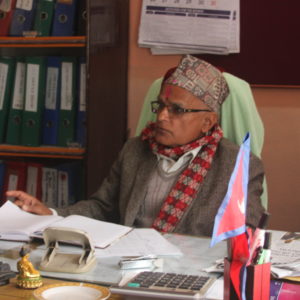 BREP completed successful 25 years of operation last year.  L N Pokhrel, Assistant Education Manager at Caritas Damak office, was grateful that several individuals of the resettled community contributed to make this celebration a reality.
Pioneering work
Caritas Nepal began supporting the refugee education in 1992 after the Executive Director Ashish Gurung visited camp along Mai river. School was first set up by voluntary effort of Student's Union of Bhutan, that later formed Bhutanese refugee education coordination committee (BRECC)for overseeing the camp education.
Dr. Prakash Subedi now living in UK remembers the old challenging days of establishing schools in camp. Student Union of Bhutan (SUB) assumed initial responsibility for starting rudimentary, open-sky classrooms for the students fresh out of their schools in Bhutan. Though it was a chaotic situation with no external funding or any support, envisioning camp education was a big dream the educated youths turned into reality with tireless effort.
Dr. Prakash recalls, "I was then secretary of SUB entrusted with responsibility of taking students to form school in Mai river and organize classes depending on the age and grade level of students. It was not easy task to manage those open classes without any material to teach. Later in 1993, Caritas Nepal came up with Rs 500 as an incentive to volunteer teachers, provided some infrastructures and building materials for schools that motivated the stronger foundation of camp education."
Dr. Prakash specially credits Tekbir Chhetri, Tarabir Subedi and Narayan Sharma for their pioneering leadership to form BRECC and establish office in Damak before Caritas came with full funding to run the project-BREP.
"There are so many others who did valuable work in this noble endeavor," he says in a voice message sent to BNS.
Transition to local schools
The first phase of transition to local government schools has been done by providing access to refugee students of grade nine in host community schools; 74 students of Beldangi camp enrolled in Dhukurpani secondary school, Damak, some three kilometers away from the Beldangi camp.  They are assigned a separate classroom and teachers who can teach in English medium.
At Dhukurpani school, the students enjoy a better classroom, but the attendance is weaning because third country resettlement continues to affect them. The day Caritas staff and I visited the classroom, only 47 students were present.
According to a science teacher we spoke to as he was waiting outside the classroom soon after recess, "there is low spirit in the students because resettlement is taking some of them to western countries. So, students think there is no value of education at the local school."
The headmaster echoed the same concern. But  he still expects to get another batch of grade nine from refugee camp school while the current batch of grade nine will move into grade ten.  He is hopeful that school can accommodate them.  "Clearly, the school needs some capacity building that might be supported by Caritas or other partnering agencies," was his message.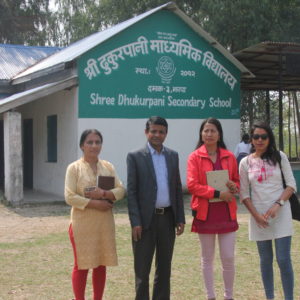 He also requested the Caritas staff to incorporate some confidence building talks encouraging students to attend classes regularly.
However, this agreement of taking camp students by Dhukurpani School is not officially endorsed by the government authority. It is a gesture of goodwill shown by the school to ensure the right to education of students.
In New Horizon Academy of Pathri camp, headteacher DK Subba prefers a self-sustaining close community of the refugees who can take care of health, education and employment by themselves given that infrastructure.  "But chances for transition to local schools are high," he agrees.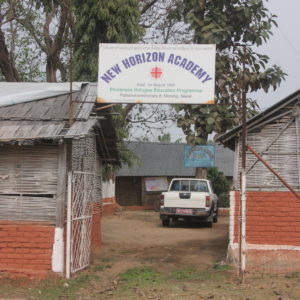 At his school there are 274 students and 25 teaching staff in a total of 1300 camp population. He estimates some 60 to 70 students going to private English medium boarding schools outside the camp. They are mostly supported by their resettled relatives.
Mr. Subba is in favor of community partnership for facilitating the transition, but except for personal interaction with the resettled community, there is no formal organized effort to bring the partnership yet.
"I suppose such partnership and giving back to the camp community by resettled community shall be beneficial to our children."
Devendra Pokhrel says, "We will develop our strategic plan for sponsoring the transition of camp school to local schools, with careful consideration that no child in camp is deprived of education."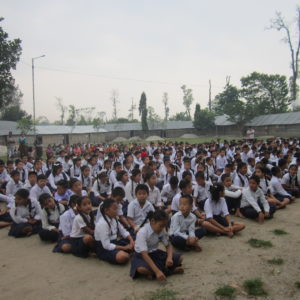 "But we also need a strong support of erstwhile camp teachers, resource persons and caritas staff who laid foundation of successful education in refugee camps in those starving days,"
He is hopeful that Caritas shall get a meaningful support from the growing Bhutanese Diaspora in the west.
Prahlad Dahal, former Store/Logistics officer at Caritas sub-office Damak, is of the opinion that fund generation by the resettled communities should be planned and serve specific purpose. Also, the children-at-risk who are left uncared by the parents need educational support. So, a comprehensive data of such children is required to allocate funds appropriately.
He says, "the resettled folks can advocate on behalf of all children who are left behind in the camps, and those who opt for repatriation. The advocacy is to allow all minors in camp to be resettled when they become adults. UNHCR should be able to protect the rights of these children who are camp-born."
Dr.Prakash is concerned about the sustainability of such funds generated in the west. "For how long can we get the funds? And for what needs of the students?" he seeks to get a clear picture of the implementation.
Open Backdoor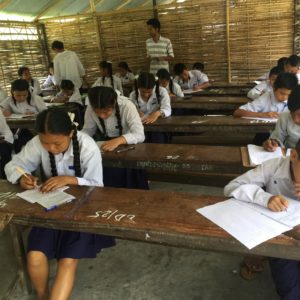 There are 1006 students in Pancha-oti English school, 57 in Tri-Ratna secondary school and 274 in New Horizon Academy. If UNHCR and Nepal government strike a deal for letting the refugees fend for themselves, all of these students should find a place in local schools. The Nepalese government seems to gradually allow refugees to open bank accounts and set up businesses.  The camp teachers are already using ATM cards from NIC Asia bank for drawing their incentives.
And, for the local public schools to open the door to camp students, they need extra infrastructures and capacity building.  Caritas sub-office Damak is ready to pave the way to transition, provided they can secure funding for initial phase.