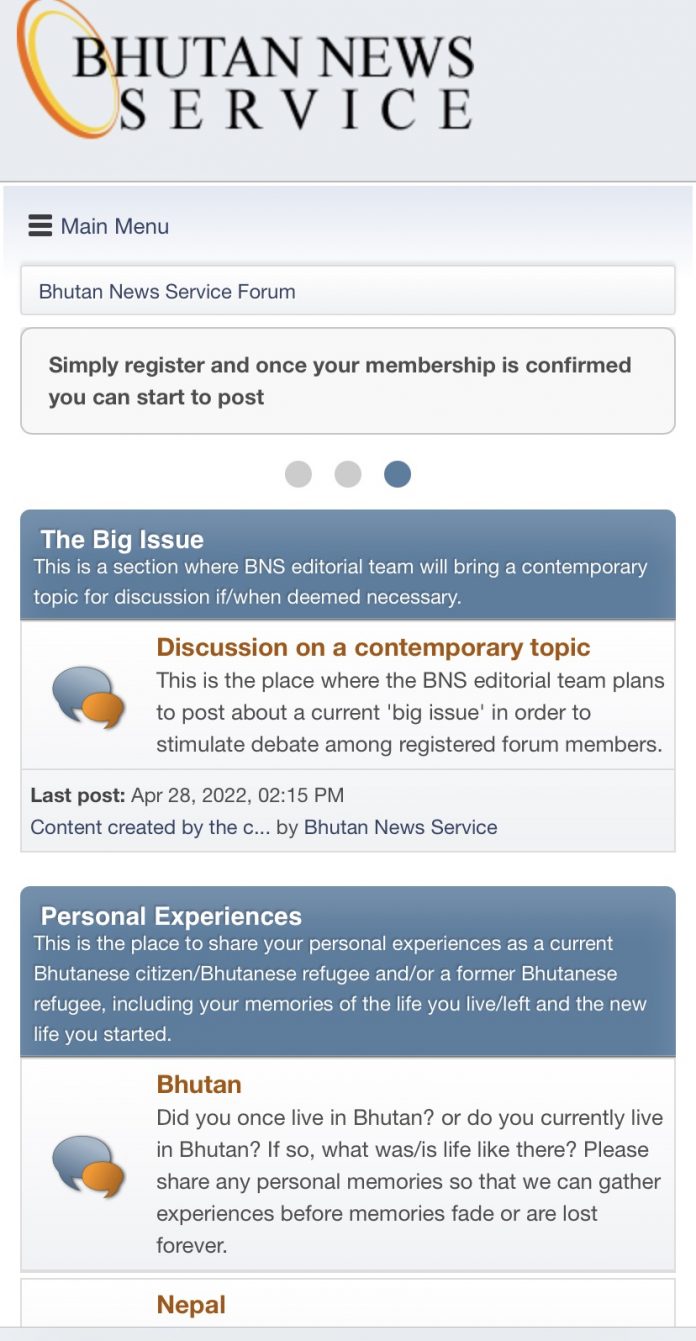 The Bhutan News Service (BNS) has created a new public forum where everyone in the Bhutanese diaspora/refugee community is now able to share their experiences and voice their concerns.

It's completely free to join and is intended to be THE place for the Bhutanese community to meet in order to discuss the big issues of the day.

The new BNS Forum's aim is to be a showcase and a historical record of "content created for the community by the community".

There are sections for members to share their memories, whether they are of life in Bhutan, the refugee camps in Nepal, or resettling as part of the Bhutanese Diaspora.

We have included sections where members can discuss modern-day life and the issues they face, as well as the opportunities they are enjoying and taking advantage of..

There are categories where you can post about health, education, environment, crime etc. There is also an area for the Bhutanese youth to discuss the issues that concern them most.

And we would like to hear from you if there are any other discussion categories that you would like added. A discussion thread has been started in the forum inviting all members to suggest categories we might have missed.

As stated earlier, joining the Bhutan News Service Community Forum is completely free of charge. The only personal information needed is your name and email address. All you need to do is register for a new account. You will notice that as you register you will see the 'forum agreement' which is a set of rules we ask all forum members to sign up to.

After agreeing, you just submit your application then wait for one of our editorial team to validate your registration. When they do you will receive an email confirming. Once you accept that invitation you are in and you can start posting.

Once a member you have the option to personalize your account with a photograph or avatar, a personal statement, link to a website, your age, and a description.

The BNS editorial team will be moderating the new forum using the 'post-moderation' and 'reactive-moderation' system.

'Post-moderation' means that after your post goes live a BNS moderator will check the wording to ensure it complies with the forum agreement rules. 'Reactive-moderation' means that the BNS team will also moderate if another member of the forum, or the public, complains about a post and it is felt that complaint is valid.

The BNS editorial team will also monitor the BNS Community Forum for news leads and stories. If a member posts about something that concerns them and that issue gathers momentum, we might decide to contact the contributors to discuss whether the issue should be highlighted in a news article on the BNS main site.

Similarly, if people share precious memories of life in Bhutan or Nepal, we might contact the contributor to discuss whether these could also be expanded for inclusion on the BNS main site.

This forum is a fantastic opportunity to create a vibrant meeting place where we share valuable content that is relevant to the issues faced by the global Bhutanese community. We hope you will join us and contribute to this shared adventure.