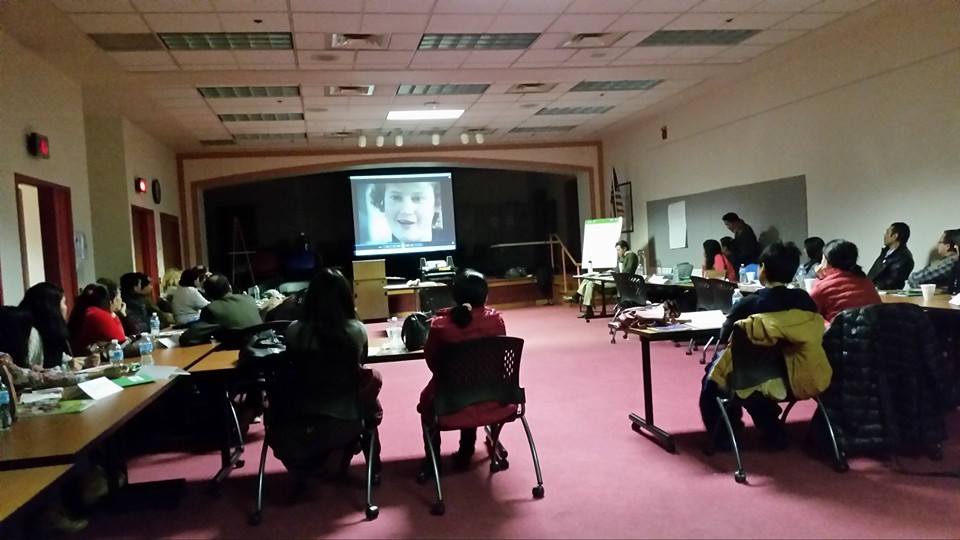 By: BNS-Staff Reporter
Two resettled Bhutanese,  Ashok Gurung, a student at the University of Pittsburgh and Parangkush (PK) Subedi, a Health Program Analyst at the Office of Refugee Resettlement (ORR) have been actively involved educating fellow Bhutanese people on Mental Health First Aid (MHFA) in the United States since 2014.
In the summer of 2014, 124 Bhutanese Community leaders from across the country received MHFA training in Harrisburg, PA. In 2016, they have given the training in Rochester, NY, Akron, OH, Houston, TX and Omaha, NE. So far, more than 550 Bhutanese participants have become mental health first aiders in the United States.
MHFA is a widely used course to train human service workers in the U.S. It was introduced in the U.S. in 2008 and, to date, more than 600,000 people from all 50 States have completed training. MHFA training is offered to a variety of audiences, including hospital staff, employers and business leaders, faith communities, and law enforcement. The goal of MHFA is to impart the knowledge necessary to provide support to people with mental illness. The program is intended to increase mental health literacy, decrease stigmatizing attitudes, and prepare community members to recognize and assist individuals who are in crisis.
The 8-hour Adult MHFA training course, performed in one full day (or four hours for two days), introduces participants to risk factors and warning signs building an understanding of their impact and reviewing standard treatments. More specifically, participants learn about depression, anxiety, trauma, PTSD, psychosis, eating disorders, substance use disorders, self-injury, and suicidal behaviors. Participants learn the signs and symptoms of these disorders including skills to provide necessary first-hand supports before a professional help is available.
"This course is quite intensive. The terminologies in the course are pretty new to most of us. I can't imagine, how difficult it would be to the people with limited English proficiency; had a native speaker given it. "Receiving MHFA training from bilingual instructors indeed helped us understand better and improve our mental health knowledge as it has solved the need for interpreters in the training. Instructors linked cultural competency issues while citing examples along the course. This is one of the best training I have ever received," said  Kumar Gurung, a Bhutanese community leader and  businessman in Omaha Nebraska.  Gurung along with 33 other Bhutanese participants completed Mental Health First Aid training in Nebraska on July 23rd.
Likewise, DB Rai, Chairman of Organization of Bhutanese Community in America (OBCA), one of the umbrella organizations of Bhutanese community in the United States said, "Mental Health First Aid training was very informative and provided needed skills to assess risk behaviors of affected individuals and provide support accordingly. It should be continued in other states where a large number of Bhutanese folks are resettled."  Rai, who is also a chairperson of Bhutanese American Association of Houston, organized MHFA training on June 11th. Altogether 22 Bhutanese participants completed training in Houston, TX.
Similarly, Karan Thapa, Chairman of Bhutanese Community of Greater Rochester, New York said, "MHFA is a much-needed course in our community. It has helped improve our mental health knowledge. It opens up our people's mind to share their mental health issues, if any, to their family members, friends, or service providers. ALGEE action plan of MHFA is simply awesome!"
Meanwhile, MHFA training has been provided to other immigrant communities and refugee serving frontline staffs. Houston, TX had four different classes for Bhutanese, Somali, Burmese, and Congolese people.
There are altogether four Nepali speaking bilingual adult mental health first aid instructors so far in the U.S.
Ashok Gurung, one of the instructors of the MHFA training based in Pittsburgh, PA, said, "We are allowed to train a maximum of thirty participants in a class, however, the organizers have been giving more than thirty, and we can't stop them attending the class. I understand the need in our community, and I guess MHFA training is getting popular. This larger attendance is a good sign because our goal is to prepare at least 1000 Bhutanese mental health first aiders in the United States to address mental health and suicide issues in the Bhutanese Community. I would like to thank the ORR, the community leaders, and the organizers across various states for their continuous support to make this training happen."
"We have to educate resettled Bhutanese refugees to maximize their follow-up screenings on physical and mental health issues. Mental Health First Aid training course is one of the best resources available in most of the places where resettled Bhutanese could benefit out of it to improve their awareness level on mental health," said Dr. Chhabilall Sharma, a Bhutanese Psychiatrist based in Minnesota.
The following are the certified MHFA and QPR trainers in the Bhutanese communities in the US per the information received by the BNS.
Table: List of Trainers 
| | | | |
| --- | --- | --- | --- |
| | Trainers | Address | Expertise |
| 1 |  Ashok Gurung | Pittsburgh, PA | Adult Mental Health First Aid (Adult-MHFA) |
| 2 | Parangkush Subedi | Washington, DC | Adult Mental Health First Aid (Adult-MHFA) |
| 3 |  Yadhu Dhital | Pittsburgh, PA | Adult Mental Health First Aid (Adult-MHFA) |
| 4 |  Sona Shilpakar | Pittsburgh, PA | Adult Mental Health First Aid (Adult-MHFA) |
| 5 |  Laxman Chamlagai | Richmond, VA | Youth Mental Health First Aid (Youth-MHFA) |
| 6 |  Chandra Chhetri | Richmond, VA | Youth Mental Health First Aid (Youth-MHFA) |
| 7 |  Uma Devi Mishra | Chicago, IL | Question, Persuade & Refer (QPR) |
| 8 |  Mani Biswa | Lynn, MA | Question, Persuade & Refer (QPR) |
| 9 |  Mitra Dhital | Seattle, WA | Question, Persuade & Refer (QPR) |
| 10 |  Keshab Sharma | Akron, OH | Question, Persuade & Refer (QPR) |
| 11 |  Dharani Adhikari | Salt Lake City, UT | Question, Persuade & Refer (QPR) |
| 12 |  Birendra Dhakal | Clarkston, GA | Question, Persuade & Refer (QPR) |
| 13 |  Yam Kharel | Nashville, TN | Question, Persuade & Refer (QPR) |
| 14 |  Sarita Rasaily | Lynn, MA | Question, Persuade & Refer (QPR) |
| 15 |  Karan Thapa | Rochester, NY | Question, Persuade & Refer (QPR) |