The Bhutanese Cultural Association of Windsor submitted a letter of gratitude to Ontario Premier, Kathleen Wynne, last week, thanking the Canadian government for accepting to relocate around 6,000 Bhutanese refugees from Nepal.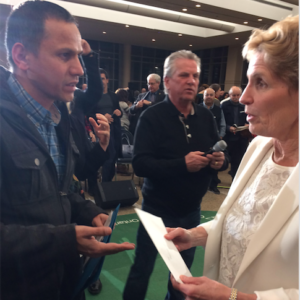 Working community member of the association, Indra Timsina, handed over the letter to the premier during his town hall session
"At first, we would like to thank the Government of Canada and the Government of Province of Ontario for taking a leadership in resettling refugees from around the world, including Bhutanese refugees. As part of the resettlement, about 6,000 Bhutanese refugees were resettled in different parts of Canada," said the letter.
The association has said that after nine years since the beginning of the resettlement process, majority of the resettled folks have moved to the province of Ontario.
"Currently, we are about 120 families living in Windsor, and the number keeps growing," said the association, "It is also noteworthy that about 40 percent of the resettled Bhutanese have been naturalized and they are proud to be the new citizens of Canada."
The association also mentioned that it is looking for continuous supports from the provincial government, and expressed its commitment that towards working for the better lives of the new Bhutanese-Canadians.
Reported by Yadap Neopane for BNS from Canada