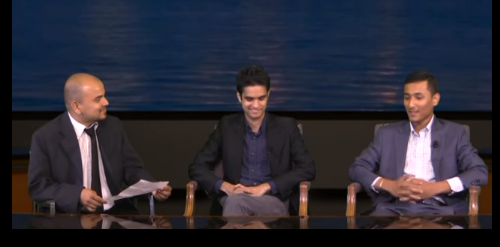 Launched in August 2015, 

Back to College is one of the projects of Bhutan Media Society (BMS), designed and aimed to encourage resettled former Bhutanese refugees in the Diaspora to achieve higher/college education. BMS shall undertake research, document success stories, conduct interviews and publish articles relating to the subject.
Generally observed phenomena, the rates of Bhutanese students enrolling into college education in the U.S., after completing high school is still low. The lower college enrollment is attributed to low level of motivation and lack of enthusiasm to pursue goals in life, the professional goals that demand higher academic performance, among others. This is the area BMS shall venture to investigate and act as medium to project role models and success stories of the community.
Click here for FAQs about the project.
In this series, two former Bhutanese refugees currently living in Manchester, NH, Mr Ganesh Sharma and Mr. Ashish Kharel, who are recipients of the Gates Millennium Scholarship chronicle how they received it, the application process and what it means for them to receive such a prestigious scholarship award. Mr. Sharma is majoring in Mechanical Engineering from the University of Vermont, while Mr. Kharel is undertaking four-year degree in Electrochemical Engineering from Wentworth Institute of Technology. Meanwhile, the duo also highlights the significance of pursuing higher/college education. This interview, which has been reproduced with due permission from the Hamro Awaz and its host Mr. Tilak Niroula,  serves as a part of the project run by Bhutan Media Society (BMS), and all articles/interviews relating the project shall be published in Bhutan News Service website (BNS- www.bhutannewsservice.com).
To learn more about The Gates Millennium Scholarship, visit this page – https://www.gmsp.org/