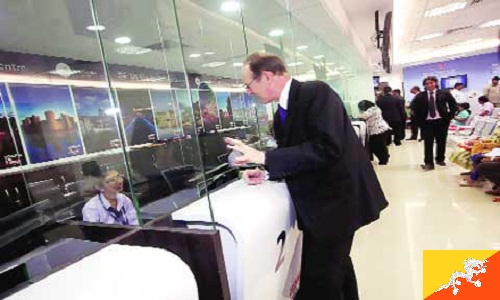 The Australian ambassador to Bhutan, Harinder Sidhu, and, the honorary consul for the UK in Bhutan, Michael Rutland, formally opened the new joint Visa Application Centre in Thimphu, Thursday.
According to a joint statement, the new Visa Application Centre (VAC) would enable Bhutanese nationals to apply for either their Australian or UK visa in Thimphu, rather than having to lodge their applications in India.
"The VAC is a joint venture between Australia, UK Visas and Immigration and VFS Global, their commercial partner. It is hoped that the new VAC will encourage more Bhutanese to visit both Australia and the UK," said the statement.
The statement further said, Sidhu was pleased the new centre would improve access for applicants from Bhutan seeking to visit Australia for study, work or leisure.
"Australia and Bhutan are long-time friends and we are pleased to have been able to make a major contribution by assisting Bhutan's development over many years. Education is the backbone of this connection," she said.
"We welcome many Bhutanese students to Australia, who return to make an important and influential contribution to their homeland. This new facility will help streamline the visa process for those students and others planning to visit to Australia," added she.
The British High Commissioner to India, Sir Dominic Asquith KCMG said: "I was delighted to announce the opening of the UK's first Visa Application Centre during the successful visit of the Duke and Duchess of Cambridge to Bhutan last month.
"This new application centre will make it much easier for Bhutanese visitors to get their visas and I hope it will encourage more visitors to come to the UK," he said.
"Their Royal Highnesses thoroughly enjoyed their visit to this beautiful country and were overwhelmed by the warm welcome they received. I am sure that Bhutanese visitors coming to the UK will also receive a warm welcome and have a fantastic time exploring our country."