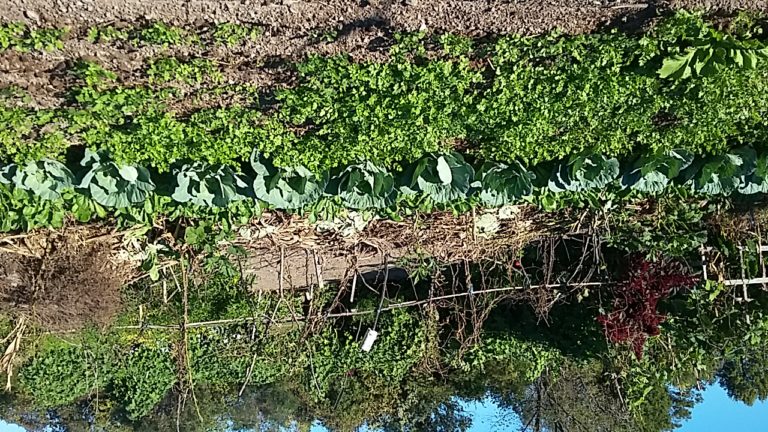 Sita Devi Adhikari, 56, and her husband Tankanath Adhikari, 61, are gardening heroes in their adopted homeland of Louisville.  They maintain four 30 x 30 plots of land in a community garden on Seventh Street, off flea market in Louisville.
In a typical growing season, they grow many green vegetables, chilli-peppers, beans, cabbage, chayote and corn. Neighbors come to the garden to buy vegetables. Local grocery stores also take the produce, supplementing their modest income.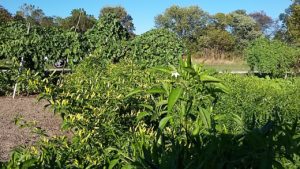 When I visited recently, they showed me sprouts of chili peppers grown in trays in their brightly illuminated kitchen, kept cool with a fan,  ready to be planted come spring.
Life has not been easy for the couple since their arrival here.
In 2015, Sita was diagnosed with early breast cancer, adding to her chronic illness of diabetes.
At Norton Hospital, her cancer treatment took a good eighteen months. Those several trips were not easy for them without English to converse and no car for commuting.
"My body became like a whole new being during the treatment," says Sita.
Though she is free now of cancer cells, diabetes and asthma still plague her. Every day she takes four injections.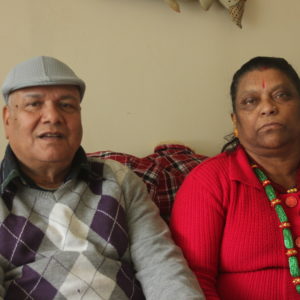 They are living in the same apartment in Georgetown circle which they were first assigned by Catholic Charities in September 2008. Now only four Bhutanese Nepali families live there.
"Many of our neighbors and relatives have moved away from the apartments," says Tanka.
Sita's nephews, Karna Kafley and his brothers, often visit them and help in certain circumstances even though they live in another part of town.  The couple does not have children.
 Now Sita is going to a daycare facility where most of the other thirty attendees are Bhutanese Nepali men and women. Normally, a day is spent with breakfast, lunch, some entertainment like games or videos and a little English learning activity. Sita enjoys the socialization.
A home care worker now helps her twenty hours a week, too. Another bright spot is that Tanka has learned to drive, and owns a car, which makes transportation far easier.
Disability income received by the couple stopped for a while as they were not naturalized to US citizens. But now they both are. Along with Medicaid and $70 in food stamps, they make ends meet.
They live for the joy of summer time in the garden-and the fruits of their efforts help to sustain them.
"We are not much worried of living here by ourselves unless someone of close relation willingly take us to live with them,"   Tanka expressed hope.
Sita and Tankanath Adhikari originally lived in 'Daldaley' village of Nichula gewog in Bhutan before becoming refugees.
Editor's Note: Have a diaspora story you'd like to see us tell? Know of someone in the community who is doing formidable work? We'd love to hear about them. We are in particular seeking stories about women and elders and how they're integrating into their new communities.