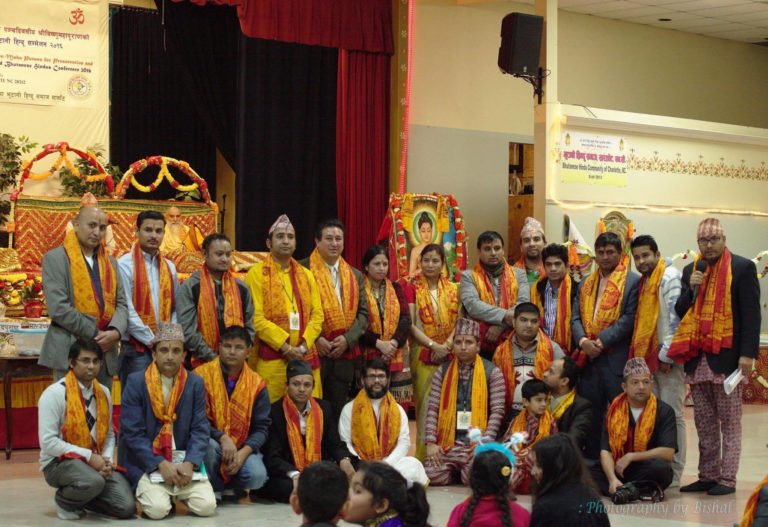 The five-day-long Shree Vishnu Mahapurana that begun on December 21 ended on Sunday in Charlotte, North Carolina.
The event that was jointly organized by Global Bhutanese Hindu Organization (GBHO) and Bhutanese Hindu Community of Charlotte (BHCC) drew over 5,000 delegates, volunteers and Hindu followers from various twelve states.
"The function was aimed at preserving and promoting vaidic Hindu religion," newly elected GBHO president, Kamal Dhimal, told Bhutan News Service.
"More or less the event did serve as a generalized training for people of all ages. Youths from our community also received special focus throughout the event."
Besides preaching of Vishnu purana, the organizers also included various cultural items including sangini for women and balan for elderly males, claimed the organizing committee.
Other attractions of the event were speeches by various personalities and delegates, and daily lucky draws. The event organizing committee, Central Market, Rohan Groceries and Barsha Jewelers sponsored various prizes for the winners.
Former Radio Nepal RJ Purushottam Sapkota was chief guest of the event that hosted various Hindu priests including Bedanidhi Subedi, Keshab Khatiwada, Hari Binod Adhikari, Hem Dhital, Hari Saran Koirala and Tara Koirala among others. A Buddhist monk, Sukbir Lama, also attended the event.
According to the organizing committee, the event received both financial supports and solidarity from various organizations from the U.S. and abroad.
Speaking at the function, Bhanu Phuyel of Barsha Jewelers declared that he would make a donation of 10,051 to GBHO once it obtains 501 (c) status from the Internal Revenue System.
GBHO elects Dhimal to board chair
The 'Third Global Bhutanese Hindu Organization Conference 2016' that concluded along with the purana elected Kamal Dhimal, chairperson of Bhutanese Hindu Community of Charlotte, to its 24-membered board chair following an election on Saturday.
Likewise, Bhim Timsina from Georgia and Prahlad Mishra from Pennsylvania were elected as vice-president and secretary respectively.
Some of other board members included Pabitra Rizal (treasurer), Kamal Subedi (assistant secretary) and Pashupati Timsina (assistant treasurer). The complete list of GBHO board can be viewed here.
GBHO was formed in 2013, and was operating as an adhoc body prior to officially forming its board.
Editors: All pictures are by Bhutan News Service