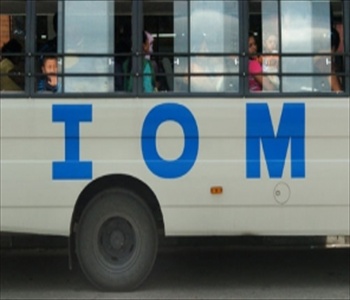 Nepal Resettlement Program Manager for International Organization for Migration (IOM), David Derthick, 52, is also the IOM Head of Sub-Office Damak. Derthick has worked with refugees since 1983 in Indonesia, The Philippines, Kenya and Nepal. After the signing of Memorandum of Understanding with the government of Nepal on September 3, 2007, IOM opened offices in Kathmandu and Damak. IOM began resettlement activities in both Kathmandu and Damak immediately after the Government of Nepal publicly announced support for third country resettlement of the exiled Bhutanese on November 2, 2007 in Beldangi-I and Goldhap camps. It has almost been one year since exiled Bhutanese began leaving for resettlement and UNHCR said more than 7000 have so far reached their new destinations. The process is likely to get further accelerated in 2009. David talked to T. P. Mishra of Bhutan News Service (BNS) on how the process is running at this hour. Excerpts:
BNS: How is Third Country Resettlement moving ahead?
Derthick: Very well.  The Government of Nepal publicly announced support for third-country resettlement in Beldangi I and Goldhap camps on November 2, 2007. Thereafter, many Bhutanese refugees submitted 'Declarations of Interest' forms for resettlement to the UNHCR.  The US, the largest country of resettlement, conducted a small selection mission in November-December 2007. Much larger US missions followed throughout 2008. In addition, selection missions from Australia, Canada, New Zealand, Norway and Denmark have interviewed and accepted cases. Currently, there are selection missions from the US and the Netherlands on site.  Within the past year, more than 60,000 Bhutanese refugees have applied for Third Country Resettlement, and more than 7,000 have departed. Right now, the departure level is 1,000 per month, and that will increase to more than 1,500 per month starting in April 2009.
BNS: Isn't TCR getting a bit decelerated in accordance with the announcements made by the US government early on?
Derthick: There were many different figures thrown around a year ago. What I know is this: In 2007 there were fewer than 100 Bhutanese refugee resettlement departures from Nepal.  In 2008 the resettlement departure figure will exceed 8,000. In 2009 the resettlement figure should be 16,000-18,000. I don't think that that's a deceleration.
BNS: Only the US is seen as speeding up the process for resettlement.  What about other countries?
Derthick: All countries have their own refugee resettlement ceilings. All countries have their own post-selection protocols. Obviously, the US has the biggest resettlement program, but it's noteworthy that selection missions from six other countries have interviewed Bhutanese refugees during the past four months. Several countries are deeply committed to providing third-country resettlement opportunities to Bhutanese refugees in Nepal.
BNS: Why does IOM deny publicizing statistical data of individuals who are already resettled?
Derthick: IOM will always make statistical information available. IOM will never reveal the names of individuals who have departed to the media – that's confidential.
BNS: Can you let us know exact data how many have departed so far?
Derthick: As of 25 November 2008, 7,220 Bhutanese refugees have been resettled to the third countries: US (6,776), Australia (266), New Zealand (129), Norway (19), Netherlands (17) and Denmark (13).  But this number changes nearly every day.  IOM organizes departure flights 4-5 days per week.
BNS: There are a number of families split following TCR.  How do you remark on this?
Derthick: The UNHCR supports a philosophy of family unity. In general, UNHCR refers cases according to refugee hut. Resettlement countries have their own family case composition definitions. In general, this means that a refugee hut could be comprised of several different cases if there are unmarried adults living in that hut. It's complicated; again, all countries have different rules regarding case composition. Every effort is made to ensure that all cross-linked cases resettle in the same location. Sometimes different cases within the same family do not depart at the same time, but every effort is made to ensure that all family members resettle at the same final destination town.
BNS: It's learned that the US-DHS team flatly refuses further processing for those who have paid any donation or have any affiliation with organizations operating in the camps or have participated in demonstration in Bhutan in 1990. There are no families who haven't paid such donations either back in Bhutan or inside the refugee camps.  Isn't this another tactic to harass them?
Derthick: IOM is not in a position to comment on the resettlement acceptance criterion of the US or any other country. All countries have their own rules. IOM plays no part in the resettlement country's acceptance/denial process. But what I can say is that the resettlement acceptance rate for Bhutanese refugees in Nepal, across all countries, is 98 percent, and that's the highest acceptance rate I've ever heard of for any refugee population.
BNS: How would you remark on the infiltration of non-Bhutanese in the resettlement program?
Derthick: Wherever there is a refugee resettlement program, there will be attempts by some to infiltrate the registration process through substitutions or additions. That's the history of all refugee resettlement projects. Free transport to/legal residence in one of the countries of resettlement is a highly prized dream for many people, and so it's natural to expect some individuals to attempt to defraud the resettlement process of Bhutanese refugees in Nepal as well.
Having acknowledged that, I must say that the resettlement project for Bhutanese refugees in Nepal is the most "fraud free" resettlement project in which I've ever worked – and I've worked in a dozen.
The reason I'm confident about the genuineness of the population is two-fold: First, the Government of Nepal and UNHCR database is excellent. This database captured bio-data and pictures of all registered refugees two years ago – before third-country resettlement became a feasible durable solutions option. This documentation follows all cases throughout the process.  Second, all cases undergo several screening processes before departure: UNHCR interviews prior to third-country resettlement submission; IOM during case file preparation interviews prior to third-country interview; resettling country interviews; the Government of Nepal Exit Permit interview; IOM and Government of Nepal formalities at the time of departure. Overall, this is a very stringent screening process, and if a case is determined to have attempted fraud at any stage by substituting or adding unauthorized case members, it's very likely that the case will be denied for resettlement.
BNS: Though it has not being a matter of concern for IOM, but don't you think that the repatriation process of exiled Bhutanese is getting overshadowed following resettlement?
Derthick: Repatriation remains a strong focus of the UNHCR and the Core Working Group countries, but activities in this area are not as visible. Repatriation was the only focus for the past 17 years. There were 15 rounds of bi-lateral talks between Nepal and Bhutan regarding repatriation, but not one refugee repatriated as a result of these talks. Now, repatriation does not appear to be a feasible option for Bhutanese refugees in the near future. In contrast, resettlement has gained huge momentum over the past year. Sixty thousand exiled Bhutanese have applied for resettlement so far, 1,000 are departing every month and departure figure will rise in the future.
BNS: What happens to a case if, by chance, he/she wishes to return to a Nepal refugee camp after resettling to a third country?
Derthick: IOM does not play a role in the resettlement of refugees at final destination countries. Whether a former-Bhutanese refugee from Nepal could return to Nepal would depend upon the travel document restrictions of the country of resettlement and, also, the visa/immigration regulations of the Government of Nepal.
BNS: What factors actually motivates IOM to stop the whole resettlement process without reaching its target of resettling interested exiled Bhutanese?
Derthick: This entire process is driven by the desire of Bhutanese refugees to resettle.  IOM is committed to organizing various resettlement activities on behalf of the countries of resettlement. IOM is not in the business of persuading Bhutanese refugees to select the resettlement option. This is a personal, family decision. When all families have made that decision, IOM will organize the resettlement activities. When there are no more refugees undergoing the resettlement process, IOM will cease activities related to this project.
BNS: We have many cases of exiled Bhutanese who are yet to be resettled even when their process is completed some months back while others from the same lot are already settled?  Why this happens?
Derthick: Yes, I know exactly what you're talking about. Sometimes cases apply for resettlement at the same time, and yet one proceeds much faster than another. And, when that happens, the case that proceeds slower often times feels that there's unfairness in the system. For IOM – as with UNHCR and the countries of resettlement – every case is unique. Some proceed quickly because there are no "issues."  Others proceed more slowly due to many factors: Case composition issues, the need for different cases within a family to travel at the same time, health concerns for one or more individuals on a case, marriages, births, deaths. All of the "issues" identified are reasons why one case becomes delayed.
My advice to all undergoing the Third-Country-Resettlement-Process is tell UNHCR and IOM immediately regarding health issues, pregnancies, births, deaths, family members deciding that they don't want to resettle. The sooner that IOM and UNHCR know what's happening within the family during the resettlement process the more effectively can they organize resettlement activities regarding the case. If families are not transparent to IOM and UNHCR regarding changes the process will be delayed. For example, if a case shows up for a Country Selection interview and one member of the family has married just prior to this interview without notification to IOM or UNHCR, it is likely that the case will not be allowed to interview. Additional preparation of the case will have to be conducted before a country of resettlement will interview the case – and that could take a long time.
BNS: It's learned that most of the information is shared with exiled Bhutanese only during their cultural orientation classes. Isn't there a possibility to let them know all things including the place/city where they are getting resettled soon their process starts?
Derthick: The response is two-fold: First, you're right, IOM should do a better job in providing them better, more accurate information earlier-on in the process. IOM works on this every day. This is a big goal for IOM. IOM's goal is not to try to encourage or convince any refugee cases to apply for resettlement, but rather to provide clear, objective information about resettlement to all refugees in all of the camps. Second, IOM cannot do any better than we're presently doing regarding alerting Bhutanese refugees of their final destination. IOM gets this information when IOM receives a travel document from the government of resettlement – and that's usually submitted to IOM 2-4 weeks before departure. Thereafter, IOM organizes the commercial air ticket. Immediately upon confirming commercial flight arrangements, IOM notifies Bhutanese refugees of the departure dates and final destinations, and IOM informs families of the departure formality activities.